Sloane Grammar School Hortensia Road Chelsea London England
1919-1970 Old Cheyneans and Friends
!!
CHECK THE LOGGED IN: BOX FOR IMPORTANT MESSAGES AFTER YOU LOG IN. YOU WON'T SEE THE BOX IF YOU'RE VIEWING THE WEBSITE ON FACEBOOK SO PLEASE TRY TO LOG IN AT LEAST ONCE A WEEK BY GOING DIRECTLY TO THE WEBSITE TO DO SO
PLEASE REMEMBER TO UPDATE YOUR EMAIL ADDRESS IF YOU CHANGE IT
Click here to go to bottom
Hello and Welcome
to
Mark Foulsham's Sloane website

IF I BUILT IT

I KNEW YOU WOULD COME

A School that invited loyalty
(Quote by Don Wheal)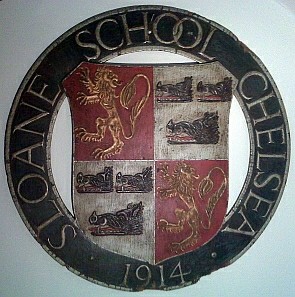 Gone But Not Forgotten

Men are we and must grieve when even the shade
Of that which once was great is passed away
William Wordsworth
On the Extinction of the Venetian Republic

You may think you're done with the past but the past isn't done with you!


"The merits of a school are judged as much by the men it produces as by their achievements as boys" -
(Old Cheynean D.J. Cowie, March 1929)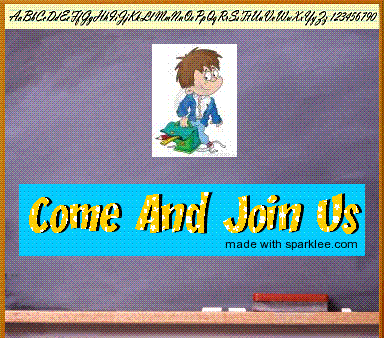 REGISTER AND LINK UP WITH OLD SCHOOL FRIENDS AGAIN AND BECOME PART OF SLOANE REUNITED

YOU'LL NEED TO REGISTER FOR OUR WEBSITE TO CREATE YOUR OWN PERSONAL PASSWORD AND VIEW ALL OF ITS PAGES. IF YOU HAVE A VALID SLOANE CONNECTION JUST CLICK ON THE BUTTON BELOW. BUT CHOOSE MISSING CLASSMATES AT THE TOP FIRST TO SEE IF WE'VE BEEN EXPECTING YOU. IF YOUR NAME'S THERE CLICK ON IT AND FOLLOW ON-SCREEN INSTRUCTIONS.
IT'S FREE, IT'S EASY, IT'S SECURE
You're Never Alone As A Sloane

IF YOU'D PREFER MORE INFO BEFORE COMMITTING YOURSELF, CLICK ON THE ENVELOPE BELOW AND SEND ME A DIRECT EMAIL -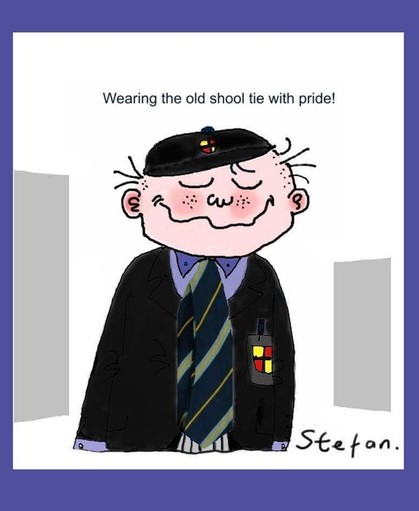 Self-portrait by Stefan Bremner-Morris

PLEASE REMEMBER TO LOG OUT WHEN YOU LEAVE THE SITE USING THE LOG OUT BUTTON UNDER MEMBER FUNCTIONS IN THE LEFT HAND COLUMN. IT'S AS EASY AS FALLING OFF A LOG -

SEE ALL THE LATEST NEWS AND UPDATES FURTHER DOWN, AND CHECK THE CALENDAR ON THE CALENDAR OF EVENTS PAGE TO SEE WHAT'S BEEN HAPPENING AND WHAT'S ABOUT TO HAPPEN.

IF YOU'RE ALREADY A SITE MEMBER PLEASE REMEMBER TO KEEP YOUR EMAIL ADDRESS UP TO DATE USING EDIT CONTACT INFO IN THE LEFT HAND COLUMN AND KEEP AN EYE ON THE LOGGED IN: BOX AT THE TOP RIGHT OF THIS PAGE FOR IMPORTANT MESSAGES AFTER YOU'VE LOGGED IN.

DOWNLOAD ONE OF THE MORE MODERN INTERNET BROWSERS TO VIEW THIS WEBSITE. EITHER GOOGLE CHROME OR MOZILLA FIREFOX ARE BETTER ABLE TO DISPLAY EVERYTHING AS IT WAS INTENDED.


Come on in!
Don't be late!
This is one detention
You'll be pleased to take.


A WARM WELCOME

to fellow Cheyneans and passers-by, from the Official Sloane Grammar School 1919-1970 Old Cheyneans and Friends web site. We'll keep the home fires burning until you join us.
Mark Foulsham, at Sloane 1963-70, created this site in August 2008 to record for posterity all that I can, and for all those who attended Sloane or simply have a Sloane connection, to share and enjoy. Feel free just to browse or, if you feel you qualify to join us, make full use of the site by becoming a Registered Classmate.
We may not understand why but memories of our days at Sloane remain with us while others do not. Whether they're good or they're bad, I'd like to give all old boys the opportunity to keep those memories alive.
Click on the Click Here to Register button above to start the registration process. It's Free!

I'll also be happy to send a personal invitation to anyone else with a Sloane School Chelsea connection who you think might like to join us. Just enter their Email address in the MISSING CLASSMATES box to your right and click Send Invite.


Aspirations and Objectives

Sloane never had a motto and although our school badge is based on the lion rampant and boar's head of the Cadogan family crest their motto, Qui Invidet Minor Est or He That Envies Is Inferior, is not really appropriate so I'll adopt the one to be found on the Coat of Arms of the Royal Borough of Kensington and Chelsea as it suits us nicely -

Quam Bonum In Unum Habitare

(What A Good Thing It Is To Dwell Together In Unity)
It is hoped, in some small way, to be able to have similar objectives to those stated for the first issue of The Cheynean in December 1926 -

"To record faithfully the major activities of the School, to promote and foster a corporate spirit in the School, to excite a greater keenness both in the games and in other phases of its social life, and to serve as a link between present members of the School and the Old Cheyneans". -

and also to bring together, once again, old friends and classmates, and those of us who have outlived the school and share a common interest in its history and its future.
If you've any memories of Sloane you'd like to share, use the Contact Us page to send them in and, whilst you're there, register for the site as well.

Once you've registered, you can activate the Instant Messaging feature that allows you to hold a 'real-time' online conversation with anyone else who has logged on to the website. You can also send a message to someone else on the site via the Message Centre page but, if you're expecting a swift reply, it might be worthwhile using their Profile on the Classmate Profiles page, to see what part of the world they're living in these days, and to have an idea of the time where they are. Use the Clocks below, to check.

After you've registered, why not take a look at all the Classmate Profiles ? Even if you don't know the person involved, the information they've put on their Profile can be interesting, illuminating and fun, and often brings back memories of something you thought you'd forgotten about.
If, at any time, you're unsure about anything click on this Using The Site link for an explanation or contact me direct via the Contact Us page.

* * * * *
Why Not Take a Look at Where your Classmates are Living?

Find out the Postcode of a Classmate from their Profile (if they've agreed to let everyone know it) then Click on the link below, enter the details where it says 'Address', then Click on 'Go'. Not every country is covered yet and those that are have limited coverage, but it's worth a try.
Here's the link. Have fun - http://www.vpike.com/

* * * * * * * * *
| | | | | |
| --- | --- | --- | --- | --- |
| | | | | |
| | | The Sloane building seen from Hortensia Road in 1908 and much as it looks today | | |

The Sloane building was 100 years old in 2008, although it didn't actually start life as a boys' school until after the First World War, during which it served as a hospital. It still stands and many memories are, no doubt, ingrained in its walls along with the odd name and ribald comment. Who knows what the future holds, despite its Grade II listing on May 7th, 2002. Grade II listed buildings can be altered, extended, or even demolished, but only with Local Authority consent, so it may be that the building is considered historically or architecturally interesting enough for it's fabric to remain untouched. Some consideration may have been given to it having been the first purpose-built secondary school in London, and it is certainly one of only 3% of all ages of listed buildings that was built in the 20th century. Schools generally are seen as a good investment by developers because they're easy to convert. They are likely to be structurally sound because the authorities will have inspected them regularly to ensure they comply with Health and Safety requirements.

Sadly, Sloane Grammar School for Boys only lasted 51 years, from 1919-1970. Should the building survive in the form we all remember, there is still a chance that some of us will be around in 2019 to make use of the building to celebrate what would have been its centenary as a boys' school, had the school remained in existence.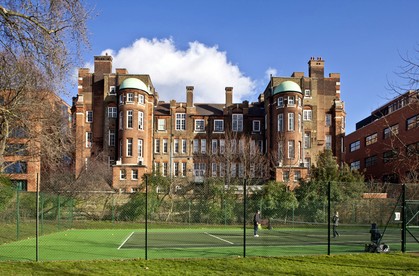 Sloane seen from the rear in 2014
CHANGES TO THE SLOANE SITE AND BUILDING
The new Kensington & Chelsea College, known since 2014 as their Chelsea Centre, sits where the playground used to be between the old Sloane building and the old Carlyle building. Work on the new college building, with designs by the architects who transformed the Royal Opera House and the National Portrait Gallery, was completed in 2012.
The flats, constructed in Sloane's old North playground on the Fulham Road are known as Milliner House, Chelsea Apartments, and were ready for occupation in 2011 at advertised prices between £785,000 and £2,350,000. Or if you could afford it, the single penthouse at the top would have set you back £5.85 million when first offered for sale but a market downturn in 2012 saw it reduced to an almost tempting £4.25 million - and it was being sold as a shell!
Phase 2 of the project was originally for conversion of the original Edwardian building into loft style apartments by D19 Property but the new owners, No. 1 Estates Ltd, who have a connection to D19 Property were, on 22 October, 2012, given planning permission to retain the building as an educational establishment by Kensington and Chelsea Planning and Borough Development Department.
However, in September of 2013 a slightly revised plan for re-development of the building for residential use and K M Heritage produced a heritage appraisal on behalf of Hortensia Property Development LLP in support of their application to Kensington and Chelsea Council for listed building consent and planning consent for the refurbishment and extension of the Sloane building, taking into account national and local policies relating to the historic built environment. Their statement is available on this link -
K M HERITAGE STATEMENT ON BEHALF OF HORTENSIA PROPERTY DEVELOPMENT
What's also interesting is that the old Chelsea College of Art and Design in Manresa Road, to which Sloane can trace its origins in its guise as the South-Western Polytechnic, was, in 2012, about to make way for a scheme involving 15 apartments and two town houses. There's no stopping 'progress'.
| | | |
| --- | --- | --- |
| | | |
| The shell of the 6th floor penthouse | | The entrance to the apartments on Hortensia Road |
| | | |
| The apartments seen from Fulham Road | | The view of Fulham Road and the old St Mark's College from one of the balconies |
* * *
Whatever our own personal reasons for it doing so, the school will still haunt most of us even if it disappears altogether. With that tenuous link, here's a poem that I came across in an old copy of The Cheynean -

The Ghost of Sloane

When London's asleep and the School very quiet,
No sound of footsteps, no sound of a riot,
No sound of even the shuffle of feet,
No sound of the creak of a pupil's seat,
Out of the darkness the ghost of Sloane
Awakes from rest with a sigh and a groan.
Then up he arises to haunt the School
Climbing the stairs in the guise of a ghoul.
He shuffles and clanks down each corridor
Into the classrooms where stand desks galore.
He examines each desk and checks the boys' work,
Allots ghostly marks in the dark and the murk.

If you ever lose books from out of your desk,
And the teacher upbraids you and calls you a pest,
Just tell him my story, however tall,
Of the white shrouded phantom that haunts the School Hall.

J. Hollingshead (3C)

As for us, the boys who used to attend our Chelsea school, we probably considered ourselves 'Chelsea men' but I doubt that many of fitted the description in this poem, written when he was in the 5th year by one time Sloane Schoolboy, A R Doubledee. I get the impression he didn't particularly approve of the 'Beatniks' of the late 50s and early 60s that he found himself sharing Chelsea with or, as he called them the 'Weirdies' -

The Weirdies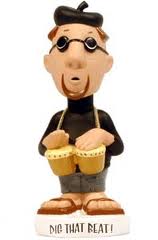 The Chelsea man is excessively queer,
He only drinks coffee and doesn't like beer.
He's always "chatting" the girls, and yet
This seems to make him "one of the set".

His unkempt chin and uncut hair
Go with his feet which are usually bare.
If he wears shoes, they've never got soles,
And he's usually found in Bohemian holes.

His outsize sweater is generally black
Contrasting well with his shorty mac.
He wears his clothing merely to show
That he can keep up with the boys of Soho.

To find a girl he doesn't look far,
But into the nearest coffee bar,
Where he's sure to meet a Bohemian "yob".
They're all from Chelsea - what a mob!

The girls with hair right down their backs
Wear irregular clothes that look like sacks.
They walk about wearing father's sweater:
I really don't see why he should let 'er.

Their gaudy clothes of reds and greens
Match up with the style of their men-friends' jeans.
Now that's how it goes with the latest style:
Girls on their faces make-up pile,
The men wear anything they can find -
I shouldn't stare, I should just act blind!

A.R. Doubledee (5b)

* * *

FRONT PAGE NEWS
Pension Changes. Right or Wrong?
Ever so slowly our Government has been moving the goalposts regarding our State Pension entitlement with the result that my wife, instead of receiving the pension she was expecting when she hit 60, will now have to wait until she's almost 65. At least we'll both start drawing our pensions at roughly the same time (if we live that long) but our children are probably going to have to wait until there 70 or so before they can start drawing their. As if they won't have enough to contend with.
This was sent to me by some kind soul and I'm pleased to see that another kind soul has thought a little deeper about the whole affair. I haven't checked the facts yet but it's given me food for thought -

"IT MAKES YOU THINK! PLEASE PASS THIS AROUND, UNTIL EVERY ONE HAS HAD THE OPPORTUNITY TO READ IT... THIS IS SURELY SOMETHING WE ALL NEED TO THINK ABOUT!!!!

THE ONLY THING WRONG WITH THE GOVERNMENT'S CALCULATION OF AVAILABLE PENSION IS THAT THEY FORGOT TO FIGURE IN ALL THE PEOPLE WHO DIED BEFORE THEY EVER COLLECTED OLD AGE PENSION.

WHERE DID ALL THAT MONEY GO?

Remember, not only did you and I contribute to our Pension, our employer did, too. It totalled 15% of your income before taxes. If you averaged only £15 000 over your working life, that's close to £220,500. Read that again. Did you see anywhere that the Government paid in one single penny?

We are talking about the money you and your employer put in a Government bank to ensure that you and I would have a retirement pension from the money we put in, it was not money that the Government had any right to spend elsewhere. Now they've started to call the money we paid in an 'entitlement' when we reach the age to take it back. If you calculate the future invested value of £2500 per year (yours & your employer's contribution) at a simple 5% interest (that's less than what the govt. pays on the money that it borrows from overseas), after 49 years of working you'd have £892,919.98.

If you took out only 3% per year, you'd receive £26,787.60 per year and it would last better than 30 years (that means until you're 95 if you retire at age 65) and that's with no interest paid on that final amount on deposit! If you bought an annuity with the money and it paid 4% per year, you'd have a lifetime income of £1976.40 per month.

Entitlement!!?? My foot!! IT'S MY MONEY!! I paid IN cash for my pension. Just because they borrowed the money to spend on other things, that doesn't make my pension some kind of charity or handout!!

Remember MP's benefits? ---free healthcare, outrageous retirement packages, 67 days paid holidays, three weeks paid vacation, unlimited paid sick days. Now that really should be called welfare entitlements, yet they have the nerve to call my O A P retirement payments entitlements? We're "broke" and the government can't help our own OAPs, our ex-service personnel, our orphans or our homeless. Yet in the past few years we have provided aid to Haiti, Chile, Turkey, India, Pakistan, etc., etc., etc. Literally, BILLIONS of Pounds!!! And they can't help our own citizens!

Our retired seniors living on a 'fixed' old age pension have to beg social services to receive additional aid, while our government and religious organizations pour hundreds of billions of £££ tons of food to foreign countries! They call the old age pension an entitlement even though most of us have been paying for it all our working lives, and now, when it's time for us to collect, the government is running out of money. Why did the government borrow from it in the first place? It was supposed to be in a securely locked box, not to be used as part of the Government's general funds."
* * * * *
Classmate Stefan Bremner-Morris thought I might find this both amusing and interesting. I did, so I'm sharing it with you -
German PhD student Giulia Enders, who's studying microbiology in Frankfurt, reveals in her book Gut: The Inside Story of our Body's Most Under-rated Organ (German title: Darm Mit Charme or 'charming bowels') that we're all doing it in the wrong position – and have been for years.
For all our toilet humour, the business of doing our business is not something we Brits are particularly open about, but this new 'poosearch' could revolutionise the way we excrete.
The right angle
Essentially, there's a pile of evidence that suggests we should be squatting rather than sitting in order to stop problems like piles, bloating, colon cancer, hernias and constipation.
The pose, used by our caveman ancestors and by millions across the world today, is more efficient for evacuation than the 'anorectal angle', because it enables the bend in our colon to straighten out properly, something that doesn't happen when we're sitting down or standing up.
"1.2 billion people around the world who squat have almost no incidence of diverticulosis [pouches in the colon wall] and fewer problems with piles," Enders told the Guardian.
"We in the West, on the other hand, squeeze our gut tissue until it comes out of our bottoms."
But you won't need to perch precariously on your loo seat to get into the optimum position; Enders' sister has drawn a handy illustration in the book of how we can sit with our feet up on a little stool to gain the right pose.
An industry has already grown up around this kind of research, to the extent you can even buy specially designed Squatty Potty stool from the US.
Its creator, Robert Edwards says: "By opening the colon, pooping in the natural squat position makes elimination faster, more complete, and reduces straining."
The inner workings
Among other potentially life-changing poo insights in the book is Enders' explanation of the difference between our two sphincters. In a nutshell, there's the one we quite knowingly open and close and another, inner sphincter, which operates unconsciously.
According to Enders, the ani internus sends a poo sample into the space between the outer and inner sphincters which is analysed by sensor cells to decide whether it's 'safe' to fart or poo. So in a meeting with the boss: not safe; on the comfort of your own loo: you're OK.
But if the conscious, outer sphincter overrules the inner one too often, because we're embarrassed to open our bowels in the work toilets, for example, the inner one can shut down, which can cause constipation and lead to fewer than three bowel movements in seven days.
"Learning about those two sphincters really changed my perspective on life," said Enders. "Those inner nerves don't care for other people; they have no eyes or ears. Finally, something that only thinks of me! So now I can go to the toilet anywhere. I worship that muscle!"
* * *
BREAKING NEWS!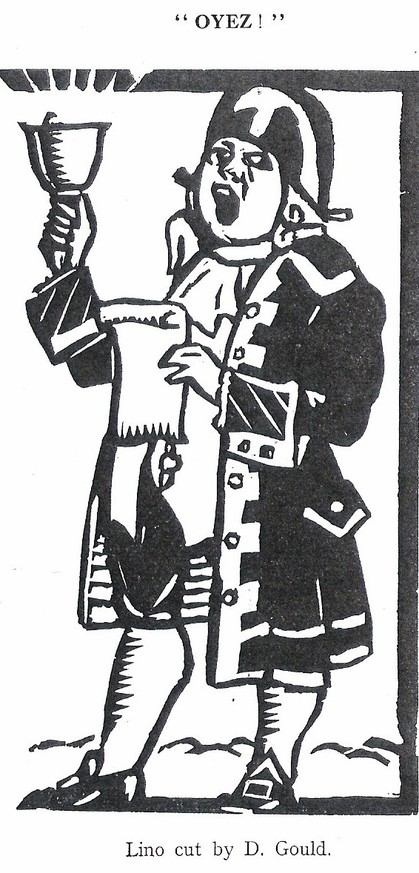 Qatar Wins Bid To Host Sep Blatter's Leaving Do!!

(With thanks to News Thump)

Qatar has seen off rival bids from Mordor, Castle Greyskull and Russia, to win the right to host Sepp Blatter's FIFA leaving do.
Journalists were summoned to a hastily organised press conference in Zurich to hear the news.
Speaking in front of the assembled crowd, Fifa Vice President Issa Hayatou announced the result of the bidding process.
"The process to win the right to host Mr Blatter's leaving party has been very competitive…. And lucrative," at which point he began cackling for several minutes.
A giant golden envelope, containing the name of the winner, was then carried onto the stage by several diamond-encrusted peacocks, and then opened by Mr Hayatou who uttered the words:
"The Sepp Blatter leaving do 2016 is awarded to….. Qatar."
The bid was praised for its inclusion of 'women in tight shorts', 'slave labour' and 'a lack of extradition treaty with the USA'.
FA Chairman Greg Dyke, a staunch critic of Sepp Blatter revealed that, despite their differences, he would certainly be attending the party.
"He might be a bit of a dick, but this party is going to be off the hook."
"I've heard he's going to have an actual Thunderdome with people fighting to the death. No chance I'm missing that."
"This is going to go offfffffffffffff."
When questioned about the use of forced labour in preparing for the party, Fifa did their best to reassure football fans that they would ensure as many people as possible would die in the build up to the event.
"If the world cup in 2022 is running at 1,500 deaths so far, then we think we can top 5,000 for this party."
This news comes only a week after Blatter was celebrating his re-election -
Re-elected FIFA president Sepp Blatter has addressed the FIFA Congress with a prolonged period of intense cackling.
Entering the stage in his ceremonial black robes, he shuffled to the podium before pulling back his hood to reveal the grotesque nature of his true form.
To hushed silence Blatter began chuckling to himself before descending into a full cackle, much to the surprise of the audience.
As one UEFA delegate explained, "We thought he might thank his opponent, or outline his plans for the next five years, but he seemed intent on merely laughing at everyone involved in the process of making him the most powerful man in world football for the next five years."
"He basically stood there and just cackled a lot and shot what looked like lightning from his finger tips into the chests of the people votes against him, each of whom was left writhing in agony."
"The strange thing is, the African contingent still gave him a standing ovation."
* * * * *
Are You The Man For The Job?!

Can you spot the mistake (or perhaps it wasn't) in this advert sent in to me by Classmate John Coles?

John and I agree that it's likely they meant 'territories' but given the climate out there, who knows?
John went on to say -
" Did I also mention that my first big client in Jeddah was Mr Bin Laden himself and two of his Harvard educated sons. The other son was not mentioned and was not in prominence then. Perhaps he got one of the consultants requested in the advert!!"
I think we'd better leave it at that, John, and not ask too many questions of you!
* * * * *

Revelations: How The Internet Got Started

After years of investigative work the origins of the Internet can now be revealed -
In ancient Israel , it came to pass that a trader by the name of Abraham Com did take unto himself a healthy young wife by the name of Dorothy.
Dot Com was a comely woman, large of breast, broad of shoulder and long of leg.

Indeed, she was often called Amazon Dot Com.

And she said unto Abraham, her husband, "Why dost thou travel so far from town to town with thy goods when thou canst trade without ever leaving thy tent?"

Abraham did look at her as though she were several saddle bags short of a camel load, but simply said, "How, dear?"

Dot replied, "I will place drums in all the towns and drums in between to send messages saying what you have for sale, and they will reply telling you who hath the best price. The sale can be made on the drums and delivery made by Uriah's Pony Stable (UPS)."

Abraham thought long and decided he would let Dot have her way with the drums.

The drums rang out and were an immediate success. Abraham sold all the goods he had at the top price, without ever having to move from his tent.

To prevent neighbouring countries from overhearing what the drums were saying, Dot devised a system that only she and the drummers knew. It was known as Must Send Drum Over Sound (MSDOS), and she also developed a language to transmit ideas and pictures - Hebrew To The People (HTTP).

And the young men did take to Dot Com's trading as doth the greedy horsefly take to camel dung.

They were called Nomadic Ecclesiastical Rich Dominican Sybarites, or NERDS.

And lo, the land was so feverish with joy at the new riches and the deafening sound of drums that no one noticed that the real riches were going to that enterprising drum dealer, Brother William of Gates, who bought off every drum maker in the land. Indeed he did insist on drums to be made that would work only with Brother Gates' drumheads and drumsticks.

And Dot did say, "Oh, Abraham, what we have started is being taken over by others."

And Abraham looked out over the Bay of Ezekiel , or eBay as it came to be known.

He said, "We need a name that reflects what we are."

And Dot replied, "Young Ambitious Hebrew Owner Operators. "YAHOO," said Abraham. And because it was Dot's idea, they named it YAHOO Dot Com.

Abraham's cousin, Joshua, being the young Gregarious Energetic Educated Kid (GEEK) that he was, soon started using Dot's drums to locate things around the countryside.

It soon became known as God's Own Official Guide to Locating Everything (GOOGLE).

That is how it all began. And that's the truth!
* * *
HOME FRONT NEWS
I learned this past week that some people have no sense of humour at all.
I was at my local Tesco store buying a large bag of My Dog dog food for my wife's best friend and was in the checkout queue when a woman behind me asked if I had a dog. What did she think I had - an elephant? So, since I'm retired and have little to do, on impulse I told her that no, I didn't have a dog, I was starting the Dog Diet again. I added that I probably shouldn't, because I ended up in hospital last time, but I'd lost two stone before I woke up in intensive care with tubes coming out of most of my orifices and intravenous tubes in both arms. I told her that it was essentially a perfect diet and that the way that it works is to load your pockets with My Dog nuggets and simply eat one or two every time you feel hungry. The food is nutritionally complete so it works well and I was going to try it again. (I have to mention here that practically everyone in the queue was now enthralled with my story.) Horrified, she asked me if I ended up in intensive care because the dog food poisoned me. I told her no, I stepped off the kerb to sniff an Irish Setter's backside and a car hit me. I thought the bloke behind her was going to have a heart attack he was laughing so hard.
I'm now banned from Tesco !
If you've not yet retired you'd better watch what you ask retired people. They have all the time in the world to think of daft things to say.
Come to think of it, the way my weight's fluctuating lately perhaps I should give the diet a try again. Every so often I work on trying to lose a little weight and this week I've cut out pasta, potatoes and bread. I've decided I'm just going to eat sausage rolls instead. I do walk a fair amount but I've given up breaking into a trot as it makes me giddy and makes my knees emit strange noises. I have met some very nice people when I've been out walking, and I've also met some strange ones. I met a bloke the other day who told me he once got his dog to retrieve a stick from 100 miles away. I thought that was a bit far-fetched. Then there was the woman who said she was looking for a house. I was advising her to get in quick as house prices were taking off again when I realised it was her own house she was talking about. She was lost.
Wherever I look in the family these days I see illness. It's got a lot to do with getting older, no doubt about it, but my wife said to me kast week that she felt as if someone had hit her on the head with a set of bongos. I told her not to worry as it was probably only slight percussion. She's also been having problems with her eyes so I got on the computer and Googled until I found www.conjunctivitis.com. Now there's a site for sore eyes. She's also colour blind but she doen't let it stop her enjoying life. The local council does there bit for people like her too. Last Christmas they put on a special production of Joseph and His Amazing Brown Coat and she loved it. I'm pleased to say her dyslexia's improved leaps and bounds since they found out what was causing it. She was taking too much LDS.
I was going to write my will this week but then I thought, life's too short, I'll book a holiday instead. The local travel agent was no help. I told him I wanted to book a flight, very short notice. He said it wouldn't have been a problem but you've just missed it. Still, the weather's apparently going to be extremely hot and sunny this coming week and I'm happy enough in the garden with a couple of beers, a bottle or two of wine and my feet in a paddling pool. I need all that to steady my nerves while I watch the wife with the hedge trimmer. She's a danger to herself, and low flying birds.
I'm living in hope that a few of you will turn up for our planned drink this coming Saturday, July 4th, at the Prospect of Whitby, Wapping, from 2pm. If no one else turns up and I'm left on my own anything could happen. I might have to turn to drink. Wouldn't want to break the habits of a lifetime.
Do your best to be there as I don't like drinking alone and talking to yourself gets you strange looks.
TTFN, Mark.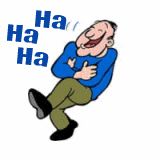 Jokes of the Week (or until I can find more)

Fluff was the pastor in a small town in Ireland. One day he was walking down the high street when he noticed a young lady of his congregation sitting in a pub drinking beer. The Reverend wasn't happy! He walked through the open door of the pub and sat down next to the woman.

"Miss Fitzgerald," he said sternly. "This is no place for a member of me
congregation. Why don't you let me take you home?"
"Sure," she said with a slur, obviously very drunk.
When Miss Fitzgerald stood up from the bar, she began to weave back and forth. The Reverend realized that she'd had far too much to drink and grabbed her arms to steady her.

When he did, they both lost their balance and tumbled to the floor. After rolling around for a few moments, the Reverend wound up on top of Miss Fitzgerald, her skirt hiked up to her waist. The pub landlord looked over and said,
"Oy mate, we won't have any of dat carryin on in dis here pub!"
The Reverend looked up at the landlord and said, "But you don't understand, I'm Pastor Fluff."

The landlord nodded and said, "Ah well, if you're dat far in, ye might as
well finish."
* * * * *
Thoughts For The Day (or until the next ones)

Apparently, 30% of car accidents in Sweden involve a moose? (Why do they let them drive? Who teaches them?)
* * * * *
On the first day, God created the dog and said,
"Sit all day by the door of your house and bark at anyone who comes in or walks past. For this, I will give you a life span of twenty years."
The dog said,
"That's a long time to be barking. How about only ten years and I'll give you back the other ten?"
And God saw that it was good.

On the second day, God created the monkey and said,
"Entertain people, do tricks, and make them laugh. For this, I'll give you a twenty-year life span."

The monkey said,
"Monkey tricks for twenty years? That's a pretty long time to perform. How about I give you back ten like the dog did?"
And God, again saw that it was good.

On the third day, God created the cow and said,
"You must go into the field with the farmer all day long and suffer under the sun, have calves and give milk to support the farmer's family. For this, I will give you a life span of sixty years."
The cow said,
"That's kind of a tough life you want me to live for sixty years. How about twenty and I'll give back the other forty?"
And God agreed that it was good.

On the fourth day, God created humans and said,
"Eat, sleep, play, marry and enjoy your life. For this, I'll give you twenty years."
But the human said,
"Only twenty years? Could you possibly give me my twenty, the forty the cow gave back, the ten the monkey gave back, and the ten the dog gave back; that makes eighty, okay?"

"Okay," said God, "You asked for it."

So that is why for our first twenty years, we eat, sleep, play and enjoy ourselves. For the next forty years, we slave in the sun to support our family. For the next ten years, we do monkey tricks to entertain the grandchildren. And for the last ten years, we sit on the front porch and bark at everyone.

Life has now been explained to you.

There is no need to thank me for this valuable information. I'm doing it as a public service. If you are looking for me I will be on the front porch.
* * * * *

An old man, a boy and a donkey were going to town. The boy rode on the donkey and the old man walked.
As they went along they passed some people who remarked: "What a shame, the old man is walking and the boy is riding."
The man and boy thought maybe the critics were right, so they changed positions.
Later they passed some people who remarked: "What a shame, he makes that little boy walk." So they then decided they'd both walk!
Soon they passed some more people who remarked "They're really stupid to walk when they have a decent donkey to ride."
So, they both rode the donkey.
Now they passed some people who shamed them by saying: "How awful to put such a load on a poor donkey."
The boy and the man figured they were probably right, so they decide to carry the donkey.
As they crossed the bridge, they lost their grip on the donkey and he fell into the river and drowned.
The moral of the story?
If you try to please everyone, you might as well kiss your ass goodbye!
Personal Ads
The personal ads you'll see here over time are genuine and taken from the London Review of Books personal ads section. It was started in 1998, intending to bring together people of similar literary and cultural tastes and has resulted in a funny and clever collection. I'll publish a different one each week and hope you enjoy them as much as I do and, if you ever spot any yourself,worthy of inclusion here, please let me have them and, so as not to give everyone the impression that you spend all your time looking at the personal ads, I'll withold your name on request! -


"The uncomfortable mantle of guilt, the heavy cloak of ignominy, the coarse socks of denial, the belligerent underpants of self-loathing.. All worn by the haberdasher of shame (M, 34, Pembs.).Seeks woman in possession of the Easy-Up iron-on hem of redemption and some knowledge of workaday delicates. No loons. Box no. 4635"
* *

AND DON'T FORGET TO CHECK THE 'WHAT'S HAPPENING' CALENDAR ON THE 'CALENDAR OF EVENTS' PAGE, OR TO SCROLL DOWN ALL PAGES AS THERE'S MORE TO SEE THAN FIRST MEETS THE EYE!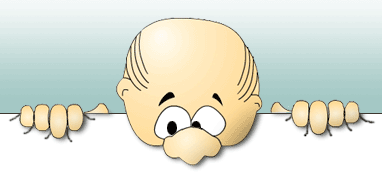 *

Sloane Information at the LMA

London Metropolitan Archives hold some information relating to Sloane. Some of the items are accessible if you visit the LMA at 40, Northampton Road, Clerkenwell, London, EC1R 0HB (phoning to make an appointment on 020 7332 3820 is advisable) but you will need to apply for a 'History Card' via their website if you intend printing copies of any of the items.
Go to the website at www.lma.gov.uk for full details. Clicking on the following link,


will take you to a page on their site where you can enter 'Sloane School' in the Search Terms box and click on 'Run Search'. This will bring up all available items.
These include -
Admission and Discharge Registers 1904-48, 1958-61 and 1964-66, a 1938 Plan of the school, drawings relating to Building Act case files 1935-57, and 23 photos of various school activities 1924-69, though some of these are listed as 'missing'.
Other items they hold are 'closed' under the 65 year rule that protects the confidentiality of living individuals. In other words, they can't be accessed for 65 years from the school's closure so will be available to the public in 2035.
However, these 'closed' items can be consulted by the LMA on behalf of individuals under the provisions of the Data Protection Act, so contact them direct if you're interested.
The 'closed' items are -

Log Book 1967-70 (Ref: LCC/EO/DIV01/SLO/LB/001)
Punishment Book 1962-70 (Ref: LCC/EO/DIV01/SLO/MISC/001)
Staff Registers -
1895-1963; 1965-70 (Ref: LCC/EO/DIV01/SLO/MISC/002-004)


* * * * *