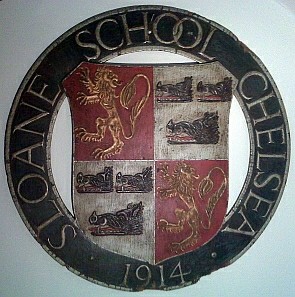 Hello and Welcome to

Mark Foulsham's

Sloane website
If I built it I knew you would come


PLEASE CHECK THE ANNOUNCEMENTS BOARD AT THE FOOT OF THIS PAGE FOR ANYTHING IMPORTANT.

A School that invited loyalty
(Quote by Don Wheal)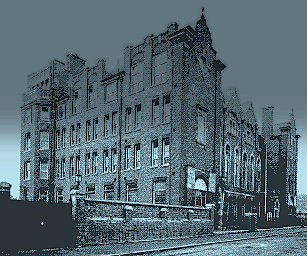 Gone But Not Forgotten
'Men are we, and must grieve when even the shade
Of that which once was great is pass'd away.'

William Wordsworth
On the Extinction of the Venetian Republic

You may think you're done with the past but the past isn't done with you!


"The merits of a school are judged as much by the men it produces as by their achievements as boys" -
(Old Cheynean D.J. Cowie, March 1929)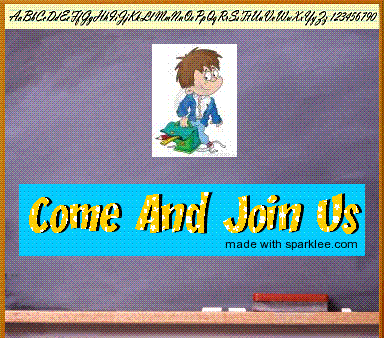 Register and link up with old school friends again and become part of Sloane Reunited.
If you were a pupil or member of staff at Sloane you qualify to register for the website and create your own personal password to view all of its pages. First choose Missing Classmates at the top of this page to see if we've been expecting you. If you see your name click on it and follow instructions. If your name's not there click on either Contact Us, at the top of the page or the Click Here To Register! button below, read what you see then complete the box at the bottom of that page to ask me to add your name to the list.
It's Free, it's Easy, it's Secure
and
You're Never Alone As A Sloane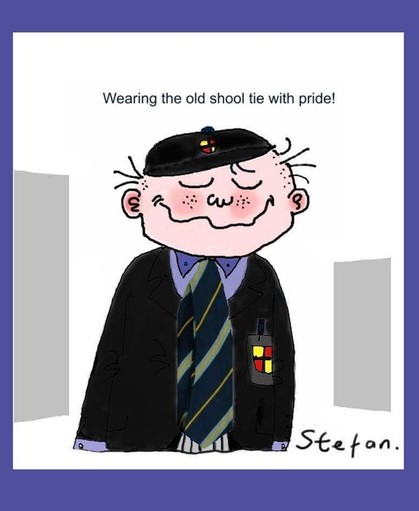 Self-portrait by Stefan Bremner-Morris

Please remember to Log Out when you leave the site by using the Log Out button to be found under the Head and Shoulders icon at the top of the page. It's as easy as falling off a log -


If you're already a member please remember to keep your Email address up to date using Edit Contact Info to be found by clicking on the Head and Shoulders icon at the top of the page.

Please don't forget to use the Notify Me page to make selections that will help you keep in touch as well as help you enjoy all the website has to offer.


Come on in!
Don't be late!
This is one detention
You'll be pleased to take.


A WARM WELCOME

to fellow Cheyneans and passers-by, from the Official Sloane Grammar School 1919-1970 Old Cheyneans and Friends web site.
Mark Foulsham, at Sloane 1963-70, created this site in August 2008 to record for posterity all that I can, and for all those who attended Sloane or simply have a Sloane connection, to share and enjoy. Feel free just to browse or, if you feel you qualify to join us, make full use of the site by becoming a Registered Classmate. Click on the Click Here to Register button above to start the registration process. It's Free!
I'll also be happy to send a personal invitation to anyone else with a Sloane School Chelsea connection who you think might like to join us. Just enter their Email address in the MISSING CLASSMATES box to your right and click Send Invite.
We may not understand why but memories of our days at Sloane remain with us while others do not. Whether they're good or they're bad, I'd like to give all old boys the opportunity to keep those memories alive.


Aspirations and Objectives

Sloane never had a motto and although our school badge is based on the lion rampant and boar's head of the Cadogan family crest their motto, Qui Invidet Minor Est or He That Envies Is Inferior, is not really appropriate so I'll adopt the one to be found on the Coat of Arms of the Royal Borough of Kensington and Chelsea as it suits us nicely -

Quam Bonum In Unum Habitare

(What A Good Thing It Is To Dwell Together In Unity)
It is hoped, in some small way, to be able to have similar objectives to those stated for the first issue of The Cheynean in December 1926 -

"To record faithfully the major activities of the School, to promote and foster a corporate spirit in the School, to excite a greater keenness both in the games and in other phases of its social life, and to serve as a link between present members of the School and the Old Cheyneans". -

and also to bring together, once again, old friends and classmates, and those of us who have outlived the school and share a common interest in its history and its future.
Sadly, I've no memory of having ever sung or even heard a school song but apparently one was written by music Master Mr Seymour Dicker in 1928, and was first sung in July of that year by pupil J E Bush. What became of it after that first performance is a mystery but it contained the lines -
"Salve, the School and its scholars so keen,
Long may they keep its memory green."
If you've any memories of Sloane you'd like to share, use the Contact Us page to send them in and, whilst you're there, register for the site as well.

Once you've registered, you can activate the Instant Messaging feature that allows you to hold a 'real-time' online conversation with anyone else who has logged on to the website. You can also send a message to someone else on the site via the Message Centre page but, if you're expecting a swift reply, it might be worthwhile using their Profile on the Classmate Profiles page, to see what part of the world they're living in these days, and to have an idea of the time where they are use the Clocks below, to check by clicking on the arrow in the relevant one.

After you've registered, why not take a look at all the Classmate Profiles ? Even if you don't know the person involved, the information they've put on their Profile can be interesting, illuminating and fun, and often brings back memories of something you thought you'd forgotten about.
If, at any time, you're unsure about anything click on this Using The Site link for an explanation or contact me direct via the Contact Us page.

* * * * *
Why Not Take a Look at Where your Classmates are Living?

Find out the Postcode of a Classmate from their Profile (if they've agreed to let everyone know it) then Click on the link below, enter the details where it says 'Address', then Click on 'Go'. Not every country is covered yet and those that are have limited coverage, but it's worth a try.
Here's the link. Have fun - http://www.vpike.com/

* * * * * * * * *

BREAKING NEWS!!
Government Takes Action To Preserve National Treasures!!

Following the death of yet another national treasure in actor Andrew Sachs, who died recently aged 86, the Government have decided to place the country's much-loved naturalist, David Attenborough, in a cotton wool-lined matchbox before Christmas, where he will remain until the ill-fated year of 2016 has passed.
A Home Office spokesman told a press conference yesterday. "Following the passing of Andrew Sachs, the government realises that swift action needs to be taken if we are to prevent yet another much-loved icon being taken from us in this tragic year for celebs.
"We have therefore decided that David Attenborough will be caught in a large butterfly net at some point tomorrow and then placed in a giant cotton wool-lined Swan Vesta box until January 1, 2017, when he will be released into his garden.
"We will put some lettuce leaves in with him and a number of holes will be drilled in the top of the box so that he can breathe.
"Every other day, a civil servant will open the box slightly and give him a prod with a stick to make sure he's still alive and hasn't shrivelled up and turned black"
This latest move comes hot on the heels of a proposal by The Labour Party to put actor, Brian Blessed, in a giant bell jar with some twigs to climb on, which will be specially soundproofed so that nobody will be able to hear him bellowing. It is understood that the government has no plans to implement similar measures for Nigel Farage.
* * *
Brexiters Pooh-pooh Chancellor's Claims!!
Brexiters have insisted the Chancellor's claim that Government finances are £122bn worse off post-Brexit is pure scaremongering, and will continue to believe that is the case until they see it written on a bus.
A spokesperson said that today's Autumn statement by Chancellor Philip Hammond, which highlighted the £122bn figure, is based on nothing more than research and expert opinion, and as such should be discarded without a moment's thought.
He went on,
"Everyone knows that financial facts are written on buses, it's the British way.
You can say whatever you like with your reports, analysis and experts – until I see it driving down the motorway in two foot high letters I won't believe a word of it. You can make up a report; you can't make up an entire bus!
If the £122bn figure was true, they would have put it on a bus, of course they would. It's how the British electorate expects to be told about the economy.
Show me a bus that says the country's finances are £122bn worse off after voting for Brexit, and then we'll talk – but until then, go away."
The Brexiter's spokesperson went on to explain that Brexit is the best thing that has ever happened to the country, before heading to the Post Office to buy some Euros for a stag do he's about to attend.
* * *
Anyone For Sharia Law In The UK?!
* * *
FRONT PAGE NEWS
New Slant On Nativity Aims To Raise Interest
A primary school in Berkshire is this year focusing its nativity play on the period just after the birth of Jesus where paranoid dictator King Herod orders the killing of every male baby in Judea.
The school insists it is a section of the Christmas story that is often hastily brushed aside.
The play will reportedly feature pupils playing the infants and a selection of teachers playing the soldiers mercilessly slaughtering them in a thirty-minute set piece, using genuine swords and gallons of fake blood to realistically depict the massacre.
Due to the graphic violence depicted in the play, the showing will be strictly for adults only, a decision which has raised eyebrows amongst parents and school governors.
Headteacher Charley Farley defended the subject matter, saying,
"Everyone knows the basics of the standard nativity story, as we hear it year after year.
Mary, Joseph, angel, donkey, no room at the inn, shepherds, wise men, baby. We understand that but the other day I read a little further in the Bible and it turns out Herod went a bit mental after hearing rumours of the new-born King, and ordered every male baby in the land to be killed.
I know, it's crazy but it's a lot more interesting than the stuff we normally put on."
He continued,
"It'll be good to do something different, something to alleviate the tedium of the annual nativity play, and I reckon the harrowing spectacle could raise the bar and set us aside from the other schools in the area."
He added
"Besides, the kids love it and we won't charge an entry fee. Everyone's a winner!"

* * *

UKIP Nativity Based on Biblical Fact
UKIP has commissioned a new nativity play in which the true heroes are the innkeepers who insisted they were full, despite increasing left-wing liberal pressure.
The hastily-written Christmas rewrite will tell the story of the brave indigenous innkeepers struggling to hold back the tide of illegal immigrants flooding in from Nazareth.
A UKIP spokesperson explained,
"As good Christians, we decided to create a version of the nativity that best represents the Bible's teachings, particularly the bit that says 'shut the door on your neighbours' – especially if they come by donkey from a generally eastern direction.
The brave heroes in our play see through the 'plight' of these so-called immigrants, who clearly think the people of Bethlehem are something of a soft touch.
It's not like there weren't beds available in Nazareth, but no, they decided to head to Bethlehem in the hope of getting free handouts such as gold, frankincense and myrrh.
In our version of the nativity, the heroic innkeepers turn away the immigrants and instead manage to let rooms to three passing kings, who are obviously perfectly welcome because they have money to pay their way.
The moral of the story? It's fairly obvious, isn't it? It's that rejecting immigrants and blindly trusting market forces is the way to a happy Christmas."

Prolific Christmas Shoplifter caught At Last!!
A man who has caused havoc in supermarkets by shoplifting Christmas presents whilst balanced on the shoulders of two vampires has been arrested and charged with shoplifting on two counts.
* * * *
HOME FRONT NEWS

I've not had a good start in the run-up to Christmas. I came home to find all my doors had been smashed in and everything was gone! What sort of sick person does that to an Advent Calendar?
It's the sort of thing I suspect my neighbour would do. He's weird. He knocked on my door at 3.00am this morning. Lucky I was still up playing my bagpipes. I invited him in out of politeness and once he'd calmed down we got to talking about this and that. 'This' being the nightmare that speaking to a call-centre has become and 'that' being the reason for it. He has read somewhere that MI5 have been outsourcing torture to Indian call-centres. I've got to ring one later today (although they never admit who you're actually talking to or where they are) and I'm determined to remain calm however many times they ask me my mother's maiden name or my name, address and postcode. They don't seem to have cottoned-on to the fact that there's a 100% chance that everyone in my household will know those details. What is the point!! Remain calm, Mark.
My neighbour's in complete agreement with my opinion of Estate Agents. Unfortunately, I don't believe a word he tells me. He recons that he was out walking his dog and threw a stick 2 miles only for his dog to find it and bring it back. Sounds far-fetched to me. For all his faults, he is an Irishman with a sense of humour, who just happens to work in a mortuary. Three bodies turned up at his mortuary this week, all with smiles on their faces. A policeman arrived and asked him,
"Why are they all smiling?"
Mick replied,
"The first bloke died of heart attack making love to his wife, hence the smile. The second bloke won the lottery, spent it on whiskey and died of alcohol poisoning, hence the smile. The third one (an Irish drinking friend of Mick's), was struck by lightning."
The constable asked,
"Why on earth was he smiling?"
Mick was smiling himself when he told him,
"He thought he was having his photo taken!"
Depressing news this week on the home front regarding my daughter. She, her boyfriend and my Grandson thought they'd finally found a property to rent within their price range only to be gazumped after signing the papers and handing over a deposit. I don't think Estate Agents should have that sort of flexibility with people's lives. Their excuse is always that they're only representing the interests of their client. Representing their own interests more like and ruining the dreams of others. Back to the drawing board after Christmas.
I'm hoping to cheer the wife up with a nice present or two this year but if last year was anything to go by, I've got my work cut out. Back then we were lying in bed a couple of weeks before Chrustmas when she asked me what I'd most like to do with her body. "Identify it" apparently wasn't the right answer. She's right about one thing though. Anyone who believes men are the equal of women has never seen a man trying to wrap a Christmas present. Saves me a lot of unwanted work to disgree with her on that one. Still, it could be worse; I could have ended up marrying a diva. You know the type of woman; it only takes one of them to change a lightbulb. They just hold it in the socket and the world revolves around them.
A final reminder to any of you debating whether to join us for pre-Christmas conviviality and merriment. I'll be in the Kings Arms, on the corner of New Kings Road and Fulham High Street, London, SW6, from 3 o'clock onwards, this coming Saturday, 10th December. A few have already said they'll come along so, if it's my presence that's putting you off, there will be someone else for you to talk to. Do your best. If that doesn't help you decide but you're still consideringh drowning your sorrows in drink this Christmas, just remember that alcohol doesn't solve anything. Then again, neither does milk.

JOKES OF THE WEEK
A Young man named Chris from London wanted to buy a Christmas present for his new girlfriend named Maggie. They hadn't been seeing each other for very long but she lived quite a distance away in up in Scotland. He consulted with his sister and decided after careful consideration that a pair of good quality gloves would strike the right note... not too romantic of course and not too personal.

Off he went with his sister to Harrod's and they selected a dainty pair of fur lined quality leather gloves. His sister bought a pair of sexy knickers for herself in Harrod's at the same time. Harrod's had a free gift wrap offer on at the time but, the assistant accidentally mixed up the two presents. His sister mistakenly got the gloves and Chris unknowingly got the knickers.

Good old Chris sent off his gift wrapped present in a parcel with the following letter:

"Dear Maggie,

I chose these because I've noticed that you are not wearing any when we go out in the evenings. If it had not been for my sister I would have chosen the long ones with buttons but she wears shorter ones (which are easier to remove). These are a very delicate shade, but the lady I bought them from showed me the pair she had been wearing for the past three weeks and I hardly noticed any marks. I had her try yours on for me and she looked really smart in them even though they were a little bit tight on her. I wish I was there to put them on for you the first time as no doubt many other hands will touch them before I have a chance to see you again. When you take them off remember to blow into them a little bit because they will be naturally a little damp from wearing. Just imagine how many times my lips will kiss them during the coming year. I hope you will wear them for me on our next date.

All my love, Chris. x x x

P.S. My mum tells me that the latest style is to wear them folded down, with a little bit of fur showing.

THOUGHTS FOR THE DAY

I've come to realise that I am one of a growing band of Seenagers (Senior teenagers).

I have everything that I wanted as a teenager, only 60 years later.
I don't have to go to school or work. I get an allowance every month.
I have my own pad. I don't have a curfew.
I have ID that gets me into pubs and allows me to buy alcohol at the supermarket.
The people I hang around with are not scared of getting pregnant.
And I don't have acne.
Life is Good!

Also, you will feel much more intelligent after reading this.

Brains of older people are slow because they know so much. People do not decline mentally with age, it just takes them longer to recall facts because they have more information in their brains, scientists believe (and why should we dount them?).

Much like a computer struggles as the hard drive gets full, so too, do humans take longer to access information when their brains are full.

Researchers say this slowing down process is not the same as cognitive decline. The human brain works slower in old age, but only because we have stored more information over time. The brains of older people do not get weak. On the contrary, they simply know more.

Also, older people often go to another room to get something and when they get there, they stand there wondering what they came for. It is NOT a memory problem, it is nature's way of making older people do more exercise.

SO THERE!!

I have more friends I should send this to, but right now I can't remember their names. So, please forward this to your friends; they may be my friends, too.
* * *
Money may not be able to buy you happiness but it's so much more comfortable cryin on the back seat of a Rolls Royce that it is on a bike.
Forgive your enemies at this time of year by all means but be sure to remnember their names.
Help someone when they are in trouble and they'll remember you when they're in trouble again.
If walking is good for your health, the postman would be immortal.

* * * * *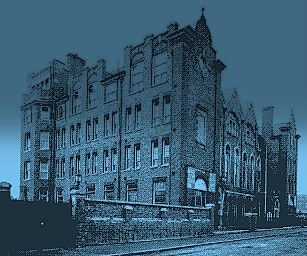 The Sloane building seen from Hortensia Road in 1908 and
much as it looks today

The Sloane building was 100 years old in 2008, although it didn't actually start life as a boys' school until after the First World War, during which it served as a hospital. It still stands and many memories are, no doubt, ingrained in its walls along with the odd name and ribald comment. Who knows what the future holds, despite its Grade II listing on May 7th, 2002. Grade II listed buildings can be altered, extended, or even demolished, but only with Local Authority consent, so it may be that the building is considered historically or architecturally interesting enough for it's fabric to remain untouched. Some consideration may have been given to it having been the first purpose-built secondary school in London, and it is certainly one of only 3% of all ages of listed buildings that was built in the 20th century. Schools generally are seen as a good investment by developers because they're easy to convert. They are likely to be structurally sound because the authorities will have inspected them regularly to ensure they comply with Health and Safety requirements.

Sadly, Sloane Grammar School for Boys only lasted 51 years, from 1919-1970. John Binfield, in one of his poems writes -
... the school, with
All its past, was sucked into a huge
Turbulent sea of glass in Pimlico
And sank without trace. "full fathom five..
Sea nymphs hourly ring his knell.
Hark, now I hear them. Ding-dong bell".
Should the building survive in the form we all remember, there is still a chance that some of us will be around in 2019 to celebrate what would have been its centenary as a boys' school, had it remained in existence.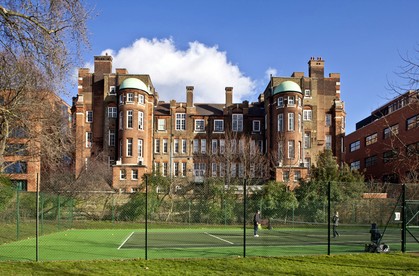 Sloane seen from the rear in 2014
CHANGES TO THE SLOANE SITE AND BUILDING
The new Kensington & Chelsea College, known since 2014 as their Chelsea Centre, sits where the playground used to be between the old Sloane building and the old Carlyle building. Work on the new college building, with designs by the architects who transformed the Royal Opera House and the National Portrait Gallery, was completed in 2012.
The flats, constructed in Sloane's old North playground on the Fulham Road are known as Milliner House, Chelsea Apartments, and were ready for occupation in 2011 at advertised prices between £785,000 and £2,350,000. Or if you could afford it, the single penthouse at the top would have set you back £5.85 million when first offered for sale but a market downturn in 2012 saw it reduced to an almost tempting £4.25 million - and it was being sold as a shell!
Phase 2 of the project was originally for conversion of the original Edwardian building into loft style apartments by D19 Property but the new owners, No. 1 Estates Ltd, who have a connection to D19 Property were, on 22 October, 2012, given planning permission to retain the building as an educational establishment by Kensington and Chelsea Planning and Borough Development Department.
However, in September of 2013 a slightly revised plan for re-development of the building for residential use was applied for by Hortensia Property Development LLP. Supported by a K M Heritage heritage appraisal it was presented to Kensington and Chelsea Council for listed building consent and planning consent for the refurbishment and extension of the Sloane building, taking into account national and local policies relating to the historic built environment. Their statement is available on this link -
K M HERITAGE STATEMENT ON BEHALF OF HORTENSIA PROPERTY DEVELOPMENT
What's also interesting is that the old Chelsea College of Art and Design in Manresa Road, to which Sloane can trace its origins in its guise as the South-Western Polytechnic, was, in 2012, about to make way for a scheme involving 15 apartments and two town houses. There's no stopping 'progress'.
The shell of the 6th
floor penthouse
The entrance to the
apartments on
Hortensia Road
The apartments seen from
Fulham Road
The view of Fulham Road
and St Mark's College from
one of the balconies
Building work has progressed apace on what is now known as The King's Library. After planning and building consent were granted work commenced on restructuring the main Sloane building at the end of 2014. The developers, Tenhurst, used McGee as their principal contractors, working to the architectural design of Robin Partington and Partners and began by excavating the basement or as McGee put it, they were responsible for
"soft strip out and carve demolition and basement excavation".
I'm sure some of you out there understand what they mean.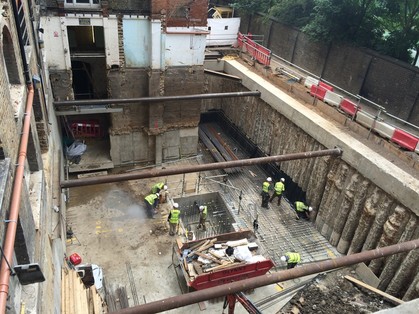 The basement excavation was due to conclude by the end of 2015 to allow the redevelopment above it to progress. Since then work has begun on constructing 18 apartments and a penthouse, a new pedestrian entrance and an extension to the south-west of the building with 150 south facing windows. The design also includes a communal area incorporating our old assembly hall and, in all, 50,000 square feet is being converted. Those lovely brown , glazed tiles that adorn the staircases will remain after being cleaned.
I was approached by the interior designers, Helen Green Design, after they found our website, and asked whether I could provide black and white photos of the school and it's people from the period apanning 1920 -1950ish. I was happy to do so even though they rejected my plea for first refusal on the £15+ million penthouse apartment that cover the 6,000 sq ft of the whole 5th floor and incorporates two wings; one for your private accommodation and one for entertainment alone. I sent them some 70 photos and if they are suitable some will be used to line the walls of the 'show' apartment. You'll no doubt see them when you visit to view your potential London pad. Prices start at £3.1 million and the apartments are being marketed by Savill's.
If you want to take a closer look at the involvement the above mentioned people have then please use the links below and if they don't work just copy and paste them into your browser address bar. The Kings Library link has a not easily visible menu on the left of the screen -
The following link to McGee's website will take you directly to a page where you'll find regular Community Newsletters updating local residents on what's happened and what's about to happen -

McGee Community Newsletters

For those of you who'd rather not follow the links, the following photos are among those to be found on them -
| | |
| --- | --- |
| | |
| Hortensia Road Proposed Elevation | Rear of Building Proposed Elevation |
| | |
| Work commences on our old Assembly Hall | Proposed look of the old Assembly Hall once converted |
Meanwhile, Carlyle's old building next door to us hasn't escaped the wiles of the developer and this is how the King's Road is expected to look after work is completed -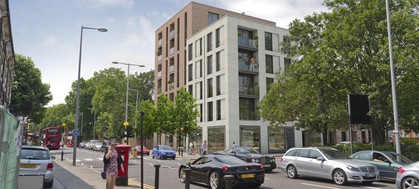 Grainger plc were granted permission to redevelop and manage the council-owned land next to the Carlyle building at the South end of Hortensia Road, to provide 31 one, two, three and four bedroom units to include a range of rental tenures one of which will be the usual, ambiguous, "affordable". The Royal Borough of Kensington and Chelsea will retain the freehold and share the long-term rental income. Among the thirty one homes will be 6 town houses which will front King's Road. In all, the building will range from three to seven storeys and incorporate 2,756 sq ft of non-residential (presumably business) ground floor space.

Unusually, this will be a car free development with no parking provided other than for bicycles. There will be residential entrances on Hortensia Road and a commercial entrance on the King's Road. Residents will have the use of a communal courtyard -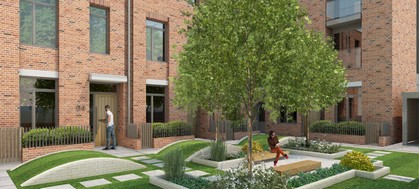 For those of you who can't remember, this is what the site looked like before work started -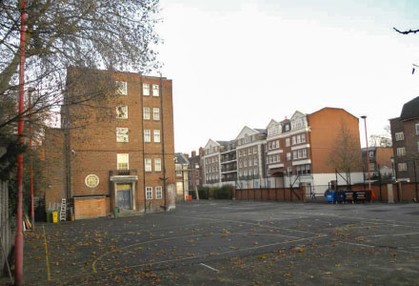 * * * * *
Whatever our own personal reasons for it doing so, the school will still haunt most of us even if it disappears altogether. With that tenuous link, here's a poem that I came across in a copy of The Cheynean -

The Ghost of Sloane

When London's asleep and the School very quiet,
No sound of footsteps, no sound of a riot,
No sound of even the shuffle of feet,
No sound of the creak of a pupil's seat,
Out of the darkness the ghost of Sloane
Awakes from rest with a sigh and a groan.
Then up he arises to haunt the School
Climbing the stairs in the guise of a ghoul.
He shuffles and clanks down each corridor
Into the classrooms where stand desks galore.
He examines each desk and checks the boys' work,
Allots ghostly marks in the dark and the murk.

If you ever lose books from out of your desk,
And the teacher upbraids you and calls you a pest,
Just tell him my story, however tall,
Of the white shrouded phantom that haunts the School Hall.

J. Hollingshead (3C)

As for us, the boys who used to attend our Chelsea school, we probably considered ourselves 'Chelsea men' but I doubt that many of fitted the description in this poem, written when he was in the 5th year by one time Sloane Schoolboy, A R Doubledee. I get the impression he didn't particularly approve of the 'Beatniks' of the late 50s and early 60s that he found himself sharing Chelsea with or, as he called them the 'Weirdies' -

The Weirdies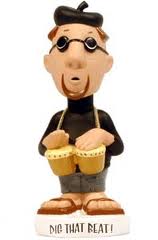 The Chelsea man is excessively queer,
He only drinks coffee and doesn't like beer.
He's always "chatting" the girls, and yet
This seems to make him "one of the set".

His unkempt chin and uncut hair
Go with his feet which are usually bare.
If he wears shoes, they've never got soles,
And he's usually found in Bohemian holes.

His outsize sweater is generally black
Contrasting well with his shorty mac.
He wears his clothing merely to show
That he can keep up with the boys of Soho.

To find a girl he doesn't look far,
But into the nearest coffee bar,
Where he's sure to meet a Bohemian "yob".
They're all from Chelsea - what a mob!

The girls with hair right down their backs
Wear irregular clothes that look like sacks.
They walk about wearing father's sweater:
I really don't see why he should let 'er.

Their gaudy clothes of reds and greens
Match up with the style of their men-friends' jeans.
Now that's how it goes with the latest style:
Girls on their faces make-up pile,
The men wear anything they can find -
I shouldn't stare, I should just act blind!

A.R. Doubledee (5b)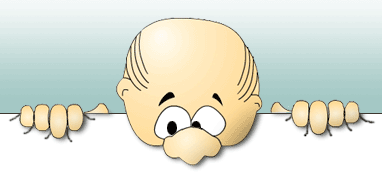 *

Sloane Information at the LMA
London Metropolitan Archives hold some information relating to Sloane. Some of the items are accessible if you visit the LMA at 40, Northampton Road, Clerkenwell, London, EC1R 0HB (phoning to make an appointment on 020 7332 3820 is advisable) but you will need to apply for a 'History Card' via their website if you intend printing copies of any of the items.
Go to the website at www.lma.gov.uk for full details. Clicking on the following link,


will take you to a page on their site where you can enter 'Sloane School' in the Search Terms box and click on 'Run Search'. This will bring up all available items.
These include -
Admission and Discharge Registers 1904-48, 1958-61 and 1964-66, a 1938 Plan of the school, drawings relating to Building Act case files 1935-57, and 23 photos of various school activities 1924-69, though some of these are listed as 'missing'.
Other items they hold are 'closed' under the 65 year rule that protects the confidentiality of living individuals. In other words, they can't be accessed for 65 years from the school's closure so will be available to the public in 2035.
However, these 'closed' items can be consulted by the LMA on behalf of individuals under the provisions of the Data Protection Act, so contact them direct if you're interested.
The 'closed' items are these -

Log Book 1967-70 (Ref: LCC/EO/DIV01/SLO/LB/001)
Punishment Book 1962-70 (Ref: LCC/EO/DIV01/SLO/MISC/001)
Staff Registers -
1895-1963; 1965-70 (Ref: LCC/EO/DIV01/SLO/MISC/002-004)