Sloane Grammar School Hortensia Road Chelsea London England
1919-1970 Old Cheyneans and Friends
!!
CHECK THE LOGGED IN: BOX FOR IMPORTANT MESSAGES AFTER YOU LOG IN
Click here to go to bottom
Hello and Welcome
to
Mark Foulsham's Sloane website

IF I BUILT IT

I KNEW YOU WOULD COME

A School that invited loyalty
(Quote by Don Wheal)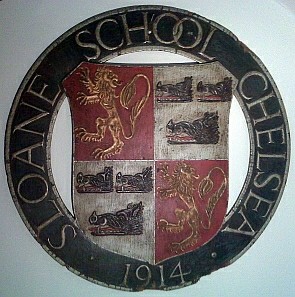 Gone But Not Forgotten

Men are we and must grieve when even the shade
Of that which once was great is passed away
William Wordsworth
On the Extinction of the Venetian Republic

You may think you're done with the past but the past isn't done with you!


"The merits of a school are judged as much by the men it produces as by their achievements as boys" -
(Old Cheynean D.J. Cowie, March 1929)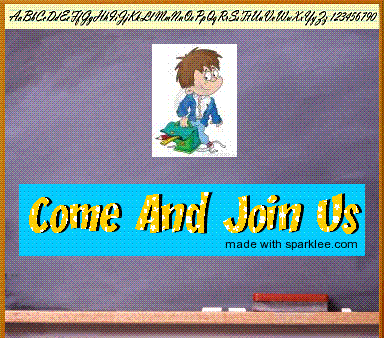 REGISTER AND LINK UP WITH OLD SCHOOL FRIENDS AGAIN AND BECOME PART OF SLOANE REUNITED

YOU'LL NEED TO REGISTER FOR OUR WEBSITE TO CREATE YOUR OWN PERSONAL PASSWORD AND VIEW ALL OF ITS PAGES. IF YOU HAVE A VALID SLOANE CONNECTION JUST CLICK ON THE BUTTON BELOW. BUT CHOOSE MISSING CLASSMATES AT THE TOP FIRST TO SEE IF WE'VE BEEN EXPECTING YOU. IF YOUR NAME'S THERE CLICK ON IT AND FOLLOW ON-SCREEN INSTRUCTIONS.
IT'S FREE, IT'S EASY, IT'S SECURE
You're Never Alone As A Sloane

IF YOU'D PREFER MORE INFO BEFORE COMMITTING YOURSELF, CLICK ON THE ENVELOPE BELOW AND SEND ME A DIRECT EMAIL -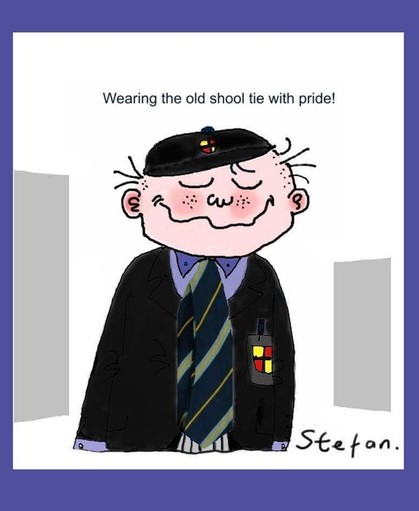 Self-portrait by Stefan Bremner-Morris

PLEASE REMEMBER TO LOG OUT WHEN YOU LEAVE THE SITE USING THE LOG OUT BUTTON UNDER MEMBER FUNCTIONS IN THE LEFT HAND COLUMN. IT'S AS EASY AS FALLING OFF A LOG -

SEE ALL THE LATEST NEWS AND UPDATES FURTHER DOWN, AND CHECK THE CALENDAR ON THE CALENDAR OF EVENTS PAGE TO SEE WHAT'S BEEN HAPPENING AND WHAT'S ABOUT TO HAPPEN.

IF YOU'RE ALREADY A SITE MEMBER PLEASE REMEMBER TO KEEP YOUR EMAIL ADDRESS UP TO DATE USING EDIT CONTACT INFO IN THE LEFT HAND COLUMN AND KEEP AN EYE ON THE LOGGED IN: BOX AT THE TOP RIGHT OF THIS PAGE FOR IMPORTANT MESSAGES AFTER YOU'VE LOGGED IN.

DOWNLOAD ONE OF THE MORE MODERN INTERNET BROWSERS TO VIEW THIS WEBSITE. EITHER GOOGLE CHROME OR MOZILLA FIREFOX ARE BETTER ABLE TO DISPLAY EVERYTHING AS IT WAS INTENDED.


Come on in!
Don't be late!
This is one detention
You'll be pleased to take.


A WARM WELCOME

to fellow Cheyneans and passers-by, from the Official Sloane Grammar School 1919-1970 Old Cheyneans and Friends web site. We'll keep the home fires burning until you join us.
Mark Foulsham, at Sloane 1963-70, created this site in August 2008 to record for posterity all that I can, and for all those who attended Sloane or simply have a Sloane connection, to share and enjoy. Feel free just to browse or, if you feel you qualify to join us, make full use of the site by becoming a Registered Classmate.
We may not understand why but memories of our days at Sloane remain with us while others do not. Whether they're good or they're bad, I'd like to give all old boys the opportunity to keep those memories alive.
Click on the Click Here to Register button above to start the registration process. It's Free!

I'll also be happy to send a personal invitation to anyone else with a Sloane School Chelsea connection who you think might like to join us. Just enter their Email address in the MISSING CLASSMATES box to your right and click Send Invite.


Aspirations and Objectives

Sloane never had a motto and although our school badge is based on the lion rampant and boar's head of the Cadogan family crest their motto, Qui Invidet Minor Est or He That Envies Is Inferior, is not really appropriate so I'll adopt the one to be found on the Coat of Arms of the Royal Borough of Kensington and Chelsea as it suits us nicely -

Quam Bonum In Unum Habitare

(What A Good Thing It Is To Dwell Together In Unity)
It is hoped, in some small way, to be able to have similar objectives to those stated for the first issue of The Cheynean in December 1926 -

"To record faithfully the major activities of the School, to promote and foster a corporate spirit in the School, to excite a greater keenness both in the games and in other phases of its social life, and to serve as a link between present members of the School and the Old Cheyneans". -

and also to bring together, once again, old friends and classmates, and those of us who have outlived the school and share a common interest in its history and its future.
If you've any memories of Sloane you'd like to share, use the Contact Us page to send them in and, whilst you're there, register for the site as well.

Once you've registered, you can activate the Instant Messaging feature that allows you to hold a 'real-time' online conversation with anyone else who has logged on to the website. You can also send a message to someone else on the site via the Message Centre page but, if you're expecting a swift reply, it might be worthwhile using their Profile on the Classmate Profiles page, to see what part of the world they're living in these days, and to have an idea of the time where they are. Use the Clocks below, to check.

After you've registered, why not take a look at all the Classmate Profiles ? Even if you don't know the person involved, the information they've put on their Profile can be interesting, illuminating and fun, and often brings back memories of something you thought you'd forgotten about.
If, at any time, you're unsure about anything click on this Using The Site link for an explanation or contact me direct via the Contact Us page.

* * * * *
Why Not Take a Look at Where your Classmates are Living?

Find out the Postcode of a Classmate from their Profile (if they've agreed to let everyone know it) then Click on the link below, enter the details where it says 'Address', then Click on 'Go'. Not every country is covered yet and those that are have limited coverage, but it's worth a try.
Here's the link. Have fun - http://www.vpike.com/

* * * * * * * * *
| | | | | |
| --- | --- | --- | --- | --- |
| | | | | |
| | | Sloane in 1908 and much as it looks today | | |

The Sloane building was 100 years old in 2008, although it didn't actually start life as a boys' school until after the First World War, during which it served as a hospital. It still stands and many memories are, no doubt, ingrained in its walls along with the odd name and ribald comment. Who knows what the future holds, despite its Grade II listing on May 7th, 2002. Grade II listed buildings can be altered, extended, or even demolished, but only with Local Authority consent, so it may be that the building is considered historically or architecturally interesting enough for it's fabric to remain untouched. Some consideration may have been given to it having been the first purpose-built secondary school in London, and it is certainly one of only 3% of all ages of listed buildings that was built in the 20th century. Schools generally are seen as a good investment by developers because they're easy to convert. They are likely to be structurally sound because the authorities will have inspected them regularly to ensure they comply with Health and Safety requirements.

Sadly, Sloane Grammar School for Boys only lasted 51 years, from 1919-1970. Should the building survive in the form we all remember, there is still a chance that some of us will be around in 2019 to make use of the building to celebrate what would have been its centenary as a boys' school, had the school remained in existence.
UPDATE ON BUILDING PROGRESS
Kensington & Chelsea College created a timelapse video of the construction of the new college that now sits where the playground used to be between the old Sloane building and the old Carlyle building. Work on the new college building, with designs by the archtects who transformed the Royal Opera Hous and the National Portrait Gallery, was completed in 2012. Kensington and Chelsea Colege renamed it their Chelsea Centre in2014. Take a look at the construction video below along with pictures of how it now looks -

The flats, constructed in Sloane's old North playground on the Fulham Road are known as Milliner House, Chelsea Apartments, and were ready for occupation in 2011 at advertised prices between £785,000 and £2,350,000. Or if you could afford it, the single penthouse at the top would have set you back £5.85 million when first offered for sale but a market downturn in 2012 saw it reduced to an almost tempting £4.25 million - and it was being sold as a shell!
Phase 2 of the project was originally for conversion of the original Edwardian building into loft style apartments by D19 Property but the new owners, No. 1 Estates Ltd, who have a connection to D19 Property were, on 22 October, 2012, given planning permission to retain the building as an educational establishment by Kensington and Chelsea Planning and Borough Development Department. Due to a confidentiality agreement we're not allowed to know more at the moment.
What's also interesting is that the old Chelsea College of Art and Design in Manresa Road, to which Sloane can trace its origins in its guise as the South-Western Polytechnic, was, in 2012, about to make way for a scheme involving 15 apartments and two town houses. There's no stopping 'progress'.
| | | |
| --- | --- | --- |
| | | |
| The view from Fulham Road | | The entrance to the apartments on Hortensia Road |
| | | |
| A closer view of the apartments | | The view of Fulham Road and the old St Mark's College from one of the balconies |
The shell of the 6th floor penthouse

* * *
Whatever our own personal reasons for it doing so, the school will still haunt most of us even if it disappears altogether. With that tenuous link, here's a poem that I came across in an old copy of The Cheynean -

The Ghost of Sloane

When London's asleep and the School very quiet,
No sound of footsteps, no sound of a riot,
No sound of even the shuffle of feet,
No sound of the creak of a pupil's seat,
Out of the darkness the ghost of Sloane
Awakes from rest with a sigh and a groan.
Then up he arises to haunt the School
Climbing the stairs in the guise of a ghoul.
He shuffles and clanks down each corridor
Into the classrooms where stand desks galore.
He examines each desk and checks the boys' work,
Allots ghostly marks in the dark and the murk.

If you ever lose books from out of your desk,
And the teacher upbraids you and calls you a pest,
Just tell him my story, however tall,
Of the white shrouded phantom that haunts the School Hall.

J. Hollingshead (3C)

As for us, the boys who used to attend our Chelsea school, we probably considered ourselves 'Chelsea men' but I doubt that many of fitted the description in this poem, written when he was in the 5th year by one time Sloane Schoolboy, A R Doubledee. I get the impression he didn't particularly approve of the 'Beatniks' of the late 50s and early 60s that he found himself sharing Chelsea with or, as he called them the 'Weirdies' -

The Weirdies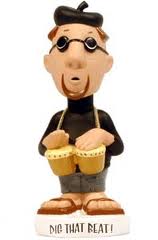 The Chelsea man is excessively queer,
He only drinks coffee and doesn't like beer.
He's always "chatting" the girls, and yet
This seems to make him "one of the set".

His unkempt chin and uncut hair
Go with his feet which are usually bare.
If he wears shoes, they've never got soles,
And he's usually found in Bohemian holes.

His outsize sweater is generally black
Contrasting well with his shorty mac.
He wears his clothing merely to show
That he can keep up with the boys of Soho.

To find a girl he doesn't look far,
But into the nearest coffee bar,
Where he's sure to meet a Bohemian "yob".
They're all from Chelsea - what a mob!

The girls with hair right down their backs
Wear irregular clothes that look like sacks.
They walk about wearing father's sweater:
I really don't see why he should let 'er.

Their gaudy clothes of reds and greens
Match up with the style of their men-friends' jeans.
Now that's how it goes with the latest style:
Girls on their faces make-up pile,
The men wear anything they can find -
I shouldn't stare, I should just act blind!

A.R. Doubledee (5b)

* * *

FRONT PAGE NEWS



CANCEL YOUR CREDIT CARD BEFORE YOU DIE ........ JUST PRICELESS

Reported in the Newcastle Evening Chronicle U.K. recently:

Be sure to cancel your credit cards before you die! This is so priceless. And so easy to see it happening, customer service being what it is today!

A lady died this September, and MBNA bank billed her in October and November for their annual service charges on her credit card, and then in December added late fees and interest on the monthly charge.The balance that had been £0.00, is now somewhere around £60.00.
A family member placed a call to the MBNA Bank:

Family Member: 'I am calling to tell you that my grandma died in September.'

MBNA: 'But the account was never closed and so the late fees and charges still apply.'

Family Member: 'Maybe, you should turn it over to your collections section.'

MBNA: 'Since it is two months over due, it already has been.'

Family Member: 'So, what will they do when they find out she is dead?'

MBNA: 'Either report her account to the Police's fraud section or take action to recover what is owed to us, maybe both!'

Family Member: 'Do you think God will be mad at her?'

MBNA: 'Excuse me?'

Family Member: 'Did you just get what I was telling you. The part about her being dead?'

MBNA: 'Sir, you'll have to speak to my supervisor.'

Supervisor gets on the phone:

Family Member: 'I'm calling to tell you, she died in September.'

MBNA: 'But the account was never closed and the late fees and charges still apply.'

Family Member: 'You mean you want to collect from her estate?'

MBNA: (Stammer) 'Are you her solicitor?'

Family Member: 'No, I'm her grandson.'

MBNA: 'Could you fax us a death certificate?'

Family Member: 'Sure.'

( fax number is given )

After they get the fax:

MBNA: 'Our system just isn't set up for death. I don't know what more I can do to help.'

Family Member: 'Well, if you figure it out, great! If not, you could just keep billing her. I don't think she will care.'

MBNA: 'Well, the late fees and charges will still apply.'

Family Member: 'Would you like her new billing address?'

MBNA: 'That would help.'

Family Member: ' Plot 1049.' Heaton Cemetery, Heaton Road , Newcastle upon Tyne

MBNA: 'But, that's a cemetery!'

Family Member: 'Well, what the f*** do you do with dead people on your planet?'


The MBNA were not available for comment when a reporter from the Newcastle Evening Chronicle rang them.


* * * * *

I'm sure they weren't to know the way we were going to be thinking 50 years later but this is how WD40 was advertised to the world for the first time in 1964 -
* * * * *
We will remember them
News From The Front
In this centenary year of the outbreak of World War I, I've been re-reading some books I have on the subject and have found this in my copy of Forgotten Voices Of The Great War. In the midst of carnage there was still humour to be found, even if that humour had a worthy purpose or was aimed at the young, the foolish and the naive, and there was also honesty and the unknown of effects of battle on the individual. I'll be including a few pieces from the book here show what life was like in the trenches -
CHRISTMAS

Private Clifford Lane. 1st battalion Hertfordshire Regiment:
"We'd all got these long, thick woollen underpants and vests on and we were soaked right through. When we got back to the trench it was dark, and we tried to get around this little brazier fire, but of course only two or three men could get near anyway so we didn't really get dry. And then they brought us 'Princess Mary's gift box'. And in this box was cigarettes, tobacco and a bar of chocolate, which was very much appreciated. And then we had what the English newspapers called Christmas Dinner. This consisted of cold bully beef and a cold lump of Christmas pudding, that was our Christmas dinner. The English newspapers said the British troops in the front line 'enjoyed' their Christmas dinner."

Private Frank Sumpter. London Rifle Brigade:
After the 19th December attack, we were back in the same trenches when Christmas Day came along. It was a terrible winter, everything was covered in snow, everything was white. The devastated landscape looked terrible in its true colours - clay and mud and broken brick - but when it was covered in snow, it was beautiful. Then we heard the Germans singing 'Silent night. Holy night', and they put up a notice saying'Merry Christmas', so we put one up too.
While they were singing our boys said, 'Let's join in,' so we joined in and when we started singing, they stopped. And when we stopped, they started again. So we were easing the way. Then one German took a chance and jumped up on top of the trench and shouted out, 'Happy Christmas, Tommy!' So of course our boys said, 'If he can do it, we can do it,' and we all jumped up. A Sergeant-Major shouted, 'Get down!' But we said, Shut up Sergeant, it's Christmas time!' And we all went forward to the barbed wire.
We could barely reach through the wire, because the barbed wire was not just one fence, it was two or three fences together, with a wire in between. And so we just shook hands and I had the experience of talking to one German who said to me, 'Do you know where the Essex Road in London is?' I replied, 'Yes, my uncles had a shoe repairing shop there.' He said, 'That's funny. There's a barber shop on the other side where I used to work.'
They could all speak very good English because before the war, Britain was invaded by Germans. Every pork butcher was German, every barber's shop was German, and they were all over here getting the lowdown on the country. It's ironic when you think about it, that he must have shaved my uncle at times and yet my bullet might have found him and his bullet might have found me.
The officers gave the order 'No fraternisation' and then they turned their backs on us. But they didn't try to stop it because they knew they couldn't. We never said a word about the war to the Germans. We spoke about our families, about how old they were, how long we thought it would last and things like that. I was young and I wasn't that interested, so I stood there for about half an hour then I came back. But most of the boys stayed there the whole day and only came back in the evening. There were no shots fired and some people enjoyed the curiosity of walking about in no man's land. It was good to walk around. As a sign of their friendliness the Germans put up a sign saying 'Gott mit uns' which means 'God is with us' and we put up a sign in English saying 'We got mittens too'. I don't know if they enjoyed that joke."

* * *
BREAKING NEWS!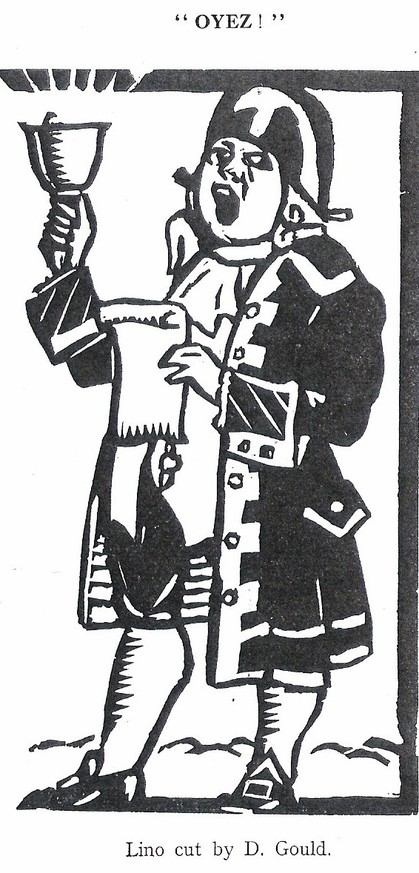 Enid Blyton's Famous Five Meet Up

Well, not the Famous Five actually but the five of us who made it to Victoria Station for pre-Christmas drinks. I couldn't think of anything else to call us to be honest. Sadly, only Colin Butler, Niall Corbett, Trevor Davis, Ian Wiseman and me were able to tear ourselves away from Christmas preparations and spend a few pleasant hours in conversation, drink and each other's good company. My thanks to the four of you who made the effort. Shame more of you couldn't be there. Maybe next year?

Sachin Tendulkar Comes To Town To Meet Stefan Bremner-Morris!!

Cricketer Sachin Tendulkar, deified by the Indian people, has been in Canary Wharf, London, to sign copies of his autobiography Playing It My Way -

Unprecedented crowds, some of whom had been queuing since the early hours of the morning, gathered to seee him, and among them was website member, Stefan Bremner-Morris, who kindly sent me this photo. You can just see parts of Stefan's body somewhere near the top left. Although if he'd used a body double we'd be none the wiser -
When Our Friends In The North Get Bored In Winter -

THIS IS WHAT THEY DO -
* * *
HOME FRONT NEWS
I don't believe my luck sometimes! I've got the electricians here today to move sockets, put in a new circuit etc. First of all the new sockets I ordered and paid Express Delivery for, didn't arrive on time! Secondly, I'd spent two hours writing this piece before there was a mighty bang and I lost the lot as they'd fused the main circuit. Naturally, I ran downstairs thinking I might find a dead sparky in the kitchen but thankfully, he was still in one piece so I've returned to this to start all over again.
There's no doubt that Christmas is really all about the kids. As mine are all over twenty now we've done little in the way of preparation as it's only our grandson we really need to worry about. Considering we're going to be without a kitchen this festive season, we've decided to let someone else do the worrying, and eat out somewhere and have a very low-key Christmas. The best laid plans of mice and men and all that....
You'd think that with less to do and therefore less hassle, the wife and I would have less to argue about. Not so. I swear she's happier when she's got something to moan about, and if she's happy, shouldn't I be also? There are limits to what a man can endure. We've had words but needless to say, I didn't really get a chance to use mine. We men know full well that God made man before woman to give man time to think of an answer to her first question.
I've told her that I'm going to make her the happiest woman in the world, thinking the anticipation would calm her down. All she had to say was,
"I'll miss you."
I'll admit to not helping the situation by renaming my E-mail folder 'Instruction Manuals' just to stop her looking in it and talking of E-mails, I was in my local department store this weekend when I heard Santa chatting to a little girl who was sitting on his knee -
"What would you like me to bring you this year?" he asked her. At which her little jaw dropped, she swore at him and said,
"I take it you didn't get my E-mail?!"
Back to the wife and me situation. As she's been a bit busy these past few weeks I thought I'd take some of the weight off her shoulders by doing my own washing. It's not something I've much experience of so I asked her which setting I should use onthe washing machine to wash my favourite shirt.
"What does it say on the shirt?" she sighed.
"Fulham FFC", I said, which led to me getting another mouthful of abuse. No pleasing some people. What else could I do to please and appease her, I thought. Mow the lawn, I'll mow the lawn I said to myself. As it's been unseasonably warm recently, I thought I'd do it shirtless or even completely naked. I thought I'd better get her approval first, so asked,
"What do you think the neighbours would think if I did the lawn in the all-together?"
"Probably that I married you for your money", came her sarcastic reply. She might have a point though. She was on a roll now so continued, unabated.
"Why do men whistle when they're on the toilet?" she queried.
Thinking it wasa very reasonable question, I thought for a while but didn't have an answer.
"So they know which end to wipe", she said, grinning from ear to ear at her own cleverness.
"And what do you call a man who's good looking, intelligent and sensitive?" was her next question.
Apparently, "Me" wasn't the answer she was hoping for and proceeded to give me the right one,
"A rumour."
I couldn't let her get away with that so responded by reminding her that when God created husbands he promised women that good and ideal husbands would be found in all corners of the world, then laughed his head off as he created the world round.
The wife now prays every night before she goes to bed and it's usually along the same lines.....
"I pray for Wisdom to understand my husband; Love to forgive him; Patience for his moods. Because Lord, if I pray for strength, I swear to you I'll kill him."
If she ever hears me in bed gasping for breath and calling her name, she'll know she hasn't held the pillow down for long enough. Enough of our problems, I've had word with the neighbours too. I'm not saying all they ever think about is money but they've had a parking meter installed on their roof. I'm told it'll be gone by 25th December so I'm going to have to put up with the eyesore for a while. Perhaps this new way of making money has something to do with the family businesses feeling the effects of the recession and the fines they've been charges by the Health and Safety Executive. They've deserved it though. I've taken these snaps, from a safe distance, of their staff at work -
I'm off now until after Christmas. Please enjoy yourselves as best you can and make sure others do too. I'll be in touch again soon, and if that's not enough to drive you to drink, I don't know what is.
May all your worries be small.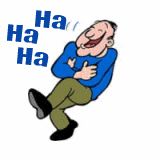 Jokes of the Week (or until I can find more)
Something for almost everyone this Christmas
How does Good King Wenceslas like his pizzas??
One that's deep pan, crisp and even!
What did Adam say to his wife on the day before Christmas??
It's Christmas, Eve!
What do you get if you eat Christmas decorations??
Tinsilitis!
Why is it getting harder to buy Advent calendars?
Because their days are numbered!
What happened to the man who stole an Advent Calendar??
He got 25 days
Knock, knock
Who's there?
Arthur
Arthur who?
Arthur any mince pies left?
Q: Why is Santa so jolly? A: Because he knows where all the naughty girls live.

* * * * *
John O'Reilly hoisted his beer and said, "Here's to spending
the rest of me life, between the legs of me wife !"

That won him the top prize at the pub for the best toast of
the night !

He went home and told his wife, Mary, "I won the prize for the
best toast of the night."

She said, "Well, did ye now. And what was your toast?"

John said, "Here's to spending the rest of me life, sitting in
church beside me wife."

"Oh, that is very nice indeed, John!" Mary said.

The next day, Mary ran into one of John's drinking mates on
the street corner. The man chuckled leeringly and said, "John won the
prize the other night at the pub with a toast about you, Mary."

She said, "Aye, he told me, and I was a bit surprised myself.
You know, he's only been in there twice in the last four years. Once I
had to pull him by the ears to make him come, and the other time he fell asleep".
* * *


Thoughts For The Day (or until the next ones)

Cheerfulness and content are great beautifiers, and are famous preservers of youthful looks. - Charles Dickens
The things that come to those who wait maybe the things left by those who got there first.
We should all go out today and buy everything we've been wanting, because when the elections are over, I know that the politicians are going to take care of the middle class.
* * *
Personal Ads
The personal ads you'll see here over time are genuine and taken from the London Review of Books personal ads section. It was started in 1998, intending to bring together people of similar literary and cultural tastes and has resulted in a funny and clever collection. I'll publish a different one each week and hope you enjoy them as much as I do and, if you ever spot any yourself,worthy of inclusion here, please let me have them and, so as not to give everyone the impression that you spend all your time looking at the personal ads, I'll withold your name on request! -


"I have a recipe for space cakes. My theory is that, when they're eaten, the human body no longer needs oxygen to survive for as long as the cakes are being digested. The key ingredient is a derivative of a plant used by inhabitants of the Pacific Islands thousands of years ago that enabled them to dive for extended periods whilst fishing. Once mad stable, this ingredient lasts longer in the human body, making longer, less cumbersome space-walks possible. What I currently lack, however, is the money to make this venture happen. That's where you come in: big-chested 21-year-old rich totty with fondness for 63-year-old loons. Write quickly - time, and the nurses, are against me. Box no. 2133."

AND DON'T FORGET TO CHECK THE 'WHAT'S HAPPENING' CALENDAR ON THE 'CALENDAR OF EVENTS' PAGE, OR TO SCROLL DOWN ALL PAGES AS THERE'S MORE TO SEE THAN FIRST MEETS THE EYE!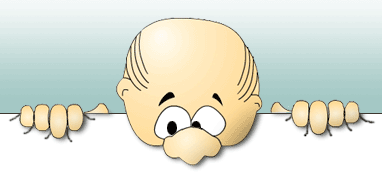 *

Sloane Information at the LMA

London Metropolitan Archives hold some information relating to Sloane. Some of the items are accessible if you visit the LMA at 40, Northampton Road, Clerkenwell, London, EC1R 0HB (phoning to make an appointment on 020 7332 3820 is advisable) but you will need to apply for a 'History Card' via their website if you intend printing copies of any of the items.
Go to the website at www.lma.gov.uk for full details. Clicking on the following link,


will take you to a page on their site where you can enter 'Sloane School' in the Search Terms box and click on 'Run Search'. This will bring up all available items.
These include -
Admission and Discharge Registers 1904-48, 1958-61 and 1964-66, a 1938 Plan of the school, drawings relating to Building Act case files 1935-57, and 23 photos of various school activities 1924-69, though some of these are listed as 'missing'.
Other items they hold are 'closed' under the 65 year rule that protects the confidentiality of living individuals. In other words, they can't be accessed for 65 years from the school's closure so will be available to the public in 2035.
However, these 'closed' items can be consulted by the LMA on behalf of individuals under the provisions of the Data Protection Act, so contact them direct if you're interested.
The 'closed' items are -

Log Book 1967-70 (Ref: LCC/EO/DIV01/SLO/LB/001)
Punishment Book 1962-70 (Ref: LCC/EO/DIV01/SLO/MISC/001)
Staff Registers -
1895-1963; 1965-70 (Ref: LCC/EO/DIV01/SLO/MISC/002-004)


* * * * *