Sloane Grammar School Hortensia Road Chelsea London England
1919-1970 Old Cheyneans and Friends
Click here to go to bottom.
Hello and Welcome
to
Mark Foulsham's Sloane website
A School that invited loyalty
(Quote from White City by Don Wheal)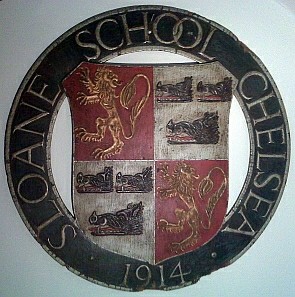 Gone But Not Forgotten

You may think you're done with the past but the past isn't done with you!


"The merits of a school are judged as much by the men it produces as by their achievements as boys" -
(Old Cheynean D.J. Cowie, March 1929)

REGISTER AND LINK UP WITH OLD SCHOOL FRIENDS AGAIN AND BECOME PART OF SLOANE REUNITED

YOU'LL NEED TO REGISTER FOR OUR WEBSITE TO CREATE YOUR OWN PERSONAL PASSWORD AND VIEW ALL OF ITS PAGES. IF YOU HAVE A VALID SLOANE CONNECTION JUST CLICK ON THE BUTTON BELOW. BUT CHOOSE MISSING CLASSMATES AT THE TOP FIRST TO SEE IF WE'VE BEEN EXPECTING YOU. IF YOUR NAME'S THERE CLICK ON IT AND FOLLOW ON-SCREEN INSTRUCTIONS

IT'S FREE, IT'S EASY, IT'S SECURE
You're Never Alone As A Sloane

IF YOU'D PREFER MORE INFO BEFORE COMMITTING YOURSELF, CLICK ON THE ENVELOPE BELOW AND SEND ME A DIRECT EMAIL -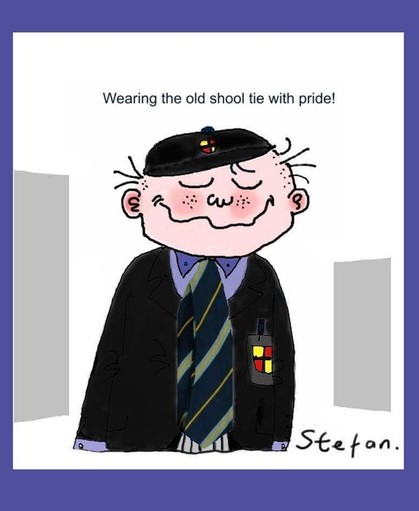 Self-portrait by Stefan Bremner-Morris

PLEASE REMEMBER TO LOG OUT WHEN YOU LEAVE THE SITE USING THE LOG OUT BUTTON UNDER MEMBER FUNCTIONS IN THE LEFT HAND COLUMN. IT'S AS EASY AS FALLING OFF A LOG -

SEE ALL THE LATEST NEWS AND UPDATES FURTHER DOWN, AND CHECK THE CALENDAR ON THE CALENDAR OF EVENTS PAGE TO SEE WHAT'S BEEN HAPPENING AND WHAT'S ABOUT TO HAPPEN.

IF YOU'RE ALREADY A SITE MEMBER PLEASE REMEMBER TO KEEP YOUR EMAIL ADDRESS UP TO DATE USING EDIT CONTACT INFO IN THE LEFT HAND COLUMN.

Come on in!
Don't be late!
This is one detention
You'll be pleased to take.


A WARM WELCOME

to fellow Cheyneans and passers-by, from the Official Sloane Grammar School 1919-1970 Old Cheyneans and Friends web site. We'll keep the home fires burning until you join us.
Mark Foulsham created this site in August 2008 to record for posterity all that I can, and for all those who attended Sloane or simply have a Sloane connection, to share and enjoy. Feel free just to browse or, if you feel you qualify to join us, make full use of the site by becoming a Registered Classmate.
Click on the Click Here to Register button above to start the registration process. It's Free!

I'll also be happy to send a personal invitation to anyone else with a Sloane School Chelsea connection who you think might like to join us. Just enter their Email address in the MISSING CLASSMATES box to your right and click Send Invite.


Aspirations and Objectives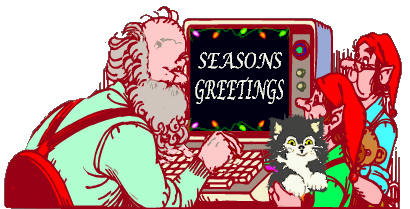 Sloane never had a motto so I'll adopt the one to be found on the Coat of Arms of the Royal Borough of Kensington and Chelsea as it suits us nicely -

Quam Bonum In Unum Habitare

(What A Good Thing It Is To Dwell Together In Unity)
It is hoped, in some small way, to be able to have similar objectives to those stated for the first issue of The Cheynean in December 1926 -

"To record faithfully the major activities of the School, to promote and foster a corporate spirit in the School, to excite a greater keenness both in the games and in other phases of its social life, and to serve as a link between present members of the School and the Old Cheyneans". -

and also to bring together, once again, old friends and classmates, and those of us who have outlived the school and share a common interest in its history and its future.
If you've any memories of Sloane you'd like to share, use the Contact Us page to send them in and, whilst you're there, register for the site as well.

Once you've registered, you can activate the Instant Messaging feature that allows you to hold a 'real-time' online conversation with anyone else who has logged on to the website. You can also send a message to someone else on the site via the Message Centre page but, if you're expecting a swift reply, it might be worthwhile using their Profile on the Classmate Profiles page, to see what part of the world they're living in these days, and to have an idea of the time where they are. Use the Clocks below, to check.

After you've registered, why not take a look at all the Classmate Profiles ? Even if you don't know the person involved, the information they've put on their Profile can be interesting, illuminating and fun, and often brings back memories of something you thought you'd forgotten about.
If, at any time, you're unsure about anything click on this Using The Site link for an explanation or contact me direct via the Contact Us page.
Why Not Take a Look at Where your Classmates are Living?

Find out the Postcode of a Classmate from their Profile (if they've agreed to let everyone know it) then Click on the link below, enter the details where it says 'Address', then Click on 'Go'. Not every country is covered yet and those that are have limited coverage, but it's worth a try.
Here's the link. Have fun - http://www.vpike.com/

* * * * * * * * *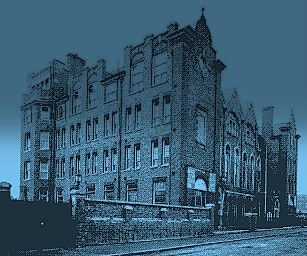 Sloane in 1908 and much as it looks today
The Sloane building was 100 years old in 2008, although it didn't actually start life as a boys' school until after the First World War, during which it served as a hospital. It still stands and many memories are, no doubt, ingrained in its walls along with the odd name and ribald comment. Who knows what the future holds, despite its Grade II listing on May 7th, 2002. Grade II listed buildings can be altered, extended, or even demolished, but only with Local Authority consent, so it may be that the building is considered historically or architecturally interesting enough for it's fabric to remain untouched. Some consideration may have been given to it having been the first purpose-built secondary school in London, and it is certainly one of only 3% of all ages of listed buildings that was built in the 20th century. Schools generally are seen as a good investment by developers because they're easy to convert. They are likely to be structurally sound because the authorities will have inspected them regularly to ensure they comply with Health and Safety requirements.

Sadly, Sloane Grammar School for Boys only lasted 51 years, from 1919-1970. Should the building survive in the form we all remember, there is still a chance that some of us will be around in 2019 to make use of the building to celebrate what would have been its centenary as a boys' school, had the school remained in existence.
UPDATE ON BUILDING PROGRESS
Kensington & Chelsea College created a timelapse video of the construction of the new college that now sits where the playground used to be between the old Sloane building and the old Carlyle building. Work on the new college building, was completed in 2012 and the college is in operation. Take a look at the construction video below along with pictures of how it now looks -

The flats, constructed in Sloane's old North playground on the Fulham Road are known as Milliner House, Chelsea Apartments, and were ready for occupation in 2011 at advertised prices between £785,000 and £2,350,000. Or if you could afford it, the single penthouse at the top would have set you back £5.85 million when first offered for sale but a market downturn in 2012 saw it reduced to an almost tempting £4.25 million - and it was being sold as a shell!
Phase 2 of the project was originally for conversion of the original Edwardian building into loft style apartments by D19 Property but the new owners, No. 1 Estates Ltd, who have a connection to D19 Property were, on 22 October, 2012, given planning permission to retain the building as an educational establishment by Kensington and Chelsea Planning and Borough Development Department. Due to a confidentiality agreement we're not allowed to know more at the moment.
What's also interesting is that the old Chelsea College of Art and Design in Manresa Road, to which Sloane can trace its origins in its guise as the South-Western Polytechnic, was, in 2012, about to make way for a scheme involving 15 apartments and two town houses. There's no stopping 'progress'.
| | | |
| --- | --- | --- |
| | | |
| The view from Fulham Road | | The entrance to the apartments on Hortensia Road |
| | | |
| A closer view of the apartments | | The view of Fulham Road and the old St Mark's College from one of the balconies |
The shell of the 6th floor penthouse

* * *
Whatever our own personal reasons for it doing so, the school will still haunt most of us even if it disappears altogether. With that tenuous link, here's a poem that I came across in an old copy of The Cheynean -

The Ghost of Sloane

When London's asleep and the School very quiet,
No sound of footsteps, no sound of a riot,
No sound of even the shuffle of feet,
No sound of the creak of a pupil's seat,
Out of the darkness the ghost of Sloane
Awakes from rest with a sigh and a groan.
Then up he arises to haunt the School
Climbing the stairs in the guise of a ghoul.
He shuffles and clanks down each corridor
Into the classrooms where stand desks galore.
He examines each desk and checks the boys' work,
Allots ghostly marks in the dark and the murk.

If you ever lose books from out of your desk,
And the teacher upbraids you and calls you a pest,
Just tell him my story, however tall,
Of the white shrouded phantom that haunts the School Hall.

J. Hollingshead (3C)

As for us, the boys who used to attend our Chelsea school, we probably considered ourselves 'Chelsea men' but I doubt that many of fitted the description in this poem, written when he was in the 5th year by one time Sloane Schoolboy, A R Doubledee. I get the impression he didn't particularly approve of the 'Beatniks' of the late 50s and early 60s that he found himself sharing Chelsea with or, as he called them the 'Weirdies' -

The Weirdies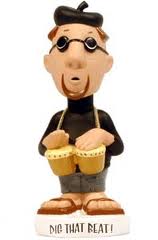 The Chelsea man is excessively queer,
He only drinks coffee and doesn't like beer.
He's always "chatting" the girls, and yet
This seems to make him "one of the set".

His unkempt chin and uncut hair
Go with his feet which are usually bare.
If he wears shoes, they've never got soles,
And he's usually found in Bohemian holes.

His outsize sweater is generally black
Contrasting well with his shorty mac.
He wears his clothing merely to show
That he can keep up with the boys of Soho.

To find a girl he doesn't look far,
But into the nearest coffee bar,
Where he's sure to meet a Bohemian "yob".
They're all from Chelsea - what a mob!

The girls with hair right down their backs
Wear irregular clothes that look like sacks.
They walk about wearing father's sweater:
I really don't see why he should let 'er.

Their gaudy clothes of reds and greens
Match up with the style of their men-friends' jeans.
Now that's how it goes with the latest style:
Girls on their faces make-up pile,
The men wear anything they can find -
I shouldn't stare, I should just act blind!

A.R. Doubledee (5b)

FRONT PAGE NEWS

ALAN JOHNSON HUMOUR INTACT!

I saw old Classmate Alan Johnson on the BBC's Have I Got News For You last week and it was good to see that despite years of working for a Government that had lost its way, he seemed to be enjoying himself and has still held onto the sort of sense of humour that has stood many a Sloane boy in good stead over the years.
Having been a postman at the age of 18 and General Secretary of the Union of Communication Workers (formerly the Union of Post Office Workers) it was no surprise to hear him asked whether he had bought any shares in the recent Royal Mail offer. His answer was a smiling -
"I applied by post and haven't heard anything yet."
WINTER FUEL ALLOWANCE
A harsh Winter will mean difficult choices for some of our older citizens. "Do I eat or do I keep warm?" will be one of the questions some will be asking themselves. Thankfully, some help is available in the form of the Winter Fuel Allowance from the Government and along with my allowance this year I also received unexpected help from my energy supplier. I'd registered for a scheme I'd forgotten all about, apparently, but was grateful for being reminded about it when a credit for energy arrived in the post. The Winter Fuel Allowance is paid direct into your bank account.
For those of you who don't know about the Winter Fuel Allowance I'll explain in a simple question and answer format -
Q. What is the Winter Fuel Allowance?
A. It is money the Government will send to taxpayers.
Q. Where will the Government get this money from?
A. From taxpayers.
Q. So the Government is giving me back my own money?
A. Only a smidgen of it.
Q. What is the purpose of this payment?
A. The plan is for you to use the money to purchase gas and electricity............or a
high definition TV set, thus stimulating the economy.
Q. But isn't that really stimulating the economy of countries like China?
A. Shut up!
Below is some helpful advice on stimulating the UK economy by spending your Winter Fuel Allowance wisely......
If you spend the money at Asda or Tesco, the money will go to China, Taiwan or Sri Lanka.
If you spend it on petrol, the money will go to the Arabs.
If you purchase a computer, the money will go to Taiwan, India or China.
If you buy fruit and vegetables, the money will go to Mexico, Honduras and Guatemala.
If you put it towards buying an efficient car, the money will go to Japan or South Korea.
If you purchase, tacky, useless stuff, it will go to Taiwan.
If you pay off your credit cards with it, or buy shares, it will go in management bonuses and they will hide it offshore.
Instead, keep the money in the UK by:
1)Spending it at car boot sales.
2)Spending it in night clubs.
3)Getting yourself a tattoo, having your nails done or having a haircut.
4)Buying whisky and beer.
5)Spending it on gambling.
6)Visiting a prostitute.
These appear to be the only businesses still operating in the UK so if you really want to be patriotic, go to a nightclub with a tattooed prostitute you met at a car boot sale, and get drunk.
Just glad I could help.

CHRISTMAS THOUGHTS

If you can make someone's Christmas a little easier this year, why not do what pandas do and give them a helping hand -

Spare a thought, also, for the three wise men. They journeyed afar to witness the birth of Jesus but was Joseph grateful? Not a bit of it! On seeing them arrive with their gold, frankincense and myrrh, he merely said,
" Combined gifts? Tight or what!"
Before you sing Jingle Bells this year consider its devastating impact on the two-horse covered sleigh industry.
If you're stuck for a gift for your loved one this year, why not consider one of these memorial benches -
They are located in not easily accesible places but that's what makes them cheap. Just thinking of your pockets.
Also going cheap are these 2014 Countryfile Calendars, drawn by Classmate Stefan Bremner-Morris -
If you haven't got around to buying your Christmas turkey this year, never fear because Tesco say they have one for everyone. Or you could be different and take the worried look off the faces of all those Norfolk turkeys who don't yet know their fate by buying a Lidl donkey. (you're singing it now, aren't you?)
Breaking News!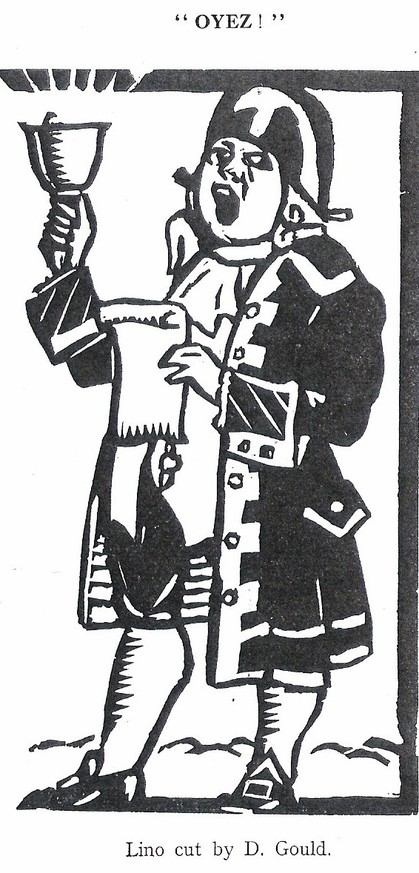 NELSON MANDELA

Although it was on the cards, it was still sad to hear of the death of one of history's great men. Crowds immediately gathered outside Nelson Mandela's house but were moved on by an irate Del Boy and Rodney who had to get up early for a stint down the market.

THE QUEEN'S CHRISTMAS MESSAGE

Her Majesty the Queen has decided to reach out to a younger audience this year and news is just in that her Christmas Message will be a simple
"Here 4 U babe"

UNEMPLOYMENT FIGURES DOWN!!

The Government have recently announce that unemployment figures have dropped significantly. Is it me or could there be a connection between that and the number of men wandering the streets in Santa Claus outfits at the moment?

FURTHER GOVERNMENT INITIATIVES FOR CHRISTMAS!!

The Government continue to help the needy this Christmas. Downing Street has identified another group who would benefit from aid and have decided to support melting snowmen with an emergency slush fund.
* * *
HOME FRONT NEWS
Like most people (except the Bah! Humbug! crowd) I enjoy Christmas but it also reminds me of the one bad Christmas I had. That was when Father Christmas woke me up to tell me that my Dad didn't actually exist.
I suppose, in truth, there are one or two things that I don't like about it. There's the commercialism of it all and the fact that my wife has no imagination when it comes to presents. It's the same every year. She's increasingly irritating and bird obsessed, and by the 5th day..........
I did love it when she used to buy me a book for Christmas as I like a good whodunnit. What I liked more though was tearing the last couple of pages out before giving it to the charity shop. I wouldn't be surprised if she bought me a Kindle or similar electronic book reader this year. I'll just throw it away after. Well, I'll have read it won't I?
Christmas also has its uses. I can buy the same amount of sweets that I always buy but at this time of the year it looks normal. It was also last Christmas that we had a power cut indoors and that was when I discovered that the shinbone is actually a device for finding furniture in the dark
We haven't yet got around to putting up the decorations. The kids are not kids anymore so we'll only be doing it for our Grandson. After last year's near miss the totroise is relieved we're dragging our heels a bit. He managed to chew through the tree lights last year and spent the whole holiday shell-shocked. It looks like my next door neighbours have got family staying with them. They're a large family so haven't really got the room and they're having to make use of their car. I'm not sure if they've already decorated the car or not. It's difficult to tel -

I'm something of a traditionalist where Christmas is concerned and even at my age I like an Advent Calendar, but I think they're getting a little too modern. Last week I opened Day 4 and Tom Daly came out.
May all your Christmases be bright.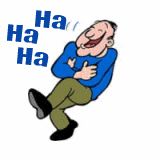 Jokes of the Week (or until I can find more)

A family is at the dinner table. The son asks his father, "Dad, how many kinds of boobs are there?"

The father, surprised, answers, "Well, son, there are three kinds of boobs. In her 20s, a woman's are like melons, round and firm. In her 30s, 40s and 50's they are like pears, still nice but hanging a bit. After 60, they are like onions."

"Onions?"

"Yes, you see them and they make you cry."

This infuriated his wife and daughter so the daughter said, "Mum, how many kinds of "willies" are there?"

The mother, surprised, smiles and answers, "Well, dear, a man goes through three phases. In his 20's, his willy is like an oak tree, mighty and hard. In his 30s, 40s and 50's it is like a birch, flexible but reliable. After his 60s, it is like a Christmas tree."

"A Christmas tree?"

"Yes. The tree is dead, and the balls are just for decoration."




* * *

Thoughts For The Day (or until the next ones)

Christmas is a time when kids tell Santa what they want and adults pay for it. Deficits are when adults tell the government what they want and their kids pay for it. ~Richard Lamm
Everyone makes a big deal about Santa, but this year give a thought to his son, Subordinate Claus.
Santa must be a man. No woman is going to wear the same outfit every year.
Personal Ads
The personal ads you'll see here over time are genuine and taken from the London Review of Books personal ads section. It was started in 1998, intending to bring together people of similar literary and cultural tastes and has resulted in a funny and clever collection. I'll publish a different one each week and hope you enjoy them as much as I do and, if you ever spot any yourself,worthy of inclusion here, please let me have them and, so as not to give everyone the impression that you spend all your time looking at the personal ads, I'll withold your name on request! -


"Put a sock in it! Now two shots of rum. OK, some fresh squeezed orange juice. And some Lego. Surrealist cocktail-maker and barfly guerrilla (M, 35) seeks lady friend to sample the chewiest bloody Marys this Christmas, and the messiest kitchen work surfaces this side of the Humber. Box no. 7832."

AND DON'T FORGET TO CHECK THE 'WHAT'S HAPPENING' CALENDAR ON THE 'CALENDAR OF EVENTS' PAGE, OR TO SCROLL DOWN ALL PAGES AS THERE'S MORE TO SEE THAN FIRST MEETS THE EYE!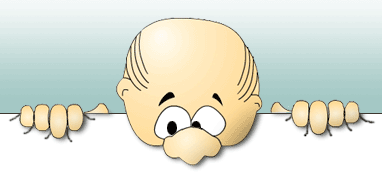 *

Sloane Information at the LMA

London Metropolitan Archives hold some information relating to Sloane. Some of the items are accessible if you visit the LMA at 40, Northampton Road, Clerkenwell, London, EC1R 0HB (phoning to make an appointment on 020 7332 3820 is advisable) but you will need to apply for a 'History Card' via their website if you intend printing copies of any of the items.
Go to the website at www.lma.gov.uk for full details. Clicking on the following link,


will take you to a page on their site where you can enter 'Sloane School' in the Search Terms box and click on 'Run Search'. This will bring up all available items.
These include -
Admission and Discharge Registers 1904-48, 1958-61 and 1964-66, a 1938 Plan of the school, drawings relating to Building Act case files 1935-57, and 23 photos of various school activities 1924-69, though some of these are listed as 'missing'.
Other items they hold are 'closed' under the 65 year rule that protects the confidentiality of living individuals. In other words, they can't be accessed for 65 years from the school's closure so will be available to the public in 2035.
However, these 'closed' items can be consulted by the LMA on behalf of individuals under the provisions of the Data Protection Act, so contact them direct if you're interested.
The 'closed' items are -

Log Book 1967-70 (Ref: LCC/EO/DIV01/SLO/LB/001)
Punishment Book 1962-70 (Ref: LCC/EO/DIV01/SLO/MISC/001)
Staff Registers -
1895-1963; 1965-70 (Ref: LCC/EO/DIV01/SLO/MISC/002-004)


* * * * *