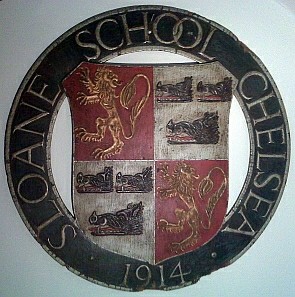 Hello and Welcome to

Mark Foulsham's

Sloane website
If I built it I knew you would come


PLEASE CHECK THE ANNOUNCEMENTS BOARD AT THE FOOT OF THIS PAGE FOR ANYTHING IMPORTANT.

A School that invited loyalty
(Quote by Don Wheal)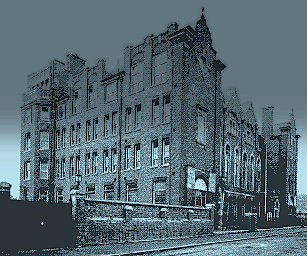 Gone But Not Forgotten
'Men are we, and must grieve when even the shade
Of that which once was great is pass'd away.'

William Wordsworth
On the Extinction of the Venetian Republic

You may think you're done with the past but the past isn't done with you!


"The merits of a school are judged as much by the men it produces as by their achievements as boys" -
(Old Cheynean D.J. Cowie, March 1929)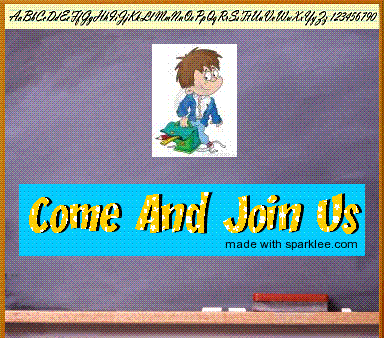 Register and link up with old school friends again and become part of Sloane Reunited.
If you were a pupil or member of staff at Sloane you qualify to register for the website and create your own personal password to view all of its pages. First choose Missing Classmates at the top of this page to see if we've been expecting you. If you see your name click on it and follow instructions. If your name's not there click on either Contact Us, at the top of the page or the Click Here To Register! button below, read what you see then complete the box at the bottom of that page to ask me to add your name to the list.
It's Free, it's Easy, it's Secure
and
You're Never Alone As A Sloane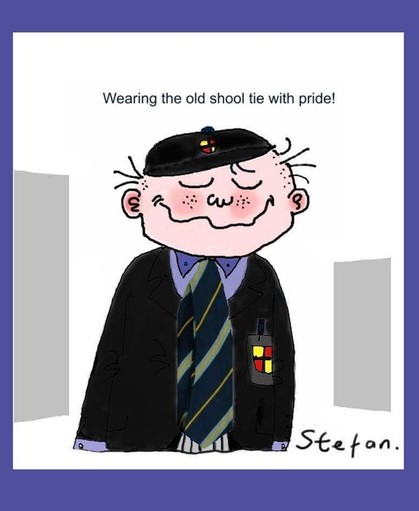 Self-portrait by Stefan Bremner-Morris

Please remember to Log Out when you leave the site by using the Log Out button to be found under the Head and Shoulders icon at the top of the page. It's as easy as falling off a log -


If you're already a member please remember to keep your Email address up to date using Edit Contact Info to be found by clicking on the Head and Shoulders icon at the top of the page.

Please don't forget to use the Notify Me page to make selections that will help you keep in touch as well as help you enjoy all the website has to offer.


Come on in!
Don't be late!
This is one detention
You'll be pleased to take.


A WARM WELCOME

to fellow Cheyneans and passers-by, from the Official Sloane Grammar School 1919-1970 Old Cheyneans and Friends web site. We'll keep the home fires burning until you join us.
Mark Foulsham, at Sloane 1963-70, created this site in August 2008 to record for posterity all that I can, and for all those who attended Sloane or simply have a Sloane connection, to share and enjoy. Feel free just to browse or, if you feel you qualify to join us, make full use of the site by becoming a Registered Classmate.
We may not understand why but memories of our days at Sloane remain with us while others do not. Whether they're good or they're bad, I'd like to give all old boys the opportunity to keep those memories alive.
Click on the Click Here to Register button above to start the registration process. It's Free!

I'll also be happy to send a personal invitation to anyone else with a Sloane School Chelsea connection who you think might like to join us. Just enter their Email address in the MISSING CLASSMATES box to your right and click Send Invite.


Aspirations and Objectives

Sloane never had a motto and although our school badge is based on the lion rampant and boar's head of the Cadogan family crest their motto, Qui Invidet Minor Est or He That Envies Is Inferior, is not really appropriate so I'll adopt the one to be found on the Coat of Arms of the Royal Borough of Kensington and Chelsea as it suits us nicely -

Quam Bonum In Unum Habitare

(What A Good Thing It Is To Dwell Together In Unity)
It is hoped, in some small way, to be able to have similar objectives to those stated for the first issue of The Cheynean in December 1926 -

"To record faithfully the major activities of the School, to promote and foster a corporate spirit in the School, to excite a greater keenness both in the games and in other phases of its social life, and to serve as a link between present members of the School and the Old Cheyneans". -

and also to bring together, once again, old friends and classmates, and those of us who have outlived the school and share a common interest in its history and its future.
Sadly, I've no memory of having ever sung or even heard a school song but apparently one was written by music Master Mr Seymour Dicker in 1928, and was first sung in July of that year by pupil J E Bush. What became of it after that first performance is a mystery but it contained the lines -
"Salve, the School and its scholars so keen,
Long may they keep its memory green."
If you've any memories of Sloane you'd like to share, use the Contact Us page to send them in and, whilst you're there, register for the site as well.

Once you've registered, you can activate the Instant Messaging feature that allows you to hold a 'real-time' online conversation with anyone else who has logged on to the website. You can also send a message to someone else on the site via the Message Centre page but, if you're expecting a swift reply, it might be worthwhile using their Profile on the Classmate Profiles page, to see what part of the world they're living in these days, and to have an idea of the time where they are. Use the Clocks below, to check.

After you've registered, why not take a look at all the Classmate Profiles ? Even if you don't know the person involved, the information they've put on their Profile can be interesting, illuminating and fun, and often brings back memories of something you thought you'd forgotten about.
If, at any time, you're unsure about anything click on this Using The Site link for an explanation or contact me direct via the Contact Us page.

* * * * *
Why Not Take a Look at Where your Classmates are Living?

Find out the Postcode of a Classmate from their Profile (if they've agreed to let everyone know it) then Click on the link below, enter the details where it says 'Address', then Click on 'Go'. Not every country is covered yet and those that are have limited coverage, but it's worth a try.
Here's the link. Have fun - http://www.vpike.com/

* * * * * * * * *

BREAKING NEWS!!
NEW DOG BREEDS RECOGNIZED

The Kennel club has decided to recognize these new breeds of dogs that are the result of cross breeding -

Collie + Lhaso Apso: Collapso, a dog that folds up for easy transport.

Spitz + Chow Chow: Spitz-Chow, a dog that throws up alot.

Bloodhound + Borzoi: Bloody Bore, a dog that's not much fun.

Pointer + Setter: Poinsetter, a traditional Christmas pet.

Kerry Blue Terrier + Skye Terrier: Blue Skye, a dog for visionaries.

Pekingese + Lhaso Apso: Peekasso, an abstract dog.

Labrador Retriever + Curly Coated Retriever: Lab Coat Retriever, the choice of research scientists.

Newfoundland + Basset Hound: Newfound Asset Hound, a dog for financial advisers.

Terrier + Bulldog: Terribull, a dog that makes awful mistakes.

Bloodhound + Labrador: Blabrador, a dog that barks incessantly.

Malamute + Pointer: Moot Point, owned by...oh, well, it doesn't matter anyway.

Collie + Malamute: Commute, a dog that travels to work.

Deerhound + Terrier: Derriere, a dog that's true to the end.



* * *
FRONT PAGE NEWS

DONALD TRUMP ON A ROLL!

US Presidential candidate Donald Trump is known for his outrageous statements and his boasts about him becoming President being a formality. He's upset the Mexicans even more than most with his claims that he'll build a wall to stop any more of them coming into the USA. They're determined they're going to wipe the smile off his face and the new best seller in Mexico is now this -




* * *
HOME FRONT NEWS

Since I last spoke with you, I've reached that milestone in one's life that sometimes helps to alleviate the weight of the millstone. Yes' I've reached 65 and the State Pension will soon be with me. Slightly less that normal but that's a result of opting out of SERPS when I was a Civil Servant in favour of a larger Civil Service Pension so mustn't grumble.
The day was extremely enjoyable. Didn't do much but the company of family is often enough. Part of the much I did do included lunch at the The Bull on Streatham High Road. Built in 1768 and once known as The Pied Bull, the pub was once a modest coaching inn and has been in the hands of Young's Brewery since 1832. Quite recently 'done up' (hence the name change) and the first time I've been in there since, I'm not sure why they felt it necessary to drop 'Pied' (meaning having two or more colours) from the name because from what I could see it was certainly a multi-national, multi-coloured pub. In fact, it was a lovely crowd in there when we visited, made up mainly of, what looked to us like your old, gentleman villains and a lovely bunch they were too. One man, who must have been 6ft 3ins or more and sporting a black leather pork pie hat and a large gold earring, came dashing over when he saw my wife's jacket slip from the back of her chair, picked it up, dusted it off, hung it back on the chair, tipped his hat and returned to the bar with our thanks ringing in his ears.
Others in that man's crowd fussed around my 3-year-old Grandson who was with us for lunch and made his day with their conviviality. All three of us were made welcome enough to want to return and the good beer and decent food ensured we would. There was only one potential downside to our pub meal. I took too large a mouthful of my roasted camembert and had to say to the wife,
"I've got something stuck in my throat and I can't breathe properly!"
She said
"Are you choking?!"
An angry me had to tell her,
"No, I'm not! I'm bllody serious!"
Olly, like most kids these days, insisted on taking his scooter with him and he's a sight to behold on it. No fear in his eyes as he reached high speed. How do I know? Because he was coming towards me at full pelt at one stage and I moved faster than I believed I was still capable of to get out of his way. Bad timing on our part meant that we joined the bus queue just as the schoolkids were ending their day. Couldn't be helped and it's one of the benefits of looking a little older than you think you are and hair that looks like winter's arrived early that you're offered a seat by a polite child. Olly was tired so I accepted and held him as he dozed off. It was just a 15 minute nap but it was enough for him to arrive back at our house fully refreshed. The bad news was that me a nd the wife weren't when he insisted we join him on the stairs for a game of 'buses'. Five minutes into this and his Mum and my two boys arrived and were also ushered into their seats on the bus. Half an hour later, we were still sitting there as the bus 'broke down' and he set about getting it started again. I saw this as an opportunity to relieve myself and on returning told the Grandson bus driver that I'd lost my Oyster Card so couldn't get back on. Undismayed he said,
"That's alright, Granddad. I've got a spare."
The result was another long journey on the bus whose driver was now insisting we changed seats every couple of minutes. Naother half an hour later and I was realising that 65 is a dangerous age if you play hard and fast. Recovery times as you get older are also longer which has meant, yet again, I haven't got around to finishing the garden table. Still, there's always this week-end.....
I'm not sure if I've put this video on here before but it shows Olly, last year, after being signed up by Fulham Football Club and pledging his allegiance for life. Rumour has it that with Fulham's fortunes on the slide he'll be making his debut at number 9 this Saturday. Should go some way towards repaying his one lollipop a day for life signing-on fee. Click on the arrow and turn up your volume -
He's a bright boy and you just know that when he goes to school and they ask him what Jesus did on Easter Sunday and it begins with 'R' he's going to answer "Recycle."
It's my wife's birthday on the 14th and I've already surprised her with her presnt. Good job I did, ungrateful so-and-so. It was a car but it wasn't good enough for her. She says she wants something that goes from 0 to 140 in 5 seconds. I'm taking the car back next wek and getting her bathroom scales.
Another evening of wine, pizza and conversation coming up. I just wish I could handle it. My wife and I always end up laughing about how competitive we are. But I laugh more.
A final thank you to all those who sent birthday wishes. Always appreciated.
Look after yourselves until we speak again.
Mark
JOKES OF THE WEEK
One evening a father overheard his son saying his prayers
"God bless Mummy, Daddy and Granny. Goodbye Granddad."

Well, the father thought it was strange, but he soon forgot about it. The next day, the Grandfather died.

A month later the father heard his son saying prayers again:

"God bless Mummy. God bless Daddy. Goodbye Granny."
The next day the grandmother died. Well, the father was getting more than a little woried about the whole situation. One week later, the father once again overheard his sons prayers
"God Bless Mummy. Goodbye Daddy."

This nearly gave the father a heart attack. He didn't say anything but he got up early to go to work, so that he would miss the traffic. He stayed in the office all through lunch and dinner. Finally, after midnight, he went home. He was still alive! When he got home he appologised to his wife. "I am sorry, love. I had a very bad day at work today."

"You think you've had a bad day? YOU THINK YOU'VE HAD A BAD DAY!?" the wife yelled, "The postman dropped dead on my doorstep this morning!"


* * *
Two retired Sloane teachers were holidaying with their wives in a hotel in the Catskills. They were sitting in rocking chairs on the veranda one summer evening, watching the sun set.
The history teacher asked the psychology teacher,
"Have you read Marx?"

To which the teacher of psychology replied, "Yes. I think it's these wicker chairs."


* * *
A newly ordained priest, nervous about hearing confessions, finally asks an older priest to observe how he does and give him some tips. After listening in on the second confession, the older priest suggested that the younger man fold his arms, and maybe rub his chin with one hand while saying phrases like "I see" or "I understand" or "Yes, my child. Go on".

The young priest puts the suggestions into practice and later tells the older priest how much it has helped getting more information from his flock.

"You've done well," said the older man. "Isn't that much better than slapping your knee and yelling 'No way! What happened next?'"


* * *
An Alabama preacher said to his congregation,
"Someone in this congregation has spread a rumour that I belong to the Ku Klux Klan.
This is a horrible lie and one which a Christian community cannot tolerate.
I am embarrassed and do not intend to accept this. Now, I want the party who did this to stand and ask forgiveness From God and this Christian Family."

No one moved.

The preacher continued,
"Do you have the nerve to face me and admit this is a falsehood? Remember, you will be forgiven and in your heart you will feel glory. Now stand and confess your transgression."

Again all was quiet.

Then slowly, a drop-dead gorgeous blonde with a body that would stop traffic rose from the third pew. Her head was bowed and her voice quivered as she spoke,
"Reverend there has been a terrible misunderstanding. I never said you were a member of the Ku Klux Klan. I simply told a couple of my friends that you were a wizard under the sheets."


* * *

THOUGHTS FOR THE DAY

Success is going from failure to failure without losing enthusiasm.
It's easy to identify people who can't count to ten. They're usually in front of you in the supermarket queue.
Tears: Is the hydraulic force by which masculine will power is defeated by feminine water-power.
The Office: The place where you can relax and get away from your strenuous home life.
Diplomat: A person who tells you to "Go to hell" in such a way that you actually look forward to the journey.
Rather than love, than money, than fame, bring me truth - Henry Thoreau and me.

* * * * *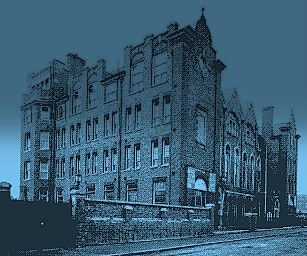 The Sloane building seen from Hortensia Road in 1908 and
much as it looks today

The Sloane building was 100 years old in 2008, although it didn't actually start life as a boys' school until after the First World War, during which it served as a hospital. It still stands and many memories are, no doubt, ingrained in its walls along with the odd name and ribald comment. Who knows what the future holds, despite its Grade II listing on May 7th, 2002. Grade II listed buildings can be altered, extended, or even demolished, but only with Local Authority consent, so it may be that the building is considered historically or architecturally interesting enough for it's fabric to remain untouched. Some consideration may have been given to it having been the first purpose-built secondary school in London, and it is certainly one of only 3% of all ages of listed buildings that was built in the 20th century. Schools generally are seen as a good investment by developers because they're easy to convert. They are likely to be structurally sound because the authorities will have inspected them regularly to ensure they comply with Health and Safety requirements.

Sadly, Sloane Grammar School for Boys only lasted 51 years, from 1919-1970. Should the building survive in the form we all remember, there is still a chance that some of us will be around in 2019 to make use of the building to celebrate what would have been its centenary as a boys' school, had the school remained in existence.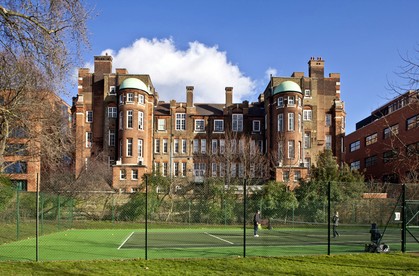 Sloane seen from the rear in 2014
CHANGES TO THE SLOANE SITE AND BUILDING
The new Kensington & Chelsea College, known since 2014 as their Chelsea Centre, sits where the playground used to be between the old Sloane building and the old Carlyle building. Work on the new college building, with designs by the architects who transformed the Royal Opera House and the National Portrait Gallery, was completed in 2012.
The flats, constructed in Sloane's old North playground on the Fulham Road are known as Milliner House, Chelsea Apartments, and were ready for occupation in 2011 at advertised prices between £785,000 and £2,350,000. Or if you could afford it, the single penthouse at the top would have set you back £5.85 million when first offered for sale but a market downturn in 2012 saw it reduced to an almost tempting £4.25 million - and it was being sold as a shell!
Phase 2 of the project was originally for conversion of the original Edwardian building into loft style apartments by D19 Property but the new owners, No. 1 Estates Ltd, who have a connection to D19 Property were, on 22 October, 2012, given planning permission to retain the building as an educational establishment by Kensington and Chelsea Planning and Borough Development Department.
However, in September of 2013 a slightly revised plan for re-development of the building for residential use was applied for by Hortensia Property Development LLP. Supported by a K M Heritage heritage appraisal it was presented to Kensington and Chelsea Council for listed building consent and planning consent for the refurbishment and extension of the Sloane building, taking into account national and local policies relating to the historic built environment. Their statement is available on this link -
K M HERITAGE STATEMENT ON BEHALF OF HORTENSIA PROPERTY DEVELOPMENT
What's also interesting is that the old Chelsea College of Art and Design in Manresa Road, to which Sloane can trace its origins in its guise as the South-Western Polytechnic, was, in 2012, about to make way for a scheme involving 15 apartments and two town houses. There's no stopping 'progress'.
The shell of the 6th
floor penthouse
The entrance to the
apartments on
Hortensia Road
The apartments seen from
Fulham Road
The view of Fulham Road
and St Mark's College from
one of the balconies
Building work has progressed apace on what is now known as The King's Library. After planning and building consent were granted work commenced on restructuring the main Sloane building at the end of 2014. The developers, Tenhurst, used McGee as their principal contractors, working to the architectural design of Robin Partington and Partners and began by excavating the basement or as McGee put it, they were responsible for
"soft strip out and carve demolition and basement excavation".
I'm sure some of you out there understand what they mean.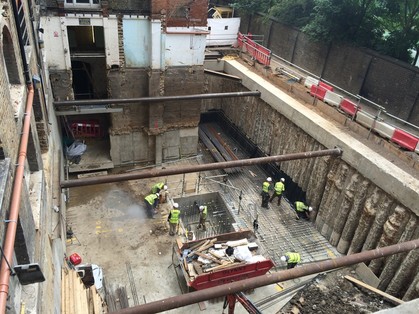 The basement excavation was due to conclude by the end of 2015 to allow the redevelopment above it to progress. Since then work has begun on constructing 18 apartments and a penthouse, a new pedestrian entrance and an extension to the south-west of the building with 150 south facing windows. The design also includes a communal area incorporating our old assembly hall and, in all, 50,000 square feet is being converted. Those lovely brown , glazed tiles that adorn the staircases will remain after being cleaned.
I was approached by the interior designers, Helen Green Design, after they found our website, and asked whether I could provide black and white photos of the school and it's people from the period apanning 1920 -1950ish. I was happy to do so even though they rejected my plea for first refusal on the £15+ million penthouse apartment that cover the 6,000 sq ft of the whole 5th floor and incorporates two wings; one for your private accommodation and one for entertainment alone. I sent them some 70 photos and if they are suitable some will be used to line the walls of the 'show' apartment. You'll no doubt see them when you visit to view your potential London pad. Prices start at £3.1 million and the apartments are being marketed by Savill's.
If you want to take a closer look at the involvement the above mentioned people have then please use the links below and if they don't work just copy and paste them into your browser address bar. The Kings Library link has a not easily visible menu on the left of the screen -
The following link to McGee's website will take you directly to a page where you'll find regular Community Newsletters updating local residents on what's happened and what's about to happen -

McGee Community Newsletters

For those of you who'd rather not follow the links, the following photos are among those to be found on them -
| | |
| --- | --- |
| | |
| Hortensia Road Proposed Elevation | Rear of Building Proposed Elevation |
| | |
| Work commences on our old Assembly Hall | Proposed look of the old Assembly Hall once converted |
Meanwhile, Carlyle's old building next door to us hasn't escaped the wiles of the developer and this is how the King's Road is expected to look after work is completed -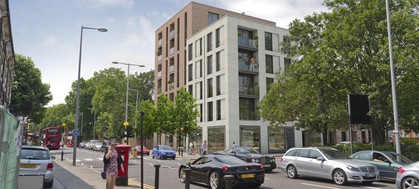 Grainger plc were granted permission to redevelop and manage the council-owned land next to the Carlyle building at the South end of Hortensia Road, to provide 31 one, two, three and four bedroom units to include a range of rental tenures one of which will be the usual, ambiguous, "affordable". The Royal Borough of Kensington and Chelsea will retain the freehold and share the long-term rental income. Among the thirty one homes will be 6 town houses which will front King's Road. In all, the building will range from three to seven storeys and incorporate 2,756 sq ft of non-residential (presumably business) ground floor space.

Unusually, this will be a car free development with no parking provided other than for bicycles. There will be residential entrances on Hortensia Road and a commercial entrance on the King's Road. Residents will have the use of a communal courtyard -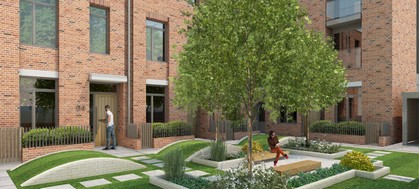 For those of you who can't remember, this is what the site looked like before work started -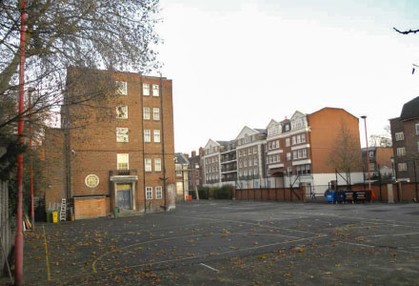 * * * * *
Whatever our own personal reasons for it doing so, the school will still haunt most of us even if it disappears altogether. With that tenuous link, here's a poem that I came across in a copy of The Cheynean -

The Ghost of Sloane

When London's asleep and the School very quiet,
No sound of footsteps, no sound of a riot,
No sound of even the shuffle of feet,
No sound of the creak of a pupil's seat,
Out of the darkness the ghost of Sloane
Awakes from rest with a sigh and a groan.
Then up he arises to haunt the School
Climbing the stairs in the guise of a ghoul.
He shuffles and clanks down each corridor
Into the classrooms where stand desks galore.
He examines each desk and checks the boys' work,
Allots ghostly marks in the dark and the murk.

If you ever lose books from out of your desk,
And the teacher upbraids you and calls you a pest,
Just tell him my story, however tall,
Of the white shrouded phantom that haunts the School Hall.

J. Hollingshead (3C)

As for us, the boys who used to attend our Chelsea school, we probably considered ourselves 'Chelsea men' but I doubt that many of fitted the description in this poem, written when he was in the 5th year by one time Sloane Schoolboy, A R Doubledee. I get the impression he didn't particularly approve of the 'Beatniks' of the late 50s and early 60s that he found himself sharing Chelsea with or, as he called them the 'Weirdies' -

The Weirdies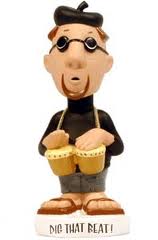 The Chelsea man is excessively queer,
He only drinks coffee and doesn't like beer.
He's always "chatting" the girls, and yet
This seems to make him "one of the set".

His unkempt chin and uncut hair
Go with his feet which are usually bare.
If he wears shoes, they've never got soles,
And he's usually found in Bohemian holes.

His outsize sweater is generally black
Contrasting well with his shorty mac.
He wears his clothing merely to show
That he can keep up with the boys of Soho.

To find a girl he doesn't look far,
But into the nearest coffee bar,
Where he's sure to meet a Bohemian "yob".
They're all from Chelsea - what a mob!

The girls with hair right down their backs
Wear irregular clothes that look like sacks.
They walk about wearing father's sweater:
I really don't see why he should let 'er.

Their gaudy clothes of reds and greens
Match up with the style of their men-friends' jeans.
Now that's how it goes with the latest style:
Girls on their faces make-up pile,
The men wear anything they can find -
I shouldn't stare, I should just act blind!

A.R. Doubledee (5b)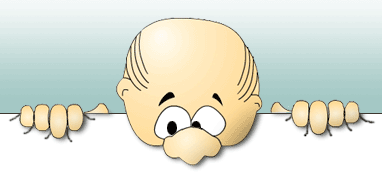 *

Sloane Information at the LMA

London Metropolitan Archives hold some information relating to Sloane. Some of the items are accessible if you visit the LMA at 40, Northampton Road, Clerkenwell, London, EC1R 0HB (phoning to make an appointment on 020 7332 3820 is advisable) but you will need to apply for a 'History Card' via their website if you intend printing copies of any of the items.
Go to the website at www.lma.gov.uk for full details. Clicking on the following link,


will take you to a page on their site where you can enter 'Sloane School' in the Search Terms box and click on 'Run Search'. This will bring up all available items.
These include -
Admission and Discharge Registers 1904-48, 1958-61 and 1964-66, a 1938 Plan of the school, drawings relating to Building Act case files 1935-57, and 23 photos of various school activities 1924-69, though some of these are listed as 'missing'.
Other items they hold are 'closed' under the 65 year rule that protects the confidentiality of living individuals. In other words, they can't be accessed for 65 years from the school's closure so will be available to the public in 2035.
However, these 'closed' items can be consulted by the LMA on behalf of individuals under the provisions of the Data Protection Act, so contact them direct if you're interested.
The 'closed' items are these -

Log Book 1967-70 (Ref: LCC/EO/DIV01/SLO/LB/001)
Punishment Book 1962-70 (Ref: LCC/EO/DIV01/SLO/MISC/001)
Staff Registers -
1895-1963; 1965-70 (Ref: LCC/EO/DIV01/SLO/MISC/002-004)