Sloane Grammar School boy, if you seek your memorial, look at the pages around you and click on the icons at the top of the page for more.


PLEASE CHECK THE ANNOUNCEMENTS BOARD AT THE FOOT OF THIS PAGE FOR ANYTHING IMPORTANT and the CALENDAR OF EVENTS PAGE FOR DETAILS OF FORTHCOMING EVENTS. ALSO, USE THE NOTIFY ME PAGE TO CHOOSE YOUR NOTIFICATION PREFERENCES. YOU'LL FIND IT, ALONG WITH OTHER USEFUL ITEMS, UNDER THE WHITE HEAD AND SHOULDERS ICON AT THE TOP RIGHT OF THIS PAGE.
The Sloane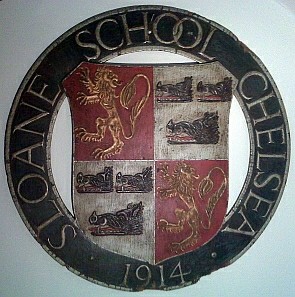 Hello and Welcome to

Mark Foulsham's

Sloane Grammar School website
If I built it I knew you would come

A School that invited loyalty
(Quote by Don Wheal)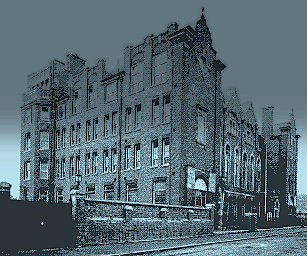 Gone But Not Forgotten
'Men are we, and must grieve when even the shade
Of that which once was great is pass'd away.'

William Wordsworth
On the Extinction of the Venetian Republic

You may think you're done with the past but the past isn't done with you!


"The merits of a school are judged as much by the men it produces as by their achievements as boys" -
(Old Cheynean D.J. Cowie, March 1929)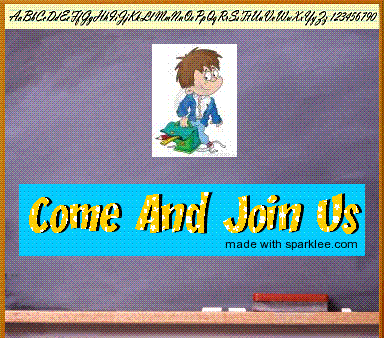 Register and link up with old school friends again and become part of Sloane Reunited.
If you were a pupil or member of staff at Sloane you qualify to register for the website and create your own personal password to view all of its pages. First choose Missing Classmates at the top of this page to see if we've been expecting you. If you see your name click on it and follow instructions. If your name's not there click on either Contact Us, at the top of the page or the Click Here To Register! button below, read what you see then complete the box at the bottom of that page to ask me to add your name to the list.
It's Free, it's Easy, it's Secure
and
You're Never Alone As A Sloane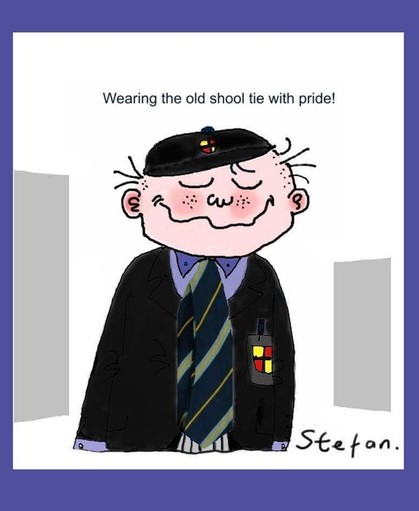 Self-portrait by Stefan Bremner-Morris

Please remember to Log Out when you leave the site by using the Log Out button to be found under the Head and Shoulders icon at the top of the page. It's as easy as falling off a log -


If you're already a member please remember to keep your Email address up to date using Edit Contact Info to be found by clicking on the Head and Shoulders icon at the top of the page.

Please don't forget to use the Notify Me page to make selections that will help you keep in touch as well as help you enjoy all the website has to offer.

Come on in!
Don't be late!
This is one detention
You'll be pleased to take.


A WARM WELCOME

to fellow Cheyneans and passers-by, from the Official Sloane Grammar School 1919-1970 Old Cheyneans and Friends web site.
Mark Foulsham, at Sloane 1963-70, created this site in August 2008 to record for posterity all that I can, and for all those who attended Sloane or simply have a Sloane connection, to share and enjoy. Feel free just to browse or, if you feel you qualify to join us, make full use of the site by becoming a Registered Classmate. Click on the Click Here to Register button above to start the registration process. It's Free!
I'll also be happy to send a personal invitation to anyone else with a Sloane School Chelsea connection who you think might like to join us. Just enter their Email address in the MISSING CLASSMATES box to your right and click Send Invite.
We may not understand why but memories of our days at Sloane remain with us while others do not. Whether they're good or they're bad, I'd like to give all old boys the opportunity to keep those memories alive.

Aspirations and Objectives

Sloane never had a motto and although our school badge is based on the lion rampant and boar's head of the Cadogan family crest their motto, Qui Invidet Minor Est or He That Envies Is Inferior, is not really appropriate so I'll adopt the one to be found on the Coat of Arms of the Royal Borough of Kensington and Chelsea as it suits us nicely -

Quam Bonum In Unum Habitare

(What A Good Thing It Is To Dwell Together In Unity)
It is hoped, in some small way, to be able to have similar objectives to those stated for the first issue of The Cheynean in December 1926 -

"To record faithfully the major activities of the School, to promote and foster a corporate spirit in the School, to excite a greater keenness both in the games and in other phases of its social life, and to serve as a link between present members of the School and the Old Cheyneans". -

and also to bring together, once again, old friends and classmates, and those of us who have outlived the school and share a common interest in its history and its future.
Sadly, I've no memory of having ever sung or even heard a school song but apparently one was written by music Master Mr Seymour Dicker in 1928, and was first sung in July of that year by pupil J E Bush. What became of it after that first performance is a mystery but it contained the lines -
"Salve, the School and its scholars so keen,
Long may they keep its memory green."
If you've any memories of Sloane you'd like to share, use the Contact Us page to send them in and, whilst you're there, register for the site as well.

Once you've registered, you can activate the Instant Messaging feature that allows you to hold a 'real-time' online conversation with anyone else who has logged on to the website. You can also send a message to someone else on the site via the Message Centre or by using their Profile. Click on their name on the Classmate Profiles page then click on the red 'Send ? a private message' at the top of their Profile.

After you've registered, why not take a look at all the Classmate Profiles ? Even if you don't know the person involved, the information they've put on their Profile can be interesting, illuminating and fun, and often brings back memories of something you thought you'd forgotten about.
If, at any time after becoming a member, you're unsure about anything click on this Using This Site link for an explanation or contact me direct via the Contact Us page.
* * * * *
Why Not Take a Look at Where your Classmates are Living?

Find out the Postcode of a Classmate from their Profile (if they've agreed to let everyone know it) then Click on the link below, enter the details where it says 'Address', then Click on 'Go'. Not every country is covered yet and those that are have limited coverage, but it's worth a try.
Here's the link. Have fun - http://www.vpike.com/

* * * * * * * * *
BREAKING NEWS!!
GOVERNMENT BLAMES PENSIONERS FOR COLLAPSE OF THE ECONOMY!!

To help save the economy, the Government have announced that the Immigration Department will start deporting senior citizens (instead of illegals) in order to lower pensions and healthcare costs (flu jabs, walkers, wheelchairs, free prescriptions, bus passes, etc.).

This has come about as the result of a Government survey that established that older people are easier to catch and, in most cases, do not remember how to get back home.
* * *

TFL AND THE SOUND OF SILENCE

Transport For London has announced they've finally managed to get the Underground loud enough to drown out anyone trying to talk to you.
For years, customers of London Underground have complained about the noise of people trying to talk to them, prompting a huge, multi-million-pound project to ensure there's no point trying to talk anywhere at all on the network.
"We understood passengers were concerned about their hearing", said a TFL spokesman.
"Specifically, hearing that weirdo who sits next to you and tries to start a conversation when there's an entire carriage of empty seats they could have used. Thanks to new technology, we can ensure the train you're on completely drowns out whatever inane subject they're trying to talk to you about. You won't be able to hear anything above the din of our locomotives."
TFL went on to reassure passengers that if they ride the underground for long enough they'll go deaf and to ensure they maintain standards fares will increase in the Summer.
* * *

PRIME MINISTER UNDER INVESTIGATION!!

A new government initiative, put in place following the collapse of building giants Carillion and designed to root out and punish incompetent bosses, has begun an investigation into Theresa May.
Mrs May said last week that she was determined that leaders should have to take their responsibilities seriously and that "any individual using their position for personal gain to the detriment of the greater good would be severely punished".
Mrs May said that particular attention would be paid to the following four areas:
Bosses who seek to use company funds to secure their own position, regardless of the consequences.

Managers who continue to employ, or even defend, those who have shown themselves to be an 'improper person' to conduct their role, such as looking at pornography at work or sexually harassing colleagues.

Directors who are seen to continually reward incompetent Heads of Department.

Any executive suspected of offering competent, forward thinking and intelligent gay staff insignificant positions so that they will be forced to resign.
A member of the newly formed team, made up of cross-party, independent members, told us today that the Prime Minister would continue in her position whilst the investigation was carried out but that she was 'obviously guilty'. The woman, who wished to remain nameless, said,
"Mrs May will keep working for now – at least until we can pin this lot on her, which isn't going to be too difficult. I just wish it was the middle ages so that we could burn the witch."
It is thought that the impartial and balanced committee will make a decision before the end of the month.

PRIME MINISTER IN CARE!!

In a similar light, a new government minister, appointed to tackle the problems faced by those who have become detached from society has been assigned to look after Theresa May, a 61-year-old Prime Minister from London.
Ms Imani Ashanti admitted today that her new role – helping those who have no friends or find themselves floundering helplessly after making unwise life choices – looked to be 'challenging', particularly her first case. Speaking last week she said,

"Having met Mrs May on more than one occasion I feel that my main challenge will be persuading her that she needs the type of assistance that we can offer. She can be a stubborn lady, which can often be the case when they get to that age, but it's up to me to get her out of her rut."
It is thought that Ms Ashanti's other role, as vice-chair of the All Party Parliamentary Groups on Dementia will help her greatly in this particular case. Mrs May, a vicars daughter gone bad, started to hit problems around two years ago, when she got herself into a pattern of biting off more than she could chew, thinking over and over again that it was a good idea. She went from being 'quite unpopular' to 'unpopular' before making some poor life choices which resulted in many of her friends leaving her and going to stay with her Uncle Jeremy. Having chosen some new friends, she thought all was well, until these were revealed to be a bunch of deviant pervert types who dropped her firstly to 'very unpopular', through 'extremely unpopular' and down to 'despised'.
Ms Ashanti, however, remains confident that she can get Mrs May back up to the dizzy heights of 'unpopular' or even, in time, 'quite unpopular'.
It would seem that Ms Ashanti's efforts have had an immediate effect as, in an effort to improve her popularity, Mrs May has made her most sensible choice for a cabinet Minister yet.
Baldrick has been named the new Minister for Plans, having displayed exceptional ability in the field of cunning between the 15th and 20th centuries.
"This is definitely one of the Prime Minster's better choices of late," agreed a political pundit.
"Government insiders are already claiming that Baldrick's cunning mind will prove to be invaluable when it comes to navigating Brexit, managing the economy and finding out exactly what to do about everyone's recycling bins. When your team already contains people like David Davis, adding Baldrick to the cabinet certainly adds some intellectual weight to the organisation – I'm sure the EU is keeping an eye on developments. This appointment certainly makes up for the utterly farcical decision to not only leave Jeremy Hunt where he is, but to then add to his portfolio."
Not everyone was in agreement about the positive aspects of the appointment of the new minister for plans.
Business leader Edmund Blackadder, said,
"I don't want to be unkind to Baldrick, but he makes it so terribly difficult to praise him. With that in mind, I have to say this is the worst appointment since my great-grandfather booked in for a short back and sides at Sweeney Todd's Barber Shop."
Baldrick said, "Thank you, Mr B, for those kind words. Anyway, I look forward to being the Minister in charge of Pans. I've got a lovely wok that we can start with."
* * *
FAKE NEWS AWARDS

US President Donald Trump has confirmed that the inaugural Fake News Awards will take place in Washington in December. He believes this will give the American press time to come up with enough suggestions to put them on a par with his high intellect and prove to the world that they are not as stupid as he continually says they are. He went on to say,

"All of 'em are weak, they're just weak. Some of them are fine people. But they are weak. They are all losers but I'm giving them a chance to prove that they're winners, like me. I'm, like, a really smart person and I'm giving them the chance to be too. Something bad has been happening with fake news and now they have the chance to produce good fake news.
This competition is going to be tremendous, amazing, huge and terrific!"
The winners names will be published after Christmas this year. Or maybe they won't.
The White House has prematurely released details of its own entry in the contest. The official figures for the State of the Union address put the number of senators and congressmen who attended Congress to witness President Trump's address at 336,687.
President Trump also took time to criticise the 'fake news media' for making it look like there was only a hundred or so present in the room.
A tweet several hours after the address read –
"Great attendance at my first (excellent) state of union. Hundreds of thousands of congressmen and senators in the room. Fake news media phony pictures show less (sad). Covfefe."
The White House insists that its figures are correct despite the fact that it would take a House chamber the size of a small town to accommodate 300,000 people, and that Congress only has 535 members.
Meanwhile, the President remained bullish about the figures in a series of further tweets -
"Much bigger attendance at State of Union than Obama got and much bigger other things too!"
"So many congressmen and senators because I am such a great President (best ever)."
"Anyone want to play Call of Duty? Online now."
Attendance controversy aside, as the President managed to deliver the entire address without being overtly racist or sexual assaulting anyone, the State of the Union is being largely considered a success.
* * *
WINTER OLYMPICS SETBACK

The British Winter Olympic team have today submitted a formal complaint to the organisers of the South Korean event over the continued exclusion of traditional British winter sport, the hill slide on a carrier bag.
With the British team hoping to exceed expectations by not becoming objects of ridicule, attention has turned to the organisers' refusal to include events for which we are well prepared as a nation.
A Team GB spokesperson explained,
"We're lucky to get a few days snow a year in the UK, so spending money on skis and expensive aerodynamic sledges has never been an option for most of the kids back home.
"The way that British youngsters enjoy the snow is to grab one of their mum's 'bags for life' and head to the nearest hill, and I think the organisers should realise this is what the Winter Olympics is all about. We found in trials that the 20p Waitrose variety performed best, but we don't want to seem elitist, so I'd like to point out that the Lidl free ones were a close second."
The spokesperson continued,
"If our appeals are not successful, we have plenty of other ideas for sports in which British competitors can excel.
"We have, 'Longest skid whilst staying on your feet', 'Most accurate snowball throw' and 'Making the most realistic snowman'.
"If all else fails, we have our fall back submission of 'Writing your name in urine in the snow outside the pub'."

Meanwhile, the North Koreans have denied they were contravening the rules when they unveiled their latest bobsleigh -

* * *
FRONT PAGE NEWS
CHEDDAR MAN RECONSTRUCTION MAKES NIGEL FARAGE EMERGE FROM EXILE

Nigel Farage believes 'Cheddar Man' was probably a benefits tourist putting extra strain on the Mesolithic welfare system.
The discovery that early Britons had dark skin indicates to some the fallibility of modern racial constructs and forces us to question the very notion of nationalism and identity.
But not Nigel Farage.
He explained,
"The NHS in Mesolithic Britain was at breaking point due to the long-standing open border policy that's blighted this great nation for over 10,000 years. You had literally 10s of people walking across the open borders of the continental bridge between Europe and Mesolithic Britain. People who contributed absolutely nothing to this great land, but came here only TO bleed this country dry and draw things in caves."
Anglo Saxons who heralded from Germany and Denmark and are largely thought to be the main ancestors of modern-day Britons are believed to have made the journey across the North Sea approximately 11,000 years after Cheddar Man had lived.
"Utter codswallop," said Farage.
"I'm going to continue believing white people lived here first otherwise everything I've ever said about immigrants wouldn't make any sense."
* * *

JIHADISTS RESORT TO FIGHTING THEMSELVES!!

The last two British Da'esh 'Beatles' have come to blows over who ends up having to be Jihadi Ringo, after being confirmed last week as captured by Kurdish forces.
Since the death of compatriots Jihadi John in the British Military's Operation Chapman and the imprisonment of Jihadi Sir Paul, it is understood that the two remaining members of the group have been constantly at loggerheads demanding that the other one is Ringo.
One of their captors said,
"Let's face it, he's not even the best jihadist in the IS Beatles. Neither of them wanted to be responsible for composing a terrorist version of Yellow Submarine and both of them were a little bit too mental to voiceover Islamic State's version of Thomas the Tank Engine."
Authorities have now turned their attention to a second IS group, Jihadi Rolling Stones.
* * *

BENEFITS OF SPACE TRAVEL BY CAR

Putting a car into orbit around Mars is both cheaper and easier than parking it in London, Elon Musk confirmed last month.
The test launch, which fired a car into space, was carried out by SpaceX recently cost an estimated 90 million dollars – slightly less than leaving it in the long-stay car park at Heathrow for a weekend during the summer.
"The launch overcame massive technical challenges, but it was still easier than getting the same car around the north circular on a Friday evening," said a SpaceX spokesman.
"For starters, we didn't have to deal with some idiot in a dented Nissan Micra cutting us up at the lights. We expect that navigating the vehicle through two hundred million miles of vacuum and inserting it to a stable orbit around another planet will present fewer problems and take less time than getting down Shaftesbury Avenue and finding a parking space."
Reports from Mars suggest that locals are already complaining about their orbit being clogged up by immigrants who can't drive.
In response, a cyclist has been spotted furiously banging on the window of a vehicle and swearing at the driver 300,000 miles from earth. The CCTV footage taken from the International Space Station shows the cyclist pursuing the vehicle for around 8 hours before making his feelings known to the driver. The irate cyclist had been on his way to work when he took exception to the driver's relaxed attitude behind the wheel. He told us.
"Another arrogant sod behind the wheel not checking his mirrors before take-off. Completely in a world of his own, without a care for anyone else within a quarter of a million miles of him."
The cyclist became angry with the driver when he heard loud music coming from his vehicle on his morning commute.
"I heard what seemed to be Space Oddity by David Bowie coming from a vehicle somewhere in Florida so I set-off in pursuit to let him know my feelings. I finally caught up to him around 300,000 miles from the Earth's atmosphere. The arrogant fool wasn't wearing a helmet or seat belt and didn't even have the guts to look me in the eye."
The Flat Earth Society aim to beat Elon Musk at his own game by throwing satellites off the edge of the world to get them into orbit. The society plans to both raise funds and prove its theories correct at the same time by launching telecommunications and weather satellites from their facility which will be built 'perched above the void'.
The New agency will be called Flatearth Aeronautical Experimentation Colonisation And Exploration Society – or FAECES for short.
Space technology will be placed on the edge and given a firm shove to send it spiralling off the Earth and into a stable orbit around the rim of the world – which is flat and don't you forget it.
"Elon spent ninety million dollars launching one measly rocket", said a FAECES spokesman.
"Ninety million! We reckon we get one off the planet for maybe fifty quid. Less, if you bring your own lunch. Tossing satellites off the edge of the disc is what the Flat Earth Society was made for," he added. We've had years of practise being tossers. We're world leaders."

IKEA FOUNDER'S FUNERAL STILL DELAYED!!
SMÅLAND, SWEDEN – The Funeral for Ingvar Kamprad, the founder of the Swedish Furniture store IKEA has been postponed due to issues assembling his coffin.
A statement from the family announced that the funeral will proceed as soon as they locate an appropriately sized Allen key and a missing screw but that isn't the only problem.
Always a company man, Kamprad wanted to be buried in one of his company's best-selling products, although the IKEA casket – which is now available for pre-order – is said to be the cause of the delay. A person close to the family has said the construction issues are causing a rift between the deceased's offspring, with his two sons currently arguing over which is the left-hand casket wall, and whether they have it upside down. The family has tried following the assembly instructions but has found that repeatedly screaming at each other is far more effective and therapeutic.
Kamprad's wife has said if they can't get the casket done in the next few days, the plan is to "duct taping the bloody thing together".
"We'll just throw the remaining pieces into the casket and bury it as it is," she added.
Ikea, widely known for selling Rubik's cubes disguised as furniture, insists that the casket will be a "big seller in 2018" along with the IKEA Urn and IKEA Tombstone. Ingvar Kamprad was 91.
* * *

DONALD TRUMP STUDY LEADS TO RE-DEFINITION OF ADOLESCENCE

A new study has recommended changing the ages that define adolescence to be from the age of 10 to at least the end of the first term of your Presidency, unless you never plan to be President, in which case it is 24.
Scientists began the study after noticing that there was a massive adolescent in the White House and it became apparent that the existing definition of adolescence was becoming redundant.
"Society changes and adult roles are adopted later in life, so it was time to examine this new period of adolescence," said the Professor who led the study.
"In the example of President Trump we see a man in his seventies who is governed entirely by emotion and impulse, is moody, and is appalling and inappropriately horny. He is, in almost every way other than age, an adolescent."
The study does not say that adolescence, in all cases, last until the seventies.
"In most cases it seems that adolescence will now last until someone is around 24 years of age," confirmed the Professor, "But, the evidence is clear that it can certainly last until very late in life. As that evidence is currently only manifested in the form of a first-term President, we feel that it is best to define adolescence as the period of time between the age of 10 and the end of the first term of your Presidency."
The President has yet to comment on the study as he earlier stormed off to his bedroom after declaring that 'No one understands what it's like to be me'.

MORE ON BREXIT -

BRITONS WARNED NOT TO BOOK HOLIDAYS YET!!
The right to sunbathe in a prime spot next to a foreigner will hinge upon Britain's continued membership of the single market, Thomas Cook has warned.
Thomas Cook's trial scheme will allow customers to pay a small fee to book a specific lounger in advance of their holiday but the company warned that holidaying Brits will lose their lounger privileges when Britain crashes out of the single market.
Brexiters, meanwhile, have reacted angrily to the news, insisting right wingers abroad should be given the choice between a hard sun lounger and a soft sun lounger if that's what they decide they would like.
A Brexiter said,
"This smacks of an EU plot to deny the British people their God-given right to get up far too late and begin a protracted argument with a polite family from Germany in perfect English."
British Chancellor, Philip Hammond, said the case merely outlines the importance of retaining membership of the single market.

BORIS REVEALS PLANS TO RETAIN LINKS WITH EUROPE

Foreign Secretary Boris Johnson has suggested building a new transport link between the UK and France that could include a conveyor belt, zip line, water slide and "perhaps some kind of jetpack that the great British boffins could come up with".
In a speech to the press, Boris boasted that the new Channel Bridge, or "Chidge" as he christened it, will be a "masterclass of British engineering and investment".
Johnson, who has significant previous experience with zip lines, said that the transport system would be the fastest and most exciting way to cross the channel, and definitely wouldn't leave people stuck in the air halfway in need of rescuing. When pressed on why he was wanting to build a bridge to Europe while simultaneously leading a campaign to separate the UK further from the continent, the Foreign Secretary mumbled, quoted a verse from the rhyme of the ancient mariner, ruffled his hair and laughed at reporters.
According to a promotional bus parked outside the press event, the Chidge system is expected to cost about £350m a week to run.
A bridge between Britain and France would be a spiffing thing to build and then campaign to shut, Boris Johnson has proposed. The bridge, which would stand as a symbol of international friendship and unity, would take many years and cost an absolute fortune to build before being immediately closed to stop those foreigners getting in."
Johnson has offered to throw his significant political weight behind building the bridge and then, once it's complete, slapping a slogan on the side of a bus and driving around demanding it is immediately shut down again.
"Just imagine it," he told French President Macron.
"The work of a decade. A great arc of glittering steel brushing the gulf between our two nations. Thousands toiling for years to build one of the greatest engineering achievements of our age. Then we could plonk a jolly great 'No entry' sign slap in the middle of it. Wouldn't that be just marvellous? People from the continent could drive as far as halfway across the bridge before we demanded their papers and told them to get lost. It's a brilliant, idea that would bring people together right up until the point where I've managed to get it closed and torn down as being a symbol of everything that is wrong with this country.
The French government is understood to be receptive to the idea of building a bridge, although officials have admitted they will have to look at ways to prevent the British from using it.

NIGEL FARAGE SUPPORTS AS MANY REFERENDUMS AS IT TAKES

Nigel Farage has said that we would not be opposed to a second referendum on Brexit but insisted that if the result doesn't go his way he would call for a 'best of three' decider.
Farage was questioned on television, admitting to his interviewer that he would be open to a second referendum on Brexit.
He told viewers,
"I think what people need to understand is that I'm quite flexible in terms of my approach to this – and I do quite like all the attention I get during the campaigns, so long as we finish with me getting my own way on absolutely everything. So of course, should the result of the second referendum be anything other than a resounding victory for me, then I will of course immediately call for a third referendum tie-break. If we lose that one, then we'll be calling for a best of five series of referenda. I think you can see where this is going. I'm not ruling out heading into my retirement calling for a 'best of fifteen' referendum."
Voters have met the Farage announcement with scepticism. One said,
"Look, I wanted to Remain, and I voted that way – so this might look like good news from the outside. But Nigel Farage has a long track record of making vows he ultimately goes back on – just ask his ex-wife and his currently estranged one. One major concern of mine would be the health of the nation should we vote to remain the second time around. I've seen some of the angry and bloated ruddy faces on Question Time, and I don't think there's enough blood pressure medication in the country to keep them all healthy if the result got overturned."

BRITAIN AND FRANCE TO LOAN EACH OTHER HISTORICAL ARTEFACTS

In a move seen by many as an olive branch to Theresa May's government, the French president is to allow the unprecedented loan of the Bayeux tapestry, a medieval masterpiece commemorating the decisive victory inflicted by a young charismatic French leader over squabbling Saxon lords.
The curator of the Musee National de Bayeux, explained that President Macron had personally asked for the 70 meters long tapestry to be made ready for his trip to London. He told reporters,
"The president was very keen that British people get to see such an important part of their heritage. It's a beautiful historical snapshot of how focused Norman warriors casually swept aside enfeebled Saxon chieftains and their armies full of ignorant peasants clinging to antiquated ways.
Look at the rich detail! You can see the Norman archers smiling as they simply arced their shots over the shields of the gobsmacked, unimaginative Saxons who thought they were safe on their sovereign isle. And it's such a lovely tale. A British leader finding himself at the mercy of a hospitable Norman Duke makes promises he had no intention of keeping and never wonders why the target of his deceit was nicknamed the Bastard. Or that it might be unwise to really annoy people who had seized kingdoms from the Volga to Sicily."
As a reciprocal gesture of goodwill, Brexiters are planning to send a commemorative Battle of Britain tea towel to France. Angry, red-faced Leave voters have decided that delivering the gift across the Channel would be the perfectly obnoxious thing to do after discovering the 11th century artefact was set to leave Gallic soil for the first time in 950 years.
"We didn't vote to take back control to let these Frenchies start lecturing us about the Norman conquest," said a Brexiter.
"Our great nation has won battle after battle since William the Bastard got extremely lucky that one time in 1066. They can have this commemorative tea towel for starters, just to remind them of all of our great British victories across the globe, showing that Britain is definitely the best at everything. It's one in the eye for France!"
The move was inspired by news that MEP Steven Woolfe somehow thought it would be hilarious to deliver a hamper of British goods to EU chief negotiator Michel Barnier recently.
"You might think we've peaked with this tea towel, but we've got plenty more where this came from," added another Brexiter.
"We could even send them some tea towels commemorating all sorts of British magnificent victories against their little European nation; there's Waterloo, Trafalgar, some football, rugby and tennis matches and, obviously, the Eurovision Song Contest. That last one may actually be a draw at the moment but our songs have been better. At least you could understand them.
It's time that we showed the rest of Europe that living off past glories is pathetic and completely at odds with the views of the modern Brexit voter."
NOEL EDMONDS JOINS THE CABINET!!

The government has prepared for uncertainty around Brexit by appointing Noel Edmonds as Deal or No Deal Brexit minister in the latest reshuffle.
Edmonds is described as having tremendous experience of situations where nobody has the first clue what they're going to get, and is well used to receiving risible offers from a someone down the end of a phone – so will be perfect for the role.
He has pledged to 'hit the ground running' by promising to prepare for the worst should Britain get only 1p from the ongoing Brexit negotiations.
"If we only get a Blue Box by Brexit day I'll be ready with a hug and a homily about how it's not the winning, the important thing is that you tried," Edmonds said.
"But we'll work hard to avoid that by getting everyone to hold hands and wish very hard for a great deal when the end of negotiations roll around. I practise cosmic ordering and affirmation, which involves just telling the universe what you want and it will come to you. It works tremendously in restaurants and branches of Argos, and I don't see why this sort of thing will be any different."

BREXITERS UNFAZED BY SCAREMONGERING TACTICS

Brexiters have insisted the regional breakdown of Brexit's impact is pure scaremongering and will continue to believe that is the case until they see it written on a bus.
A spokesperson said today's official forecast, which highlighted how areas that specifically voted for Brexit are likely to be the hardest hit by its negative impact, is based on nothing more than research and expert opinion, and as such should be discarded without a moment's thought.
He went on,
"Everyone knows that financial facts are written on buses, it's the British way of doing things. You can say whatever you like with your so-called reports, analysis and experts – until I see it driving down the motorway in two foot high letters I simply won't believe a word of it. Everyone knows you can make up a report, but you can't make up an entire bus!"
He went on,
"If these figures were true, and the economy really is going to be hit hardest in the areas that voted for Brexit, then obviously they would have put it on a bus. It's how the British electorate expects to be told about the economy. Show me a bus that says the North-East and West Midlands will be worse off after a hard Brexit, and then maybe we'll talk – but until then, you and your so-called forecasts can just disappear."
* * *
JOKES OF THE WEEK

A blind man goes to see a prostitute. On feeling her pimply face, he recoils in horror. Feeling hurt she says to him, 'its only a bit of acne'. 'Thank God for that', he replies, 'I thought it was the price list.
*
The vicar asked if anyone in the congregation would like to express praise for answered prayers.
Suzie Smith stood and walked to the podium. She said,
"I have a praise. Two months ago, my husband, Phil, had a terrible motorbike crash and his scrotum was completely crushed. The pain was excruciating and the doctors didn't know if they could help him."

You could hear a muffled gasp from the men in the congregation as they imagine the pain that poor Phil must have experienced.

"Phil was unable to hold me or the children," she went on, "and every move caused him terrible pain. We prayed as the doctors performed a delicate operation, and it turned out they were able to piece together the crushed remnants of Phil's scrotum, and wrap wire around it to hold it in place."

Again, the men in congregation cringed and squirmed uncomfortably as they imagined the horrible surgery performed on Phil.

"Now," she announced in a quivering voice, "thank the Lord, Phil is out of the hospital and the doctors say that with time, his scrotum should recover completely."

All the men sighed with unified relief. The vicar got up and tentatively asked if anyone else had something to say. A man stood up and walked slowly to the podium. He said,
"Hi, I'm Phil."

The entire congregation held its breath.

"I just want to tell my wife, the word is sternum."
*
THOUGHTS FOR THE DAY
Have you ever wondered why men look happier than women? -

Your last name stays the same when you get married. Well, usually.
The garage is all yours.
Wedding plans take care of themselves.
Chocolate is just another snack...
You can never be pregnant.
You can wear a white T-shirt to a water park.
You can wear NO shirt to a water park.
Car mechanics tell you the truth.
You never have to drive to another petrol station restroom because this one is just too icky.
You don't have to stop and think of which way to turn a nut on a bolt.
Wrinkles add character.
People never stare at your chest when you're talking to them.
One mood all the time.
Phone conversations are over in 30 seconds flat. Well, most of the time.
A week's holiday requires only one suitcase.
You can open all your own jars.
If someone forgets to invite you, he or she can still be your friend.
Three pairs of shoes are more than enough.
Everything on your face stays its original colour.
The same hairstyle lasts for years, even decades.
You only have to shave your face and neck. Well, sometimes your head.
You can play with toys all your life.
You can wear shorts no matter how your legs look.
You can 'do' your nails with a pocket knife.
You have freedom of choice concerning growing a moustache.
You can do Christmas shopping for 25 relatives on December 24 in 25 minutes.

The world is your urinal.

Men Are Just Happier People
NICKNAMES
If Laura, Kate and Sarah go out for lunch, they will call each other Laura, Kate and Sarah. If Mike, Dave and John go out, they will affectionately refer to each other as Fat Boy, Tiny and Baldy.

EATING OUT
When the bill arrives, Mike, Dave and John will each throw in £20, even though it's only for 32.50. None of them will have anything smaller and none will actually admit they want change back
When the girls get their bill, outcome the pocket calculators...YEP!!!
BATHROOMS
A man has six items in his bathroom: toothbrush and toothpaste, shaving cream, razor, a bar of soap, and a towel.
The average number of items in the typical woman's bathroom is 337. A man would not be able to identify more than 20 of these items.

ARGUMENTS
A woman has the last word in any argument.
Anything a man says after that is the beginning of a new argument.

FUTURE
A woman worries about the future until she gets a husband.
A man never worries about the future until he gets a wife.

MARRIAGE
A woman marries a man expecting he will change, but he doesn't.
A man marries a woman expecting that she won't change, but she does.
DRESSING UP
A woman will dress up to go shopping, water the plants, empty the rubbish and answer the phone.
A man will dress up for weddings and funerals.

NATURAL
Men wake up as good-looking as they went to bed.
Women somehow deteriorate during the night.
OFFSPRING
Ah, children. A woman knows all about her children. She knows about dentist appointments and romances, best friends, favorite foods, secret fears and hopes and dreams.
A man is vaguely aware of some short people living in the house.

A married man can forget his mistakes. There's no use in two people remembering the same thing!
*
POSSIBLE HEADLINES FROM THE YEAR 2050 -

Ozone created by electric cars now killing millions.

White minorities still trying to have English recognized as the UK's third language.

Children from two-parent, married, heterosexual families bullied in schools for being 'different'. Tolerance urged.

Manchester schoolgirl expelled for not wearing a burqa.

Japan announces that they will no longer consume whale meat as whales are now extinct, and the scientific research fleet are unemployed.
UK Government tells the Japanese that grey squirrels taste like whale meat.

Britain now has ten universities of Political Correctness.
Professor Goldman of LSPC says there is still a long way to go in the fight to stop people saying what they think.
Prime Minister Mohammed Yousuf claims increased growth through more immigration is the secret to success.
Baby conceived naturally. Scientists stumped.

Iran still isolated. Physicists estimate at least ten more years before radioactivity decreases to safe levels.

Jose Manuel Ivana Rodriguez Trump says she will run for second term as US President in 2052.

Post Office raises price of stamps to £18 and reduces mail delivery to Wednesdays only.

After a ten-year, £75.8 billion study commissioned by the Labour Party, scientists prove diet and exercise is the key to weight loss.

Supreme Court rules punishment of criminals violates their civil and human rights.
Victims to be held partly responsible for crime.

Average height of professional basketball players is now nine feet seven inches.

New law requires that all nail clippers, screwdrivers, fly swatters and rolled-up newspapers must be registered by January 2055 as lethal weapons.

Bradford win FA Cup Final, beating Hindu Hornets 4-1.
*
We are NOT a nation of immigrants we are a nation of invasion. The Romans, Vikings, French and Anglo-Saxons. None were peaceful. The Anglo-Saxons laid the foundation for the English nation. We evolved over centuries into a distinct island race called British.
*
A psychologist walked around a room while teaching stress management to an audience. As she raised a glass of water, everyone expected they'd be asked the "half empty or half full" question. Instead, with a smile on her face, she inquired: "How heavy is this glass of water?"

Answers called out ranged from 8 oz. to 20 oz.

She replied, "The absolute weight doesn't matter. It depends on how long I hold it. If I hold it for a minute, it's not a problem. If I hold it for an hour, I'll have an ache in my arm. If I hold it for a day, my arm will feel numb and paralyzed. In each case, the weight of the glass doesn't change, but the longer I hold it, the heavier it becomes."

She continued, "The stresses and worries in life are like that glass of water. Think about them for a while and nothing happens. Think about them a bit longer and they begin to hurt. And if you think about them all day long, you will feel paralyzed – incapable of doing anything."

Remember to put the glass down.
*
This is the moment a feminist and I had a quiet chat -

She was rightfully moaning about unequal pay so I said - you know why that is don't you?

Noooo she says - I don't!!!

Well I said it all harks back to the old days when Britain ruled the waves and there was an understanding amongst mariners! A gentleman's agreement for who goes overboard first.

Well, I said, when the Titanic went down who do you think got the life boats first?

She replied: The women and children did of course. It's only right.

Well Of course I said - you are right but do we complain about it?

She was silent.

Well I said, that's why men get paid more so until you're prepared to let men go first you'll be known as gentle women.
*
Home Front News

I've been watching too many diet and health programmes on TV since my weight shot up (ever so slightly) over Christmas but even they're contradictory. What's good for you and what isn't? I try to eat less (honest I do) but the weight stays much the same. I've even started moving about a bit more but sometimes it gets confusing. Yoga or Vodka? -

Even my wife's concerened about my weight and has been leaving me subtle messages about eating more fruit -
Either that or she suspects there's something going on betwen me and the woman next door. Her intuition's usually spot on and so developed that she sometimes knows I'm wrong before I've even opened my mouth. Friends of mine say their wives are the same. One got so annoyed with his wife for doing it that he threatened to kill her and said it in front of witnesses so when she said she was leaving him on Boxing Day eyebrows were raised and fingers pointed in his direction. What made it worse for him was she hadn't returned home by the following morning. What people were thinking wasn't true, of course, but the fact that he was agitated when she didn't come home only made things worse. He looked even more guilty. He asked me to go to the Police station with him to report her missing.

After hours of searching we found a Police station and, if that wasn't enough of a surprise, we went in to find an officer behind the desk. After convincing ourselves it wasn't all a dream my mate told his story -

Husband: My wife is missing. She went shopping yesterday and has not come
home...

Sergeant: What is her height?
Husband: I'm not sure. A little over five-feet tall.

Sergeant: Weight?

Husband: Don't know. Not slim, not really fat.

Sergeant: Colour of eyes?

Husband: Never noticed.

Sergeant: Colour of hair?

Husband: Changes a couple times a year. Maybe dark brown.

Sergeant: What was she wearing?

Husband: Could have been a skirt or trousers. I don't remember exactly.

Sergeant: What kind of car did she go in?

Husband: She went in my sports car.

Sergeant: What kind of sports car was it?

Husband: Mercedes-Benz C63 AMG 6.3 7G-Tronic Edition 125 Coupe finished In
Magnetite Black Metallic with Black Leather AMG Sport Seats and Brushed
Aluminium plus Piano Black Cappings; Unmarked 19" AMG Multispoke Alloy
Wheels; Tyre Pressure Monitoring; Panoramic Glass Electric Tilt/Slide
Sunroof; COMAND Online with HDD Wide Screen Satellite Navigation,
Bluetooth Telephone Connectivity, Multi-Media Interface (MP3, Ipod etc),
Superb Sound System With DAB and Harman-Kardon Sound Upgrade; Leather
Trimmed AMG Multi-Function Steering Wheel with Paddle Shift; Parktronic
Front and Rear Parking Sensors; Parking Assist; Attention Assist; Speed
Limit Assist; Electrically adjustable, heated door Mirrors with Powerfold;
Electrically Adjustable with Heated Front Sport Seats with Memory;
Electrically Adjustable Steering Column; Bi-Xenon Headlights with Powerwash and Auto Activation; LED Daytime Running Lights; Cruise Control; Rear
Privacy Glass; AMG Carpet Overmats...
You can see why they've got problems. She turned up before the New Year and said she been at her mother's but that's what they all say, isn't it?
I think most arguments between husband and wife are usually over money or worse, sex. I can understand the sex. The frequency of sexual activity of senior males apparently depends on where they were born. Statistics just released from the Depatment for Health reveal that: -
English men men between 60 and 80 years of age, will on average, have sex two to three times per week, (and a small number a lot more), whereas Japanese men, in exactly the same age group, will have sex only once or twice per year if they are lucky.
This has come as very upsetting news to me and most of my mates at the golf club, as none of us had any idea that we were Japanese.
We've been married almost 37 years and were lying in bed one evening recently when the wife felt me begin to massage her in ways I hadn't in quite some time. It almost tickled her as my fingers started at her neck, and then began moving down past the small of her back. I then caressed her shoulders and neck, slowly worked my hand down, stopping just over her stomach. I then proceeded to place my hand on her left inner arm, working down her side, passing gently over her buttock and down her leg to her calf. Then, I proceeded up her thigh, stopping just at the uppermost portion of her leg. I continued in the same manner on her right side, then she noticed I'd suddenly stopped, rolled over and become silent.

As she had become quite aroused by this caressing, she asked in a loving voice,
"Darling, that was wonderful. Why did you stop?"
Truth was, I'd found the remote.
Anything I said was met with silence for a few days after that so I thought I'd drown my sorrows. There was no drink left over from Christmas so I went to the Off Licence last Friday afternoon on my wife's bike, bought a bottle of whisky and put it in the bike's basket.
As I was about to pedal off, I thought to myself that if I fell off the bike on the way home the bottle would break. So I drank it all before getting on the bike.
It turned out to be a very good decision because I fell off several times on the way home.
The drink put me in the mood for another though so I took myself off to the pub. I met a mate of mine in there and we watched the horse racing on TV. I was on form so decided to share my good fortune and said to Paddy behind the bar,
"Do you want the winner of the next race?"
He replied,
"No thanks, oi've only got a small garden."
He can't help it. He's never been too bright. He was talking to Murphy one afternoon when he said to him,

"Ya know, I reckon I'm 'bout ready for a vacation. Only this year I'm gonna do it a little different. The last few years, I took your advice about where to go. Three years ago you said to go to Hawaii. I went to Hawaii and Molly got pregnant. Then two years ago, you told me to go to the Bahamas and Molly got pregnant again. Last year you suggested Tahiti and darn me, if Molly didn't get pregnant again."

Murphy asked Paddy, "So, what you gonna do this year that's different?"

Paddy said, "This year I'm taking Molly with me."

Grandkids can be just as funny. Our Olly went in to hospital a few weeks ago for an operation. Another little boy, but younger than Olly, was in the bed next to him and they got chatting -
Olly leant over and asked,
"What are you having done?"

The younger boy said,

"I'm getting my tonsils out, and I'm afraid."

Olly said,
"You've got nothing to worry about. I had that done when I was three. They put you to sleep, and when you wake up, they give you lots of jelly and ice cream."

"What are you going down for?"

The first boy said,
"Circumcision."

"Whoa!" the smaller boy replies. "Good luck, mate. I had that done when I was born.
Couldn't walk for a year."
Not much else has been happening at home lately and the hospital are so happy with my health improvements that they're probably going to take me off their books and refer me back to my own doctor. That's encouraging. What wasn't encouraging was the news about Oxfam this week so when they're latest donation letter dropped on my doormat I was a little taken aback.

It has launched a new campaign which details exactly where the money from charitable giving realistically ends up. The latest fundraising campaign which was launched simultaneously on TV and the Internet, has been praised for the honest explanation of what happens to any money raised.
"I think the public and other potential sources of donation really value the openness of this campaign", explained an Oxfam spokesperson in the letter accompanying their envelope.
"You see, people want to help those less fortunate than themselves by giving money. And our aid-workers find it easier to handle the difficult and distressing situations we place them in if they've had a good old time the night before. So we want to make sure that any prostitutes used are clean and of the highest standard for our workers, so that those poor and disaster-struck victims that they work with receive the full benefit of their good mood."
News of the campaign has led to a presumably unrelated but sudden increase in the number of single middle-aged men signing up to volunteer abroad.
My wife gets her State Pension from July and will take her private pension at the same time so has decided to give up work altogether. I think she's probably expecting me to throw her a surprise party when she does but if her memory gets any worse she'll be able to plan her own.
Time for my diet dinner. Shall I have the usual two pizzas or restrict myself to one? No contest! I'll have the two added anchovies as a healthy alternative.
So long, until the next time .........
* * * * *
The Home We Called Sloane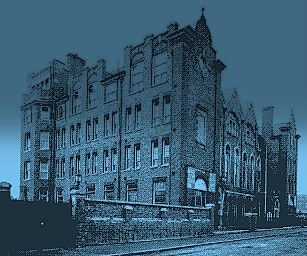 The Sloane building seen from Hortensia Road in 1908

The Sloane building was 100 years old in 2008, although it didn't actually start life as a boys' school until after the First World War, during which it served as a hospital. It still stands and many memories are, no doubt, ingrained in its walls along with the odd name and ribald comment. Who knows what the future holds, despite its Grade II listing on May 7th, 2002. Grade II listed buildings can be altered, extended, or even demolished, but only with Local Authority consent, so it may be that the building is considered historically or architecturally interesting enough for it's fabric to remain untouched. Some consideration may have been given to it having been the first purpose-built secondary school in London, and it is certainly one of only 3% of all ages of listed buildings that was built in the 20th century. Schools generally are seen as a good investment by developers because they're easy to convert. They are likely to be structurally sound because the authorities will have inspected them regularly to ensure they comply with Health and Safety requirements.

Sadly, Sloane Grammar School for Boys only lasted 51 years, from 1919-1970. John Binfield, in one of his poems writes -
... the school, with
All its past, was sucked into a huge
Turbulent sea of glass in Pimlico
And sank without trace. "full fathom five..
Sea nymphs hourly ring his knell.
Hark, now I hear them. Ding-dong bell".
Should the building survive in the form we all remember, there is still a chance that some of us will be around in 2019 to celebrate what would have been its centenary as a boys' school, had it remained in existence.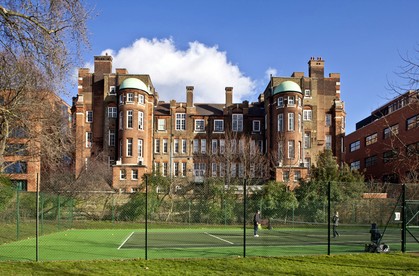 Sloane seen from the rear in 2014
* * *
Whatever our own personal reasons for it doing so, the school will still haunt most of us even if it disappears altogether. With that tenuous link, here's a poem that I came across in a copy of The Cheynean -

The Ghost of Sloane


When London's asleep and the School very quiet,
No sound of footsteps, no sound of a riot,
No sound of even the shuffle of feet,
No sound of the creak of a pupil's seat,
Out of the darkness the ghost of Sloane
Awakes from rest with a sigh and a groan.
Then up he arises to haunt the School
Climbing the stairs in the guise of a ghoul.
He shuffles and clanks down each corridor
Into the classrooms where stand desks galore.
He examines each desk and checks the boys' work,
Allots ghostly marks in the dark and the murk.

If you ever lose books from out of your desk,
And the teacher upbraids you and calls you a pest,
Just tell him my story, however tall,
Of the white shrouded phantom that haunts the School Hall.

J. Hollingshead (3C)

As for us, the boys who used to attend our Chelsea school, we probably considered ourselves 'Chelsea men' but I doubt that many of fitted the description in this poem, written when he was in the 5th year by one time Sloane Schoolboy, A R Doubledee. I get the impression he didn't particularly approve of the 'Beatniks' of the late 50s and early 60s that he found himself sharing Chelsea with or, as he called them the 'Weirdies' -

The Weirdies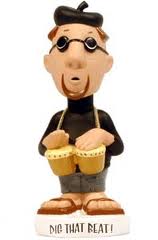 The Chelsea man is excessively queer,
He only drinks coffee and doesn't like beer.
He's always "chatting" the girls, and yet
This seems to make him "one of the set".

His unkempt chin and uncut hair
Go with his feet which are usually bare.
If he wears shoes, they've never got soles,
And he's usually found in Bohemian holes.

His outsize sweater is generally black
Contrasting well with his shorty mac.
He wears his clothing merely to show
That he can keep up with the boys of Soho.

To find a girl he doesn't look far,
But into the nearest coffee bar,
Where he's sure to meet a Bohemian "yob".
They're all from Chelsea - what a mob!

The girls with hair right down their backs
Wear irregular clothes that look like sacks.
They walk about wearing father's sweater:
I really don't see why he should let 'er.

Their gaudy clothes of reds and greens
Match up with the style of their men-friends' jeans.
Now that's how it goes with the latest style:
Girls on their faces make-up pile,
The men wear anything they can find -
I shouldn't stare, I should just act blind!

A.R. Doubledee (5b)
* * *

ANNOUNCEMENTS ARE BELOW