Sloane Grammar School boy, if you seek your memorial,
look around you.

If you're a member, click on an image (



) at the top for more.

= Messages waiting for you. The red bubble shows how many.

= Website activity. Check for things you may have missed.

= Member functions like Profile, Contact, and Password changes.


PLEASE CHECK THE ANNOUNCEMENTS BOARD AT THE FOOT OF THIS PAGE FOR ANYTHING IMPORTANT and the CALENDAR OF EVENTS PAGE FOR DETAILS OF FORTHCOMING EVENTS. ALSO, USE THE NOTIFY ME PAGE TO CHOOSE YOUR NOTIFICATION PREFERENCES. YOU'LL FIND IT, ALONG WITH OTHER USEFUL ITEMS, UNDER THE WHITE HEAD AND SHOULDERS IMAGE AT THE TOP RIGHT OF THIS PAGE.
The Sloane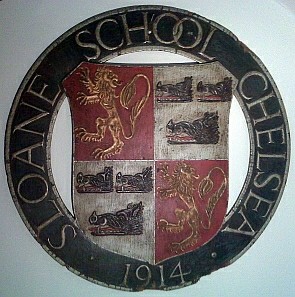 Hello and Welcome to

Mark Foulsham's

Sloane Grammar School website
If I built it I knew you would come

A School that invited loyalty
(Quote by Don Wheal)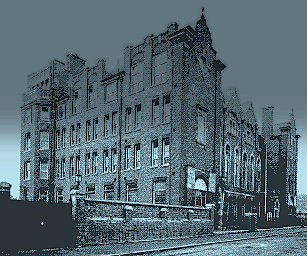 Gone But Not Forgotten
'Men are we, and must grieve when even the shade
Of that which once was great is pass'd away.'

William Wordsworth
On the Extinction of the Venetian Republic

You may think you're done with the past but the past isn't done with you!


"The merits of a school are judged as much by the men it produces as by their achievements as boys" -
(Old Cheynean D.J. Cowie, March 1929)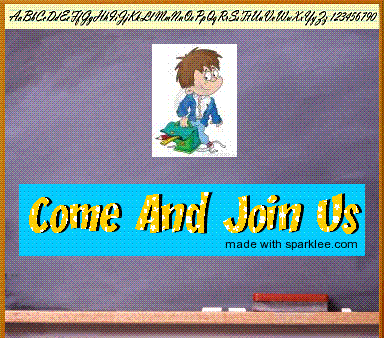 Register and link up with old school friends again and become part of Sloane Reunited.
If you were a pupil or member of staff at Sloane you qualify to register for the website. Click on Missing Classmates at the top of this page to see if we've been expecting you. If you see your name click on it and follow instructions. If your name's not there click on BECOME A MEMBER to learn more and then click the ADD NAME button to start the ball rolling or click Contact Us at the top of the page or the Click Here To Register! button below if you're already sure you want to join us. Read what you see then complete the box at the bottom of that page to ask me to add your name to the list.
It's Free, it's Easy, it's Secure
and
You're Never Alone As A Sloane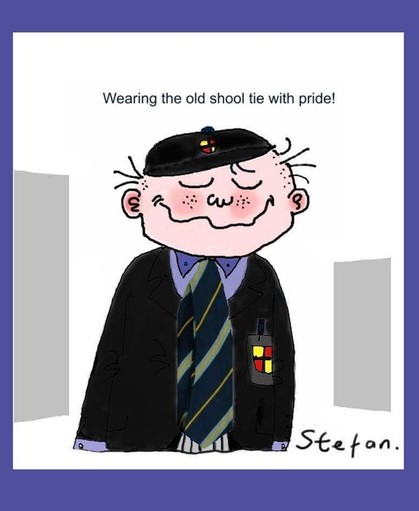 Self-portrait by Stefan Bremner-Morris

Please remember to Log Out when you leave the site by using the Log Out button to be found under the

image at the top of the page. It's as easy as falling off a log -


If you're already a member please remember to keep your Email address up to date using Edit Contact Info to be found by clicking on

the image at the top of the page.

Please don't forget to use the Notify Me page under the

image to make selections that will help you keep in touch as well as help you enjoy all the website has to offer.

AND FINALLY, IF AT ALL POSSIBLE, -
Please let a close relative know of your participation in the Sloane website and show them how to use the Contact Us page to notify me in the sad event of your death. Not only will this allow me to notify other members, it will also put a stop to any website generated emails finding their way to your Inbox. Thank you.
Come on in!
Don't be late!
This is one detention
You'll be pleased to take.


A WARM WELCOME

to fellow Cheyneans and passers-by, from the Official Sloane Grammar School 1919-1970 Old Cheyneans and Friends web site.
Mark Foulsham, at Sloane 1963-70, created this site in August 2008 to record for posterity all that I can, and for all those who attended Sloane or simply have a Sloane connection, to share and enjoy. Feel free just to browse or, if you feel you qualify to join us, make full use of the site by becoming a Registered Classmate. Click on the Click Here to Register button above to start the registration process. It's Free!
I'll also be happy to send a personal invitation to anyone else with a Sloane School Chelsea connection who you think might like to join us. Just enter their Email address in the MISSING CLASSMATES box to your right and click Send Invite.
We may not understand why but memories of our days at Sloane remain with us while others do not. Whether they're good or they're bad, I'd like to give all old boys the opportunity to keep those memories alive.

Aspirations and Objectives

Sloane never had a motto and although our school badge is based on the lion rampant and boar's head of the Cadogan family crest their motto, Qui Invidet Minor Est or He That Envies Is Inferior, is not really appropriate so I'll adopt the one to be found on the Coat of Arms of the Royal Borough of Kensington and Chelsea as it suits us nicely -

Quam Bonum In Unum Habitare

(What A Good Thing It Is To Dwell Together In Unity)
It is hoped, in some small way, to be able to have similar objectives to those stated for the first issue of The Cheynean in December 1926 -

"To record faithfully the major activities of the School, to promote and foster a corporate spirit in the School, to excite a greater keenness both in the games and in other phases of its social life, and to serve as a link between present members of the School and the Old Cheyneans". -

and also to bring together, once again, old friends and classmates, and those of us who have outlived the school and share a common interest in its history and its future.
Sadly, I've no memory of having ever sung or even heard a school song but apparently one was written by music Master Mr Seymour Dicker in 1928, and was first sung in July of that year by pupil J E Bush. What became of it after that first performance is a mystery but it contained the lines -
"Salve, the School and its scholars so keen,
Long may they keep its memory green."
If you've any memories of Sloane you'd like to share, use the Contact Us page to send them in and, whilst you're there, register for the site as well.

Once you've registered, you can activate the Instant Messaging feature that allows you to hold a 'real-time' online conversation with anyone else who has logged on to the website. You can also send a message to someone else on the site via the Message Centre or by using their Profile. Click on their name on the Classmate Profiles page then click on the red 'Send ? a private message' at the top of their Profile.

After you've registered, why not take a look at all the Classmate Profiles ? Even if you don't know the person involved, the information they've put on their Profile can be interesting, illuminating and fun, and often brings back memories of something you thought you'd forgotten about.
If, at any time after becoming a member, you're unsure about anything click on this Using This Site link for an explanation or contact me direct via the Contact Us page.
* * * * *
Why Not Take a Look at Where your Classmates are Living?

Find out the Postcode of a Classmate from their Profile (if they've agreed to let everyone know it) then Click on the link below, enter the details where it says 'Address', then Click on 'Go'. Not every country is covered yet and those that are have limited coverage, but it's worth a try.
Here's the link. Have fun - http://www.vpike.com/

* * * * * * * * *
BREAKING NEWS!!
ASSASSINATION ATTEMPT ON U.S. PRESIDENT FAILS!

U.S. President Donald Trump was walking out of the White House this evening heading toward his limousine, when a possible assassin stepped forward and aimed a gun.

A secret service agent, new on the job, shouted,
"Mickey Mouse!"
This startled the would be assassin, and he was captured.

Later, the secret service agent's supervisor took him aside and asked,
"What in the hell made you shout Mickey Mouse?"

Blushing, the agent replied,
"I got nervous. I meant to shout, 'Donald, duck!'"

*
SNOW, SNOW, THICK, THICK, SNOW!

The 'Beast from the East' has made it necessary for record numbers of people in Britain to 'work from home', despite the fact that this has coincided with the appearance of huge numbers of elaborate snowmen on Facebook.
While a few hardy, promotion-seeking souls braved the icy conditions to get into work, the rest of Britain took the easy option of a lie-in, a few emails and then some fun in the snow. an office worker from Leeds, said,
"As soon we heard the rumour last night that the kids' school would be closed that was it, and we spent the rest of the evening discussing whether there would enough snowfall to create a whole menagerie of snow sculptures in our garden. It turns out there is. I'm supposed to be writing a project plan for moving our entire office from the second floor up to the third floor of our building, but instead, I've carved a number of politician's faces in the snow. I'm so proud of what I've achieved on the company's time I might bring it up at my appraisal.
My wife is also 'working from home' and she has recreated the entire Mexican standoff from Reservoir Dogs out of snow. I've no idea where she got so many black suits. She's clearly wasted as a receptionist."
Facebook confirmed that the term 'Working at home snowman' is now trending on the social media platform.
In response to the late winter blizzard most of Britain simply said, "Wow! Snow!"
Elsewhere, others were not so happy as thousands of passengers were stranded across the normally fully-operational frozen tundra of Siberia today after a number of trains had to be cancelled because they were in no fit state to run. It is thought that the locomotives intercepted a BBC news bulletin, which reported that trains in the UK had been cancelled due to accumulations of more than six millimetres on the tracks, causing the Siberian stock to fall from their sidings in hysterics.
Residents of Oymyakon in the Sakha Republic, who have a regular service as long as the snow is less than five feet deep and the temperatures stay above -60 degrees, were bemused by the lack of a service and demanded an explanation.
"It's just not good enough," said one 89-year-old grandmother, "I have been up walking the dogs since 6am, tended to my elderly parents and now I just want to go into town for a cup of tea, yet despite the mild conditions, we have no transport."
Meanwhile, back in the UK, it is thought that further forecasts of up to three inches of snow will lead to all trains and planes being cancelled and result in most schools to closing until the summer. In addition all other items on BBC News will be put on the back burner whilst half a dozen reporters up and down the snow covered UK will be forced to stand chin deep in snowdrifts and continue to ram home what is already bloody obvious.
Sir Peter Hendy, Chairman of Network Rail told us today,
'We will not risk the lives of our passengers and staff when there is a light dusting of snow possibly forecast, we apologise for the inconvenience and assure customers that we hope to get back to cancelling trains for more normal reasons, such as industrial disputes and appalling management, as soon as possible."
One news reporter is more snow than man at the moment.
The BBC's Irish correspondent, John Snow (if you get my drift) has been stood out in the deep snow for the last seven hours for no other point than to prove the BBC can make him do so.
"I can confirm it's still snowing," he declared through chattering teeth and with icicles dangling from his nose.
"The Met Office has issued a red weather warning, meaning an actual risk to life and yet I'm still here for reasons which are clear to absolutely nobody. We've established that it's really cold and that it's going to snow for a while longer. Surely my job is done at this point? I mean look at my hair. It's frozen solid. I'm going to have to defrost it. Defrosting their head isn't something anyone should ever have to do."
Unbeknown to John, a BBC producer chuckled,
"Honestly he could have gone home hours ago. We've got a bet going as to how long we can keep him out there. Half of his broadcasts weren't even aired, so he's been standing in the snow talking to himself half the time. It's brilliant.
If he passes out, we'll take him home. We're not monsters."
Panic buyers are being forced to live off bread and milk after needlessly buying absolutely loads of the stuff.
Retired couple Mark and Susan Foulsham withdrew £150 from their Post Office account after reading about Storm Emma in the Daily Express, before annoying neighbours by clearing the local shop shelves of fresh staples.
"We thought we'd got one up on Mrs Padbury from number 372 after we bought the last farmhouse loaves, but this morning she came back with a stuffed crust meat feast and a ready meal paella, and I'm on my fifth round of toast from the first loaf," moaned Mark, sipping a glass of semi-skimmed milk.
"We do this every bloody time we see a snowflake and I've got no idea why. We don't even have a freezer so half of it will go to waste. Why people don't buy pasta and tinned food instead is beyond me. Plus I'm allergic to wheat and dairy.

One result of the storms is that a pensioner from Doncaster has expressed his concerns over a rumour that the next storm to hit the United Kingdom might be named something along the lines of 'Muhammed'.
"This is all down to the vast amount of bloody foreigners crawling around these days," he said.
"Personally, I'm very well known for my broad and liberal views, but I will not condone Storm Abdullah-Al-Jabaar in my country."
When reminded that in fact, the names for 2018 storms have already been selected by the Met Office and include Karen, Brian and Paul, Mr Williams said, "If you believe that then you may as well believe that primary school teachers shouldn't be equipped with assault rifles. I haven't seen a white face in Doncaster for years! But that's partially the fault of those liberals of course – the majority of English people are actually all lesbians now so I'm not surprised that all the kids around here are brown."
"It's a shame really," explained Doreen, his wife.
"I thought he would be comforted by the fact that Storm Emma recently battered the country, but he's now convinced that the Beast from the East was a bomb-laden terrorist from Damascus who is going to furiously bless his breakfast sausages in the name of Allah."
"This is exactly why he voted Brexit," she added.
"Luckily, I'm off to Dubai next week to soak up some well-deserved sun."

*

INTERNATIONAL WOMEN'S DAY. WHAT WAS THAT ALL ABOUT?!

Men everywhere breathed a sigh of relief when International Women's Day came to an end at midnight on 8th March.
Following an entire day of treating women with consideration, decency and equality, men everywhere are able to get back to normal for another 364 days without having to worry about what a load of uppity feminists think.
"Yeah, I think its great for women to have that whole day of being respected and treated as equals," said a man with an opinion on this subject that he was keen to share.
"But its bloody hard work. I mean, Jenny in Accounts was wearing this blinding low-cut top, but because it was International Women's Day, it didn't feel right going over there and trying to sneak a crafty look down her chest. I just hope she wears it again soon."
It's not just normal men, but high-powered captains of industry who were grateful to see the end of International Women's Day as well.
As one told me,
"Yes, we have to issue all sorts of rot to the media about valued female employees and whatnot. It's all a dreadful bore, but I usually get one of the girls in HR to do it. The men running the company are far too busy to worry about all that rubbish."
It is thought that next year, rather than have to worry about treating women with respect again on International Women's Day, most men will just feign illness and spend the day in bed instead.
*

NOTTINGHAM WOMAN LOSES NHS TEST CASE

A Nottingham woman, Mrs Iris Minger from Bulwell (pictured below) lost her case at Nottingham Magistrates Court yesterday after she tried to sue NUH Queen's Medical Centre after her husband went in for an operation that left him unable to have sex with her afterwards.
Mrs Minger, aged 69, told reporters after the verdict,
"Me an' me 'usband Fred 'ave 'ad bangin' sex till 'e went ta t'ospital and 'ad 'is operation, now 'e's not interested in me and it's all down to t'NHS!"
The case was turned on its head when the surgeon who performed the operation was questioned on oath. When asked for details of the operation he told the court,
"All we did was remove Fred's cataracts".


* * *

FRONT PAGE NEWS

2017 DARWIN AWARDS ANNOUNCED!!

The Darwin Awards recognize individuals who have supposedly contributed to human evolution by selecting themselves out of the gene pool via death or sterilization by their own actions ...
After prolonged deliberation the Darwin Awards for last year were finally announced.

THE WINNER!!:-
When his .38 calibre revolver failed to fire at his intended victim during a hold-up in Long Beach, California, would-be robber James Elliot did something that can only inspire true wonder. He peered down the barrel and tried the trigger again. This time it worked. - He no longer did !!!
The honourable mentions:
The chef at a hotel in Switzerland lost a finger in a meat cutting machine and after a little shopping round, submitted a claim to his insurance company. The company expecting negligence sent out one of its men to have a look for himself. He tried the machine and he also lost a finger. The chef's claim was approved.
A man who shoveled snow for an hour to clear a space for his car during a blizzard in Chicago returned with his vehicle to find a woman had taken the space. Understandably, he shot her.
After stopping for drinks at an illegal bar, a Zimbabwean bus driver found that the 20 mental patients he was supposed to be transporting from Harare to Bulawayo had escaped. Not wanting to admit his incompetence, the driver went to a nearby bus stop and offered everyone waiting there a free ride. He then delivered the passengers to the mental hospital, telling the staff that the patients were very excitable and prone to bizarre fantasies. The deception wasn't discovered for 3 days.
An American teenager was in the hospital recovering from serious head wounds received from an oncoming train. When asked how he received the injuries, the lad told police that he was simply trying to see how close he could get his head to a moving train before he was hit.
A man walked into a Louisiana shop, put a $20 bill on the counter, and asked for change. When the shopkeeper opened the cash drawer, the man pulled a gun and asked for all the cash in the register, which the lady promptly provided. The man took the cash from the shopkeeper and fled, leaving the $20 bill on the counter. The total amount of cash he got from the drawer... $15.
An Arkansas man was desperate for a beer... He decided that he'd just throw a brick through a liquor store window, grab some booze, and run. So he lifted the brick and heaved it over his head at the window.
The brick bounced back and hit the would-be thief on the head, knocking him unconscious to await the arrival of the Police. The liquor store window was made of Plexiglas. The whole event was caught on videotape.
As a female shopper left a New York convenience store, a man grabbed her purse and ran.
A shop assistant called 911 immediately, and the woman was able to give them a detailed description of the snatcher and within minutes the police had apprehended him. They put him in the car and drove back to the store.
The thief was then taken out of the car and told to stand there for a positive ID. To which he replied,
"Yes, officer, that's her. That's the lady I stole the purse from."
The Ann Arbor News crime column reported that a man walked into a Burger King in Ypsilanti, Michigan at 5 A.M., flashed a gun, and demanded cash. The assistant turned him down because he said he couldn't open the cash register without a food order.
When the man ordered onion rings, the clerk said they weren't available for breakfast so the frustrated gunman walked away.

THE 5-STAR STUPIDITY AWARD WINNER:-
When a man attempted to siphon petrol from a motor home parked on a Seattle street by sucking on a hose, he got much more than he bargained for.
Police arrived at the scene to find a very sick man curled up next to a motor home near spilled sewage. A police spokesman said that the man admitted to trying to steal petrol, but he plugged his siphon hose into the motor home's sewage tank by mistake. The owner of the vehicle declined to press charges saying that it was the best laugh he'd ever had and the perpetrator had been punished enough!

Remember... They walk among us, they can reproduce, and they VOTE!
*

HILARYIOUS
Finally the truth comes out!!
This is an extract from Hillary Clinton's autobiography, 'The Truth Will Always Prevail '.
"Some years ago, nearing dinner time at the White House, our regular cook fell ill and they had to get a replacement on short notice. He wasn't the smartest looking guy, in fact he seemed a bit dirty. Bill voiced his concerns to his Chief of Staff but was told that this was the best they could do on such short notice.
Just before the meal, Bill noticed the cook sticking his finger in the soup to taste it and complained again to the Chief Of Staff, but he was assured that many chefs did that.
Dinner went okay, although Bill thought that the soup tasted a little funny. By the time dessert came, he started to have stomach cramps and nausea. It was getting worse and worse until finally the President had to excuse himself. By now, he was desperately ill with violent cramps and was so disorientated that he couldn't remember which door led to the bathroom. He was on the verge of passing out from the pain when he finally found a door that opened. As he unzipped his trousers and ran in, he realized to his horror that he had stumbled into Monica Lewinsky's office with his trousers around his knees. As he was about to pass out, this naive girl bent over him and heard President Clinton whisper in a barely audible voice: "Sack my cook".
And that is how the whole misunderstanding occured.
*


UKIP SAY THEY STILL LEAD ON EQUALITY AND EVERYONE GETS A CHANCE
After a barnstorming speech outlining the benefits of leaving the single market and having fewer immigrants, Jeremy Corbyn has been unanimously voted in as leader of the UK Independence Party.
UKIP have struggled to find a leader for more than 72 hours in recent years and they hope the appointment will reinvigorate their party, with Corbyn bringing his vocal activist base with him.
Corbyn, who made the speech in Scotland on Friday last, was greeted with open arms by the party who said they were delighted to find someone whose policies so matched their own aims.
"We've been looking for someone to pull us out of the single market and to stop all these immigrants coming over here and taking all our jobs and girlfriends, and with his speech, Jeremy made it totally clear he's a perfect match for the job.
"Him hanging out on anti-seminitc Facebook groups as well was just the icing on the cake as far as we're concerned."
A small faction within the party had suggested Corbyn wasn't right for the job due to his previous relationship with Diane Abbott, but they relented after being reminded that the blessed St Nigel of Dulwich College had gone out with both French and Germans before now, but that didn't stop him when it counted.
*

JOKES OF THE WEEK
*

An old blind bloke wanders into an all-girl biker bar by mistake...

He finds his way to a bar stool and orders a large whisky. After sitting there for a while, he yells to the barman,

"Hey, you wanna hear a blonde joke?"

The bar immediately falls absolutely silent.

In a very deep, husky voice, the woman next to him says,
"Before you tell that joke, old man, I think it is only fair, given that you are blind, that you should know five things:

The bartender is a blonde girl with a baseball bat.

The bouncer is a blonde girl with a knuckleduster.

I'm a 6-foot tall, 175-pound blonde woman with a black belt in karate.

The woman sitting next to me is blonde and a professional weight lifter.

The lady to your right is blonde and a professional wrestler.

Now, give this serious thought. Do you still really wanna tell that blonde joke?"

The blind cowboy thinks for a second, shakes his head and mutters,

"No...not if I'm gonna have to explain it five times............"

*

*

THOUGHTS FOR THE DAY


*
Slender at first, they quickly gather force,
Growing in richness as they run their course;
Once started, they do not turn back again:
Rivers, and years, and friendships with good men.
Sanskrit poem
*
The years teach us much which the days never knew.
Ralph Waldo Emerson: Essays, 1844
*
One must take all one's life to learn how to live, and, what will perhaps make you wonder more, one must take all one's life to learn how to die.
Seneca: On the Shortness of Life, 1st century AD
*
The young have aspirations that never come to pass; the old have reminiscences of what never happened.
SAKI (H. H. Munro)
*
Time goes, you say? Ah no!
Alas, Time stays, we go.
Henry Austin Dobson: The Paradox of Time, 1875
*
An old Doberman starts chasing rabbits and before long, discovers that he's lost. Wandering about, he notices a lion heading rapidly in his direction with the intention of having lunch.

The old Doberman thinks,
"Oh, oh! I'm in trouble now!"

Noticing some bones on the ground close by, he immediately settles down to chew on the bones with his back to the approaching cat. Just as the lion is about to leap, the old Doberman exclaims loudly,

"Boy, that was one delicious lion! I wonder, if there are any more around here?"

Hearing this, the young lion halts his attack in mid-stride, a look of terror comes over him and he slinks away into the trees.

"Whew!", says the lion, "That was close! That old Doberman nearly had me!"

Meanwhile, a squirrel who had been watching the whole scene from a nearby tree, figures he can put this knowledge to good use and trade it for protection from the lion. So, off he goes, and very soon he catches up with the lion, spills the beans and strikes a deal for himself with the lion.

The young lion is furious at being made a fool of and says,
"Here, squirrel, hop on my back and see what's going to happen to that conniving canine!"

Now, the old Doberman sees the lion coming with the squirrel on his back and thinks,
"What am I going to do now?", but instead of running, the dog sits down with his back to his attackers, pretending he hasn't seen them yet, and just when they get close enough to hear, the old Doberman says……..

"Where's that squirrel? I sent him off an hour ago to bring me another lion!"

I print the story here because it has a moral worth remembering …

Don't mess with the old dogs. Age and skill will always overcome youth and treachery!

Bull**it and brilliance only come with age and experience.
*

*
Ever thought about doing this? .....

This letter, published in The Times, was sent to a bank by an elderly woman. The bank manager thought it was amusing enough to have it published -

Dear Sir,

I am writing to thank you for bouncing my cheque with which I endeavoured to pay my plumber last month. By my calculations, three nanoseconds must have elapsed between his presenting the cheque and the arrival in my account of the funds needed to honour it. I refer, of course, to the automatic monthly deposit of my entire pension, an arrangement which, I admit, has been in place for only eight years.

You are to be commended for seizing that brief window of opportunity, and also for debiting my account £25 by way of penalty for the inconvenience caused to your bank. My thankfulness springs from the manner in which this incident has caused me to rethink my errant financial ways. I noticed that whereas I personally answer your telephone calls and letters, when I try to contact you, I am confronted by the impersonal, overcharging, pre-recorded, faceless entity which your bank has become. From now on, I, like you, choose only to deal with a flesh and blood person. My mortgage and loan repayments will therefore and hereafte no longer be automatic, but will arrive at your bank, by cheque, addressed personally and confidentially to an employee at your bank whom you must nominate....

Be aware that it is an OFFENCE under the Postal Act for any other person to open such an envelope. Please find attached an Application Contact which I require your chosen employee to complete. I am sorry it runs to eight pages, but in order that I know as much about him or her as your bank knows about me, there is no alternative. Please note that all copies of his or her medical history must be countersigned by a Notary Public figure, and the mandatory details of his/her financial situation (income, debts, assets and liabilities) must be accompanied by documented proof.

In due course, at MY convenience, I will issue your employee with a PIN number which he/she must quote in dealings with me. I regret that it cannot be shorter than 28 digits but, again, I have modelled it on the number of button presses required of me to access my account balance on your phone bank service. As they say, imitation is the sincerest form of flattery.

Let me level the playing field even further. When you call me, press buttons as follows:

IMMEDIATELY AFTER DIALLING, PRESS THE STAR (*) BUTTON FOR ENGLISH..... THEN
#1. To make an appointment to see me

#2. To query a missing payment.

#3. To transfer the call to my living room in case I am there.

#4 To transfer the call to my bedroom in case I am sleeping.

#5. To transfer the call to my toilet in case I am attending to nature.

#6. To transfer the call to my mobile phone if I am not at home.

#7. To leave a message on my computer, a password to access my computer is required. Password will be communicated to you at a later date to that
Authorized Contact mentioned earlier.

#8. To return to the main menu and to listen to options 1 to 9

#9. To make a general complaint or inquiry.

The contact will then be put on hold, pending the attention of my automated answering service. While this may, on occasion, involve a lengthy wait, uplifting music will play for the duration of the call.. Please note all calls will be charged at premium rate as I have decided to restrict my standard geographical number to friends & family only.
Regrettably, but again following your example, I must also levy an establishment fee to cover the setting up of this new arrangement.

May I wish you a happy, if ever so slightly less prosperous New Year?

Your Humble Client....

AND REMEMBER............
Don't make old people mad..
We don't like being old in the first place, so it doesn't take much to pi*s us off.
*

If you've ever considered parking your car where you shouldn't, remember these and do the right thing. You know it makes sense -


*
HOME FRONT NEWS

Celibacy can be a choice in life; or a condition imposed by circumstances. If you don't fancy a life of celibacy heed my words.
While attending a Marriage Counselling Weekend many years ago, my wife and I listened to the instructor declare,
"It is essential that husbands and wives know the things that are important to each other."
He then addressed the men,
"Can you name and describe your wife's favourite flower?"
I leaned over, touched my wife's hand gently and whispered,
"McDougall's Self-Raising, isn't it?"
She gets her own back with little 'complimentary' comments though. Just the other day she called me a self-made man but added,
"Who else would bother?"
She even spoils it when she's playing the temptress. While enjoying our Friday night glass of wine last week she asked me, in her most seductive voice,
"Have you ever seen twenty pounds all crumpled up?"
"No," I said.
She then gave me a sexy little smile, unbuttoned the top 3 or 4 buttons of her blouse, and slowly reached down into the cleavage created by a soft, silky push-up bra, and pulled out a crumpled twenty pound note.
I took the crumpled note from her and smiled approvingly.
She then asked him,
"Have you ever seen fifty pounds all crumpled up?"
"Uh... no, I haven't," I said, with an anxious tone in my voice.
She gave me another sexy little smile, pulled up her skirt, and seductively reached into her tight, sheer panties... and pulled out a crumpled fifty pound note.
I took the crumpled money and started breathing a little quicker in anticipation.
"Now," she said, "have you ever seen £50,000 all crumpled up?"
I replied,
"No!," trying to hide my anticipation.
She said, "Check the garage."

And thus began my life of celibacy. Don't ask me where the kids came from. Probably the milkman's. I should have realised something was up when I came home one day and said to the wife,
"I've heard the milkman has made love to every woman in the road except for one."
To which she replied,
"I bet it's that stuck up cow at number 85."
Looks like all our kids are grudge babies. Someone had it in for me.
I'll say no more on the subject because it's Mother's Day as I write this and she's still their mother after all. Father's Day could be a problem.
In truth, my kids are lovely. They've all go their daemons but they're lovely. I think my only Grandson (so far) will turn out good as well. He's too bright for his own good at the moment, though. He fell over last week and did something to his wrist. He was in a fair amount of pain and was carrying his hand in that limp-wristed way beloved of camp actors. I said to him,
"Serves you right for running too fast when I told you not to. You won't be able to pick your nose now, will you." (A childhood habit he probably inherited from his mother).
"I've got another hand, haven't I?", came his sharp reply.
My daughter's got her work cut out with him but hopefully, she's considering presenting him with a brother or sister. He needs the company but it's so difficult for kids today that I think it could be a long time coming. She loves it where she lives in South Croydon but the ridiculous amount of rent she and her bloke are paying for a two bedroom terraced house is a problem that needs to be addressed. Her partner has taken the first step to a better life by changing jobs and learning to become a train driver. I almost said 'training to become a train driver' but thought better of it. My daughter, presently an Events Organiser in a care home for the elderly, is also on the lookout for a change of work that will bring her the income they're going to need. Organising is her forte so, if you know of any vacancies that pay well and would suit an energetic, caring, personable, outgoing 25 year-old, please let me know about it. We'd like to help with the equity in our house but it's not always easy when you've got to other kids who you're just going to have to treat equally well. If any of you have experience of Equity Release, good or bad, I'd love to hear from you.
I'm off to the pub this evening, but not before I've played my song of the moment one more time. I'd never heard of Josh Groban until I watched a Musicares Tribute To Neil Young Concert a few months ago and heard him sing Neil Young's Harvest Moon. To say I was moved by his performanc is an understatement. I know it won't be the same for everyone but I can honestly say that his voice, the song or both touched a nerve in me and I haven't been able to get it out of my head since. You'll find him singing it on You Tube by himself and with Neil Young. If you listen to it I can't promise it'll have the same effect as it had on me but I hope it does. I'm going to post both versions on the Notice Board as it would be selfish not to, and if either one makes your heart beat faster, stop listening before it stops beating altogether. I don't want any of you becoming just a memory even if it is a good one........
"Come a little bit closer.
Hear what I have to say......."
* * * * *
The Home We Called Sloane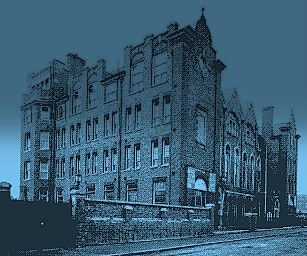 The Sloane building seen from Hortensia Road in 1908

The Sloane building was 100 years old in 2008, although it didn't actually start life as a boys' school until after the First World War, during which it served as a hospital. It still stands and many memories are, no doubt, ingrained in its walls along with the odd name and ribald comment. Who knows what the future holds, despite its Grade II listing on May 7th, 2002. Grade II listed buildings can be altered, extended, or even demolished, but only with Local Authority consent, so it may be that the building is considered historically or architecturally interesting enough for it's fabric to remain untouched. Some consideration may have been given to it having been the first purpose-built secondary school in London, and it is certainly one of only 3% of all ages of listed buildings that was built in the 20th century. Schools generally are seen as a good investment by developers because they're easy to convert. They are likely to be structurally sound because the authorities will have inspected them regularly to ensure they comply with Health and Safety requirements.

Sadly, Sloane Grammar School for Boys only lasted 51 years, from 1919-1970. John Binfield, in one of his poems writes -
... the school, with
All its past, was sucked into a huge
Turbulent sea of glass in Pimlico
And sank without trace. "full fathom five..
Sea nymphs hourly ring his knell.
Hark, now I hear them. Ding-dong bell".
Should the building survive in the form we all remember, there is still a chance that some of us will be around in 2019 to celebrate what would have been its centenary as a boys' school, had it remained in existence.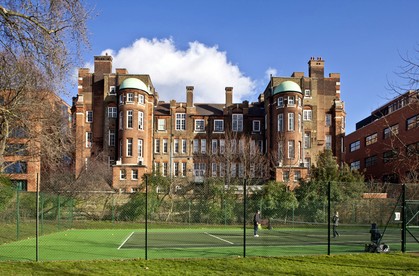 Sloane seen from the rear in 2014
* * *
Whatever our own personal reasons for it doing so, the school will still haunt most of us even if it disappears altogether. With that tenuous link, here's a poem that I came across in a copy of The Cheynean -

The Ghost of Sloane


When London's asleep and the School very quiet,
No sound of footsteps, no sound of a riot,
No sound of even the shuffle of feet,
No sound of the creak of a pupil's seat,
Out of the darkness the ghost of Sloane
Awakes from rest with a sigh and a groan.
Then up he arises to haunt the School
Climbing the stairs in the guise of a ghoul.
He shuffles and clanks down each corridor
Into the classrooms where stand desks galore.
He examines each desk and checks the boys' work,
Allots ghostly marks in the dark and the murk.

If you ever lose books from out of your desk,
And the teacher upbraids you and calls you a pest,
Just tell him my story, however tall,
Of the white shrouded phantom that haunts the School Hall.

J. Hollingshead (3C)

As for us, the boys who used to attend our Chelsea school, we probably considered ourselves 'Chelsea men' but I doubt that many of fitted the description in this poem, written when he was in the 5th year by one time Sloane Schoolboy, A R Doubledee. I get the impression he didn't particularly approve of the 'Beatniks' of the late 50s and early 60s that he found himself sharing Chelsea with or, as he called them the 'Weirdies' -

The Weirdies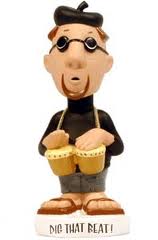 The Chelsea man is excessively queer,
He only drinks coffee and doesn't like beer.
He's always "chatting" the girls, and yet
This seems to make him "one of the set".

His unkempt chin and uncut hair
Go with his feet which are usually bare.
If he wears shoes, they've never got soles,
And he's usually found in Bohemian holes.

His outsize sweater is generally black
Contrasting well with his shorty mac.
He wears his clothing merely to show
That he can keep up with the boys of Soho.

To find a girl he doesn't look far,
But into the nearest coffee bar,
Where he's sure to meet a Bohemian "yob".
They're all from Chelsea - what a mob!

The girls with hair right down their backs
Wear irregular clothes that look like sacks.
They walk about wearing father's sweater:
I really don't see why he should let 'er.

Their gaudy clothes of reds and greens
Match up with the style of their men-friends' jeans.
Now that's how it goes with the latest style:
Girls on their faces make-up pile,
The men wear anything they can find -
I shouldn't stare, I should just act blind!

A.R. Doubledee (5b)
* * *

ANNOUNCEMENTS APPEAR BELOW
ONCE YOU'VE LOGGED IN