Sloane Grammar School Hortensia Road Chelsea London England
1919-1970 Old Cheyneans and Friends
Click here to go to bottom.
!!
CHECK THE LOGGED IN: BOX FOR IMPORTANT MESSAGES AFTER YOU LOG IN
Hello and Welcome
to
Mark Foulsham's Sloane website

IF I BUILT IT

I KNEW YOU WOULD COME
A School that invited loyalty
(Quote by Don Wheal)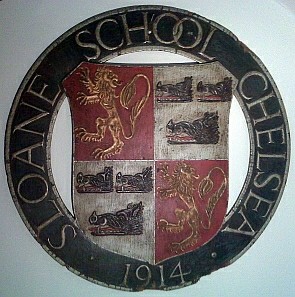 Gone But Not Forgotten

Men are we and must grieve when even the shade
Of that which once was great is passed away
William Wordsworth
On the Extinction of the Venetian Republic

You may think you're done with the past but the past isn't done with you!


"The merits of a school are judged as much by the men it produces as by their achievements as boys" -
(Old Cheynean D.J. Cowie, March 1929)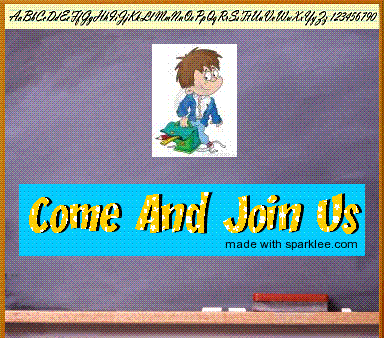 REGISTER AND LINK UP WITH OLD SCHOOL FRIENDS AGAIN AND BECOME PART OF SLOANE REUNITED

YOU'LL NEED TO REGISTER FOR OUR WEBSITE TO CREATE YOUR OWN PERSONAL PASSWORD AND VIEW ALL OF ITS PAGES. IF YOU HAVE A VALID SLOANE CONNECTION JUST CLICK ON THE BUTTON BELOW. BUT CHOOSE MISSING CLASSMATES AT THE TOP FIRST TO SEE IF WE'VE BEEN EXPECTING YOU. IF YOUR NAME'S THERE CLICK ON IT AND FOLLOW ON-SCREEN INSTRUCTIONS.

IT'S FREE, IT'S EASY, IT'S SECURE
You're Never Alone As A Sloane

IF YOU'D PREFER MORE INFO BEFORE COMMITTING YOURSELF, CLICK ON THE ENVELOPE BELOW AND SEND ME A DIRECT EMAIL -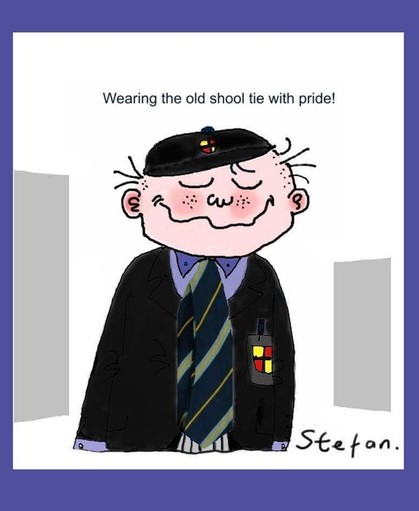 Self-portrait by Stefan Bremner-Morris

PLEASE REMEMBER TO LOG OUT WHEN YOU LEAVE THE SITE USING THE LOG OUT BUTTON UNDER MEMBER FUNCTIONS IN THE LEFT HAND COLUMN. IT'S AS EASY AS FALLING OFF A LOG -

SEE ALL THE LATEST NEWS AND UPDATES FURTHER DOWN, AND CHECK THE CALENDAR ON THE CALENDAR OF EVENTS PAGE TO SEE WHAT'S BEEN HAPPENING AND WHAT'S ABOUT TO HAPPEN.

IF YOU'RE ALREADY A SITE MEMBER PLEASE REMEMBER TO KEEP YOUR EMAIL ADDRESS UP TO DATE USING EDIT CONTACT INFO IN THE LEFT HAND COLUMN AND KEEP AN EYE ON THE LOGGED IN: BOX AT THE TOP RIGHT OF THIS PAGE FOR IMPORTANT MESSAGES AFTER YOU'VE LOGGED IN.

DOWNLOAD ONE OF THE MORE MODERN INTERNET BROWSERS TO VIEW THIS WEBSITE. EITHER GOOGLE CHROME OR MOZILLA FIREFOX ARE BETTER ABLE TO DISPLAY EVERYTHING AS IT WAS INTENDED.


Come on in!
Don't be late!
This is one detention
You'll be pleased to take.


A WARM WELCOME

to fellow Cheyneans and passers-by, from the Official Sloane Grammar School 1919-1970 Old Cheyneans and Friends web site. We'll keep the home fires burning until you join us.
Mark Foulsham, at Sloane 1963-70, created this site in August 2008 to record for posterity all that I can, and for all those who attended Sloane or simply have a Sloane connection, to share and enjoy. Feel free just to browse or, if you feel you qualify to join us, make full use of the site by becoming a Registered Classmate.
We may not understand why but memories of our days at Sloane remain with us while others do not. Whether they're good or they're bad, I'd like to give all old boys the opportunity to keep those memories alive.
Click on the Click Here to Register button above to start the registration process. It's Free!

I'll also be happy to send a personal invitation to anyone else with a Sloane School Chelsea connection who you think might like to join us. Just enter their Email address in the MISSING CLASSMATES box to your right and click Send Invite.


Aspirations and Objectives

Sloane never had a motto so I'll adopt the one to be found on the Coat of Arms of the Royal Borough of Kensington and Chelsea as it suits us nicely -

Quam Bonum In Unum Habitare

(What A Good Thing It Is To Dwell Together In Unity)
It is hoped, in some small way, to be able to have similar objectives to those stated for the first issue of The Cheynean in December 1926 -

"To record faithfully the major activities of the School, to promote and foster a corporate spirit in the School, to excite a greater keenness both in the games and in other phases of its social life, and to serve as a link between present members of the School and the Old Cheyneans". -

and also to bring together, once again, old friends and classmates, and those of us who have outlived the school and share a common interest in its history and its future.
If you've any memories of Sloane you'd like to share, use the Contact Us page to send them in and, whilst you're there, register for the site as well.

Once you've registered, you can activate the Instant Messaging feature that allows you to hold a 'real-time' online conversation with anyone else who has logged on to the website. You can also send a message to someone else on the site via the Message Centre page but, if you're expecting a swift reply, it might be worthwhile using their Profile on the Classmate Profiles page, to see what part of the world they're living in these days, and to have an idea of the time where they are. Use the Clocks below, to check.

After you've registered, why not take a look at all the Classmate Profiles ? Even if you don't know the person involved, the information they've put on their Profile can be interesting, illuminating and fun, and often brings back memories of something you thought you'd forgotten about.
If, at any time, you're unsure about anything click on this Using The Site link for an explanation or contact me direct via the Contact Us page.
Why Not Take a Look at Where your Classmates are Living?

Find out the Postcode of a Classmate from their Profile (if they've agreed to let everyone know it) then Click on the link below, enter the details where it says 'Address', then Click on 'Go'. Not every country is covered yet and those that are have limited coverage, but it's worth a try.
Here's the link. Have fun - http://www.vpike.com/

* * * * * * * * *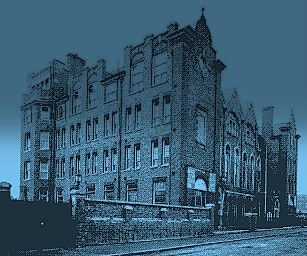 Sloane in 1908 and much as it looks today

The Sloane building was 100 years old in 2008, although it didn't actually start life as a boys' school until after the First World War, during which it served as a hospital. It still stands and many memories are, no doubt, ingrained in its walls along with the odd name and ribald comment. Who knows what the future holds, despite its Grade II listing on May 7th, 2002. Grade II listed buildings can be altered, extended, or even demolished, but only with Local Authority consent, so it may be that the building is considered historically or architecturally interesting enough for it's fabric to remain untouched. Some consideration may have been given to it having been the first purpose-built secondary school in London, and it is certainly one of only 3% of all ages of listed buildings that was built in the 20th century. Schools generally are seen as a good investment by developers because they're easy to convert. They are likely to be structurally sound because the authorities will have inspected them regularly to ensure they comply with Health and Safety requirements.

Sadly, Sloane Grammar School for Boys only lasted 51 years, from 1919-1970. Should the building survive in the form we all remember, there is still a chance that some of us will be around in 2019 to make use of the building to celebrate what would have been its centenary as a boys' school, had the school remained in existence.
UPDATE ON BUILDING PROGRESS
Kensington & Chelsea College created a timelapse video of the construction of the new college that now sits where the playground used to be between the old Sloane building and the old Carlyle building. Work on the new college building, was completed in 2012 and the college is in operation. Take a look at the construction video below along with pictures of how it now looks -



The flats, constructed in Sloane's old North playground on the Fulham Road are known as Milliner House, Chelsea Apartments, and were ready for occupation in 2011 at advertised prices between £785,000 and £2,350,000. Or if you could afford it, the single penthouse at the top would have set you back £5.85 million when first offered for sale but a market downturn in 2012 saw it reduced to an almost tempting £4.25 million - and it was being sold as a shell!
Phase 2 of the project was originally for conversion of the original Edwardian building into loft style apartments by D19 Property but the new owners, No. 1 Estates Ltd, who have a connection to D19 Property were, on 22 October, 2012, given planning permission to retain the building as an educational establishment by Kensington and Chelsea Planning and Borough Development Department. Due to a confidentiality agreement we're not allowed to know more at the moment.
What's also interesting is that the old Chelsea College of Art and Design in Manresa Road, to which Sloane can trace its origins in its guise as the South-Western Polytechnic, was, in 2012, about to make way for a scheme involving 15 apartments and two town houses. There's no stopping 'progress'.
| | | |
| --- | --- | --- |
| | | |
| The view from Fulham Road | | The entrance to the apartments on Hortensia Road |
| | | |
| A closer view of the apartments | | The view of Fulham Road and the old St Mark's College from one of the balconies |
The shell of the 6th floor penthouse

* * *
Whatever our own personal reasons for it doing so, the school will still haunt most of us even if it disappears altogether. With that tenuous link, here's a poem that I came across in an old copy of The Cheynean -

The Ghost of Sloane

When London's asleep and the School very quiet,
No sound of footsteps, no sound of a riot,
No sound of even the shuffle of feet,
No sound of the creak of a pupil's seat,
Out of the darkness the ghost of Sloane
Awakes from rest with a sigh and a groan.
Then up he arises to haunt the School
Climbing the stairs in the guise of a ghoul.
He shuffles and clanks down each corridor
Into the classrooms where stand desks galore.
He examines each desk and checks the boys' work,
Allots ghostly marks in the dark and the murk.

If you ever lose books from out of your desk,
And the teacher upbraids you and calls you a pest,
Just tell him my story, however tall,
Of the white shrouded phantom that haunts the School Hall.

J. Hollingshead (3C)

As for us, the boys who used to attend our Chelsea school, we probably considered ourselves 'Chelsea men' but I doubt that many of fitted the description in this poem, written when he was in the 5th year by one time Sloane Schoolboy, A R Doubledee. I get the impression he didn't particularly approve of the 'Beatniks' of the late 50s and early 60s that he found himself sharing Chelsea with or, as he called them the 'Weirdies' -

The Weirdies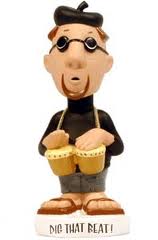 The Chelsea man is excessively queer,
He only drinks coffee and doesn't like beer.
He's always "chatting" the girls, and yet
This seems to make him "one of the set".

His unkempt chin and uncut hair
Go with his feet which are usually bare.
If he wears shoes, they've never got soles,
And he's usually found in Bohemian holes.

His outsize sweater is generally black
Contrasting well with his shorty mac.
He wears his clothing merely to show
That he can keep up with the boys of Soho.

To find a girl he doesn't look far,
But into the nearest coffee bar,
Where he's sure to meet a Bohemian "yob".
They're all from Chelsea - what a mob!

The girls with hair right down their backs
Wear irregular clothes that look like sacks.
They walk about wearing father's sweater:
I really don't see why he should let 'er.

Their gaudy clothes of reds and greens
Match up with the style of their men-friends' jeans.
Now that's how it goes with the latest style:
Girls on their faces make-up pile,
The men wear anything they can find -
I shouldn't stare, I should just act blind!

A.R. Doubledee (5b)

FRONT PAGE NEWS

We will remember them
News From The Front
In this centenary year of the outbreak of World War I, I've been re-reading some books I have on the subject and have found this in my copy of Forgotten Voices Of The Great War. In the midst of carnage there was still humour to be found, even if that humour had a worthy purpose or was aimed at the young, the foolish and the naive, and there was also honesty and the unknown of effects of battle on the individual. I'll be including a few pieces from the book here show what life was like in the trenches -
Captain Graham Greenwell
4th Battalion, Oxford and Buckinghamshire Light Infantry -
"When we were out at rest behind the line at the battle of the Somme, I was told one morning that a private in my company, who had been out since the beginning of the war, was unfit to go on parade. When I went to see him I came to the conclusion that he was in a very serious mental condition. I told him that he was not to go on parade and I reported the matter top the commanding officer. He told me that it was not forme to decide, only the medical officer, and that he should be made to get up and go on parade. Later in the morning this chap shot himself.
This incident shook me very much. Here was a case where undoubtedly the battle had been too much for the man. But if everybody had behaved like him, the Army would have disintegrated."
* * *
Harry Patch and Comrades In Arms

In honour of the Centenary of the outbreak of World War One most of us will remember members of our own families who gave their all and often their lives, in that carnage, but the name Henry John 'Harry' Patch has become synonymous with the Great War as the last survivor of the trenches.
On 25th July, 2009, Harry passed away at the lofty age of 111. With himdied the living memories of the trenches of the Great War, for he was the last survivor of those who served on the Western Front. Thanks to his 2007 autobiography, The Last Tommy, his recollections are preserved as part of history, but he would have been the last person to wish his actual experiences on anybody.
In June, 1917, aged just 19, Harry found himself on the Front at Passchendaele, watching in horror as men from the Yorkshire and Lancashire regiments charged over the top to their deaths. A few weeks later, his turn came at Pilckem Ridge. Crawling through No-Man's Land, he stopped for a young man lying ripped open from shoulder to waist, who begged to be shot but soon died with a joyful cry of "Mother" on his lips. On reaching the enemy trench, Harry was forced to shoot a German soldier who charged him with raised bayonet. He spared his life, wounding him in the shoulder, leg and ankle. Harry never shot to kill, and as far as he knows never took a German life. However, that didn't prevent others from trying to take his. On 22nd September, 1917, came the worst day of the war for Harry, the day when a shell burst over his Lewis Gun section, wounding him and killing three of his unit. He was invalided home to Southampton. Throughout his last years he continually spoke out against war, and when he met PM Tony Blair in 2006, expressed the opinion that no soldier should ever have been shot for cowardice in the field.
Harry Patch now lies at peace in the English countryside he fought to keep free, at Monkton Combe, close to his home town of Combe Down, Somerset. The graveyard is well-kept and quiet, with lovely views over green wooded hills. Far different from the surroundings he and so many others found themselves among in 1914-18.
In what's left of this Centenary year it would do us all well to remember what Harry and others did for us. To make sure their sacrifice is not forgotten, if you're unable to visit the grave of a member of your family lost in that or any other conflict, why not try to find out more about who they were and where and why they paid the ultimate price.
My own paternal Granfather, Charles Foulsham, served alongside Harry in the 7th Battalion Duke of Cornwall's Light Infantry. He lived to tell the tale, but he never did. For him it was all best forgotten, but though he never spoke of it, I doubt that it was.
BREAKING NEWS!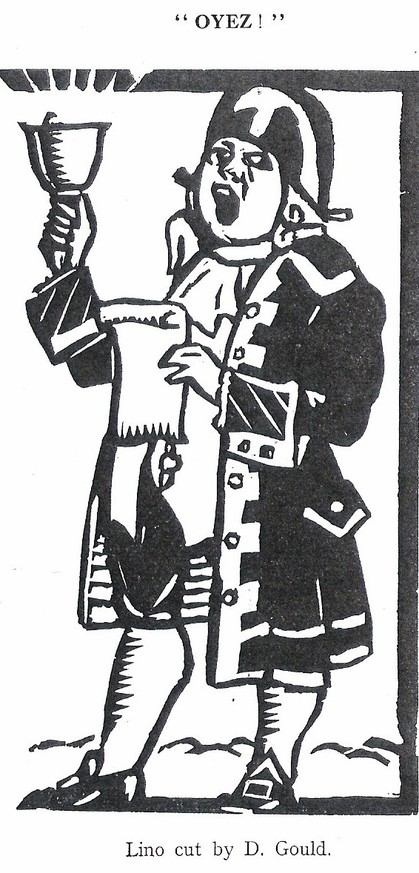 If It Wasn't For Bad Luck He'd Have Had No Luck At All
True story.
A 58-year-old construction worker in New Jersey died recently after being hit by a tape measure which fell from the 50th floor of a building. Witnesses siad the tape had been dropped by a co-worker who was removing it from his belt to measure a wall. It fell 500ft and probably reached speeds of 140mph before hitting a metal sheet 10ft from the ground, ricocheting off and hitting the victim.
This story reminds meof a similar stroke of bad luck that I read about in Tit-Bits as a teenager -
A middle aged man had spent years making a small replica of a cannon using matchsticks and coins. On the day he completed it he placed it on a shelf above his chair and sat down to read. Shortly after, the cannon fell from the shelf, struck him on the head and killed him instantly.
You just never know, do you?
* * *
HOME FRONT NEWS

This week, I've undertaken a full review of my home security and to cut costs I've decided to rip out the alarm system and CCTV monitoring, and I've even de-registered from Neighbourhood Watch.
In their place I've hoisted two Pakistani and one ISIL flag in my front garden.
The local police and MI6 are now watching my house 24 hours a day, 7 days a week.
I've never felt safer.
My neighbours have just got back from New Zealand where, among other things, the husband did a bungee jump. He now wants me to join him on one over here. I told him, "No way!".
When he asked why, I had to be honest with him and told him,
" A rubber breaking was the reason I was born. I'm not going to let it be the reason for me dying!"
More recently, my daughter got stopped in the street by a man with a clipboard who asked,
"Have you had an accident in the last two years that wasn't your fault?"
"Yes", she replied. "He's just over a year old now."
Sex is something that's talked about a lot, of course, and I overheard a couple of blokes talking about it in the pub. One asked the other,
"How's your sex life?"
"Oh, you know," came the reply. "nothing special." It's a bit like Social Security. I get a little each month, but not enough to live on."
My wife's got her own views on it. She's even been to a therapist. She told her that every time she's in bed with me and I climax, I let out an ear-splitting yell.
The therapist told her it was completely natural and couldn't understand what her problem was.
"The problem is," she complained, "it wakes me up!"
She never tells me if she enjoys it anyway. When I confronted her and asked why she never told me when she had an orgasm, she said it was because I was never home. That made me think there was something up so I took home some of that KY jelly to spice up our love life, and make her happy. It worked. When I went to the bathroom before getting into bed she squirted it all over the door handles and I couldn't get back in.
It's her own fault, she just doesn't get me aroused enough. I'm not saying she's ugly but this Halloween she knocked next door to ask them to turn their TV down a bit and they gave her a bag of sweets.
Her family's always had trouble when it comes to sex though. Her 87-year-old Grandmother came home from bingo one night to find her 92-year-old husband in bed with another woman. She was so upset she became violent and pushed him off their 20th floor balcony, killing him instantly.
In court, on a charge of murder, she was asked if she had anything to say in her defence and replied,
"Well' I figured that if he could manage sex at 92, he must be able to fly too."
In truth, I've kept my wife sweet recently by taking her out a few times. Well, I call going to a family party taking her out. We went to my 2nd cousin Leslie's 80th Birthday bash last weekend and had a great time with family we only get to see at funerals these days. I've learnt that we're all nutters, which is a consolation as I always thought I was the only one. We're now going to try to make a family get-together anannual event and maybe even holdit in the Norfolk village of Foulsham. Trouble is they're looking for someone to organise it all. I wonder who they're looking to........
Talking of get-togethers, I hope you all received my message about meeting up for a drink or two before Christmas. Do your best to be there. If you didn't get the message, let me know and I'll send you details.
That's all, folks!"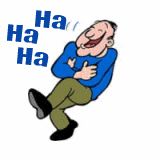 Jokes of the Week (or until I can find more)
John received a parrot as a gift. The parrot had a bad attitude and an even worse vocabulary. Every word out of its mouth was rude, obnoxious and laced with profanity. His new owner tried his best to change the parrot's attitude by speaking to it using only polite words and playing soft music, but eventually gave in and yelled at it. The parrot yelled back so he grabbed it by the throat and shook it, but it only made it worse so, in desperation, he shoved it in the freezer.
For a few minutes the parrot squawked and kicked and screamed, then suddenly there was total silence. Not a peep was heard for two minutes. Fearing he'd hurt the parrot, John opened the door to the freezer and the parrot calmly stepped out onto his outstretched hand, and said,
"I believe I may have offended you with my rude language and actions. I'm sincerely remorseful for my inappropriate transgressions and I fully intend to do everything I can to correct my rude andunforgivable behaviour."
John was stunned by the change in the bird's attitude and was about to ask it what had brought about such a dramtic turn-around when the bird spoke up, very softly,
"May I ask what the turkey did?"
* * *


Thoughts For The Day (or until the next ones)
What do we live for if not to make life less difficult for each other?
- George Eliot.
Now and then it is good to pause in our pursuit of happiness and just be happy. - Unknown.
We need timeto dream, time to remember, and time to reach the infinite. Time to be. - Gladys Taber.
I never considered a difference of opinion in politics, in religion in philosophy, as cause for withdrawing froma friend.
- Thomas Jefferson.
Life is an endless struggle full of frustrations and challenges, but eventually you find a pub you like - Me and like-minded others.
* * *
Personal Ads
The personal ads you'll see here over time are genuine and taken from the London Review of Books personal ads section. It was started in 1998, intending to bring together people of similar literary and cultural tastes and has resulted in a funny and clever collection. I'll publish a different one each week and hope you enjoy them as much as I do and, if you ever spot any yourself,worthy of inclusion here, please let me have them and, so as not to give everyone the impression that you spend all your time looking at the personal ads, I'll withold your name on request! -


"Lacks imagination, talks too much, frequently absent. Look at me now, Mr. Webster of Year 4. History professor, 56. Lacks imagination, talks too much and is frequently absent. Seeks man. Box no. 8025."

AND DON'T FORGET TO CHECK THE 'WHAT'S HAPPENING' CALENDAR ON THE 'CALENDAR OF EVENTS' PAGE, OR TO SCROLL DOWN ALL PAGES AS THERE'S MORE TO SEE THAN FIRST MEETS THE EYE!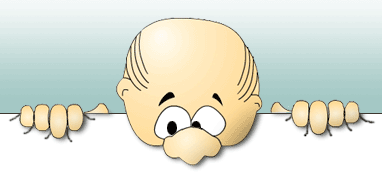 *

Sloane Information at the LMA

London Metropolitan Archives hold some information relating to Sloane. Some of the items are accessible if you visit the LMA at 40, Northampton Road, Clerkenwell, London, EC1R 0HB (phoning to make an appointment on 020 7332 3820 is advisable) but you will need to apply for a 'History Card' via their website if you intend printing copies of any of the items.
Go to the website at www.lma.gov.uk for full details. Clicking on the following link,


will take you to a page on their site where you can enter 'Sloane School' in the Search Terms box and click on 'Run Search'. This will bring up all available items.
These include -
Admission and Discharge Registers 1904-48, 1958-61 and 1964-66, a 1938 Plan of the school, drawings relating to Building Act case files 1935-57, and 23 photos of various school activities 1924-69, though some of these are listed as 'missing'.
Other items they hold are 'closed' under the 65 year rule that protects the confidentiality of living individuals. In other words, they can't be accessed for 65 years from the school's closure so will be available to the public in 2035.
However, these 'closed' items can be consulted by the LMA on behalf of individuals under the provisions of the Data Protection Act, so contact them direct if you're interested.
The 'closed' items are -

Log Book 1967-70 (Ref: LCC/EO/DIV01/SLO/LB/001)
Punishment Book 1962-70 (Ref: LCC/EO/DIV01/SLO/MISC/001)
Staff Registers -
1895-1963; 1965-70 (Ref: LCC/EO/DIV01/SLO/MISC/002-004)


* * * * *