Sloane Grammar School boy, if you seek your memorial,
look around you.




DON'T FORGET!! -
PLEASE CHECK THE ANNOUNCEMENTS BOARD AT THE FOOT OF THIS PAGE FOR ANYTHING IMPORTANT and, after you Log In, the CALENDAR OF EVENTS PAGE FOR DETAILS OF FORTHCOMING EVENTS.
If you're having trouble logging in because you've forgotten your Password, click on Forgot Password? inside the Classmate Login box that appears after you click Sign In and you'll be Emailed a link to reset it.

You'll find other helpful tips under REMINDERS below.



The Sloane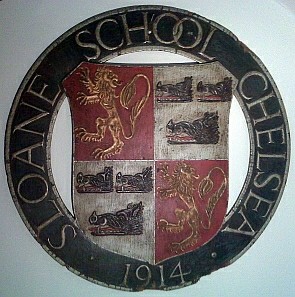 Hello and Welcome to

Mark Foulsham's

Sloane Grammar School website
If I built it I knew you would come

A School that invited loyalty
(Quote by Don Wheal)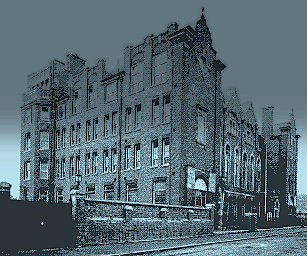 Gone But Not Forgotten
'Men are we, and must grieve when even the shade
Of that which once was great is pass'd away.'

William Wordsworth
On the Extinction of the Venetian Republic

You may think you're done with the past but the past isn't done with you!


"The merits of a school are judged as much by the men it produces as by their achievements as boys" -
(Old Cheynean D.J. Cowie, March 1929)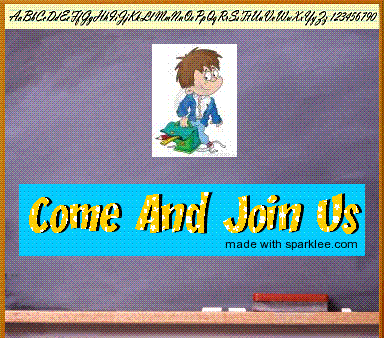 Register and link up with old school friends again and become part of Sloane Reunited.
If you were a pupil or member of staff at Sloane you qualify to register for the website. Click on Missing Classmates at the top of this page to see if we've been expecting you. If you see your name click on it and follow instructions. If your name's not there click on BECOME A MEMBER to learn more and then click the ADD NAME button to start the ball rolling or click Contact Us at the top of the page, read what you see then complete the box at the bottom of that page to ask me to add your name to the list.
It's Free, it's Easy, it's Secure
and
You're Never Alone As A Sloane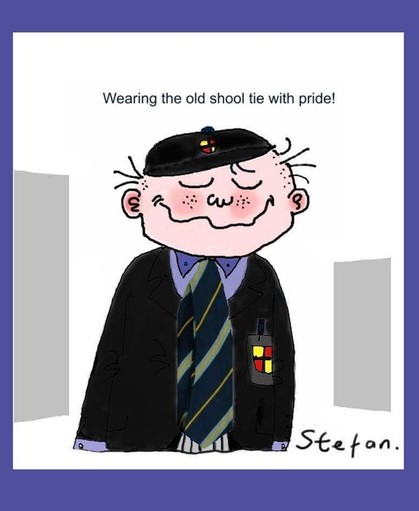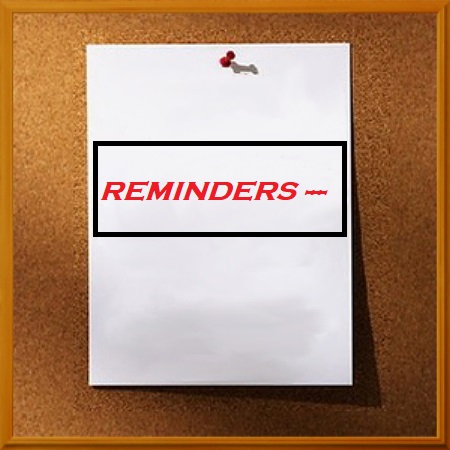 If you're a member, click on an image (



) at the top for more.

Here's what you'll find -

= Messages waiting for you. The red bubble shows how many.

= Website activity. Check for things you may have missed.

= Member functions like Profile, Contact, and Password changes.

AND -

If you're already a member please remember to keep your Email address up to date using Edit Contact Info, to be found by clicking on

the image at the top of the page.

Please don't forget to use the Notify Me page under the

image to make selections that will help you keep in touch as well as help you enjoy all the website has to offer.

You may already have the latest version of Adobe Flash Player but your browser no longer uses it automatically and it will not be supported at all after 31st December, 2020. From that date Google has confirmed it will completely block Flash from being able to run under the Chrome browser as will Mozilla for their Firefox browser and Microsoft for Internet Explorer and Edge. The Members Online feature uses Flashplayer (as do some animations and slideshows) so if it can't be seen clearly in the bottom right of your Home Page, click your mouse on what you can see and you'll be prompted to run Flashplayer. Agreeing will see the Members Online window re-appear. The same applies to animations and slideshows that don't show automatically. Use your Search Engine to search the web for how you allow Flash automatically in the browser you use but some browsers will ignore your choice anyway if you've chosen 'Allow', others, like Opera or Brave, will not. To check how this site handles Flash, click on the Padlock or Not Secure wording that precedes this website's Domain Name in your browser's Address Bar and set Flash to Allow or Ask (default). Click on Site Settings and under Permissions it also shows the same choice. HTML5 (Hypertext Markup Language) is the likely replacement for Flash and hopefully, this website will be converted to it before the deadline for the loss of Flash.

Please remember to Log Out when you leave the site by using the Log Out button to be found under the

image at the top of the page.


AND FINALLY, IF AT ALL POSSIBLE, -
Please let a close relative know of your participation in the Sloane website and show them how to use the Contact Us page to notify me in the sad event of your death. Not only will this allow me to notify other members, it will also put a stop to any website generated emails finding their way to your Inbox. Thank you.
Come on in!
Don't be late!
This is one detention
You'll be pleased to take.


A WARM WELCOME

to fellow Cheyneans and passers-by, from the Official Sloane Grammar School 1919-1970 Old Cheyneans and Friends web site.
Mark Foulsham, at Sloane 1963-70, created this site in August 2008 to record for posterity all that I can, and for all those who attended Sloane or simply have a Sloane connection, to share and enjoy. Feel free just to browse or, if you feel you qualify to join us, make full use of the site by becoming a Registered Classmate. Click on the Click Here to Register button above to start the registration process. It's Free!
I'll also be happy to send a personal invitation to anyone else with a Sloane School Chelsea connection who you think might like to join us. Just enter their Email address in the MISSING CLASSMATES box to your right and click Send Invite.
We may not understand why but memories of our days at Sloane remain with us while others do not. Whether they're good or they're bad, I'd like to give all old boys the opportunity to keep those memories alive.

Aspirations and Objectives

Sloane never had a motto and although our school badge is based on the lion rampant and boar's head of the Cadogan family crest their motto, Qui Invidet Minor Est or He That Envies Is Inferior, is not really appropriate so I'll adopt the one to be found on the Coat of Arms of the Royal Borough of Kensington and Chelsea as it suits us nicely -

Quam Bonum In Unum Habitare

(What A Good Thing It Is To Dwell Together In Unity)
It is hoped, in some small way, to be able to have similar objectives to those stated for the first issue of The Cheynean in December 1926 -

"To record faithfully the major activities of the School, to promote and foster a corporate spirit in the School, to excite a greater keenness both in the games and in other phases of its social life, and to serve as a link between present members of the School and the Old Cheyneans". -

and also to bring together, once again, old friends and classmates, and those of us who have outlived the school and share a common interest in its history and its future.
Sadly, I've no memory of having ever sung or even heard a school song but apparently one was written by music Master Mr Seymour Dicker in 1928, and was first sung in July of that year by pupil J E Bush. What became of it after that first performance is a mystery but it contained the lines -
"Salve, the School and its scholars so keen,
Long may they keep its memory green."
If you've any memories of Sloane you'd like to share, use the Contact Us page to send them in and, whilst you're there, register for the site as well.

Once you've registered, you can activate the Instant Messaging feature that allows you to hold a 'real-time' online conversation with anyone else who has logged on to the website. You can also send a message to someone else on the site via the Message Centre or by using their Profile. Click on their name on the Classmate Profiles page then click on the red 'Send ? a private message' at the top of their Profile.

After you've registered, why not take a look at all the Classmate Profiles ? Even if you don't know the person involved, the information they've put on their Profile can be interesting, illuminating and fun, and often brings back memories of something you thought you'd forgotten about.
If, at any time after becoming a member, you're unsure about anything click on this Using This Site link for an explanation or contact me direct via the Contact Us page.
* * * * * * * *
Why Not Take a Look at Where your Classmates are Living?

Find out the Postcode of a Classmate from their Profile (if they've agreed to let everyone know it) then Click on the link below, enter the details where it says 'Address', then Click on 'Go'. Not every country is covered yet and those that are have limited coverage, but it's worth a try.
Here's the link. Have fun - http://www.vpike.com/



* * * * * * * *






The Sloane News



Breaking News!

Grave Of Possibly The World's Oldest Man Discovered In Ireland!!

Historians in Ireland have discovered what they believe to be the headstone of the world's oldest ever living man. He was 193 years old and his name was Miles, from Dublin.
*
Mugged Man Gains Verbal Revenge!!

This American man chose to use a verbal approach to gain his revenge on the man who tried to mug him and his girlfriend. It's old news but worth repeating -
PERSONALS AD

To the Guy Who Tried to Mug Me in Downtown Savannah the night before last.
Date: 2017-01-17, 1:43 am. E.S.T.

I was the guy wearing the black Burberry jacket that you demanded that I hand over, shortly after you pulled the knife on me and my girlfriend, threatening our lives. You also asked for my girlfriend's purse and earrings. I can only hope that you somehow come across this rather important message.
First, I'd like to apologize for your embarrassment; I didn't expect you to actually crap in your pants when I drew my pistol after you took my jacket. The evening was not that cold, and I was wearing the jacket for a reason; my girlfriend was happy that I just returned safely from my 2nd tour as a Combat Marine in Afghanistan.
She had just bought me that Kimber Custom Model 1911 45 ACP pistol for my birthday, and we had picked up a shoulder holster for it that very evening. Obviously you agree that it is a very intimidating weapon when pointed at your head ... isn't it?!
I know it probably wasn't fun walking back to wherever you'd come from with crap in your pants.
I'm sure it was even worse walking bare-footed since I made you leave your shoes, cell phone, and wallet with me. (That prevented you from calling or running to your buddies to come help mug us again).
After I called your mother or "Momma" as you had her listed in your cell, I explained the entire episode of what you'd done.
Then I went and filled up my gas tank as well as those of four other people in the gas station, -- on your credit card. The guy with the big motor home took 153 gallons and was extremely grateful!
I gave your shoes to a homeless guy outside Vinnie Van Go Go's, along with all the cash in your wallet. [That made his day!]
I then threw your wallet into the big pink "pimp mobile" that was parked at the curb ... after I broke the windshield and side window and keyed the entire driver's side of the car.
Earlier, I managed to get in two threatening phone calls to the DA's office and one to the FBI, while mentioning President Trump as my possible target.
The FBI guy seemed really intense and we had a nice long chat (I guess while he traced your number etc).
In a way, perhaps I should apologize for not killing you ... but I feel this type of retribution
is a far more appropriate punishment for your threatened crime. I wish you well as you try to sort through some of these rather immediate pressing issues, and can only hope that you have the opportunity to reflect upon, and perhaps reconsider, the career path you've chosen to pursue in life. Remember, next time you might not be so lucky.
Have a good day!
Thoughtfully yours,
Semper fi,
Alex
*
German Amusement Park Forced To Close New Ride!
We tend not to associate the majority of Germans with the word 'amusement' but the Tatzmania Amusement Park near Loffingen in Germany's Black Forest area, was forced to close its newest ride 8 months after it opened when customers complained the Eagle Fly attraction showed more than a passing similarity to the Nazi swastika symbol. Perhaps the choice of eagles as a design for each section was also not the best one.
Exhibiting Nazi emblems can be punished with prison terms of up to three years under laws that prohibit the "use of symbols of unconstitutional organizations" for reasons other than art, science, research, or teaching.
The owner of the theme park was quick to apologise even if he was a little slow to realise what he'd done. If that wasn't a problem in itself, the sign showing how tall children had to be use the ride probably didn't help either -
Covid-19 Update


PM's Advisor Dominic Cummings Attempts To Defend Actions!!


The Prime Minister's Chief Advisor Dominic Cummings gave a press conference this afternoon in the wake of the accusations that have been levelled at him over his recent trip from London to Durham which appears to go against his own government's guidelines.
In the garden of 10, Downing Street he was set among the wolves of the media, the majority of whom no doubt hate him as much as he hates them and probably because he's made it obvious that he does. His attempt to defend himself has been brought about as a result of a concerted effort by some sections of the press to oust him from the power he wields over number 10 as well as what appears to be his total disregard for the guidelines we've all been asked to follow in the wake of the Coronavirus pandemic. A decision that has given the media the match to light the kindling they've been piling up ready to stoke the fire underneath Mr Cummings' gradually frailer body.
He faced the media alone, possibly because they Prime Minister doesn't completely believe his story and saw it as a form of punishment. It was unlikely that he would have found a goverment minister to defend his actions anyway. Today's media questions were repetitive and full of animosity towards Mr Cummings and what the press believe he stands for.
Whatever your political stance, you had to feel for him a little even if his problems were of his own making. Had he explained his actions earlier in the furore he might have got away with his actions. In the event he will still get off lightly. As a 'high risk' category citizen myself I do believe he has lied (allegedly) his way out of the situation he finds himself in and some of his 'lies' weren't even thought through. He says he made a 30 mile round trip to Barnard Castle to 'test his eyesight' as he wasn't sure it would be good enough for the journey back to London. Come on! Who gets in a car to drive anywhere if their eyesight's dodgy and there's a danger of putting other drivers at risk!?
It remains to be seen what long term effect this will have on his career but his actions and self-interpretation of the guidlines have been those of a man who is arrogant enough to believe there is one set of rules for the elite and another for everyone else and there should be no eyebrows raised in government if the rest of the population choose to see Mr Cummings' decisions as carte blanche for thinking the same way themselves. Let's hope the rest of the population have more sense.
Whether you believe Mr Cummings' account of events or not, the bare details will be available at a shop near you, if they re-open, as expected, in early June -
The government are in two minds as to whether they believe Dominic or not but have released a new guidelines slogan just in case -
As an additional precaution, they've also given the go-ahead for a new mask that will allow the public to travel wherever and whenever they like -
*

Government reveals plan to stagger the return-to-work programme

Drug dealers, you can go back to work immediately. Shoplifters, you'll have to wait until July.

*

Millions affected by Covid-19.
Aid required by the needy. Please give generously -
*

Coronavirus Tips


Should you feel that someone close by isn't keeping to the social distancing guidelines, Boris Johnson has advised that we should fart.
Please remember that lockdown has now lasted so long children could have put their own shoes on twice. Please do your best to clap them every Wednesday at around midnight.

*

Streatham Man Shunned By His Own Children After Constant Hand Washing Reveals How He Did So Well In His Exams!

* * *

After Covid-19, can we really trust any advice the NHS gives us?.............

And if you've been led to believe coronavirus tests would be carried out using a nasal swab............
Might be safer to employ someone without a grudge to grind and who puts more thought into what they're saying.
* * *

FRONT PAGE NEWS
Covid-19 Latest!

Some parents have a problem being at home with their kids during a normal Summer break. Additional months have seen some of them resorting to putting signs such as this in their front windows....
The Government are still concerned that people may not be adhering to the social distancing rules so have come up with a couple of innovations to ensure they do. Watch out for these coming to a location near you very soon -
*
Fulham FC footballer Tom Cairney's home was robbed a couple of weeks ago. When the police came round to interview him he was asked if they'd taken any medals or cups. His reply was, apparently,
"Don't you think this is bad enough as it is without you taking the pee!"

* * *

HOME FRONT NEWS
My wife found a cockroach in the bathroom. She took everything out of the cupboards, cleaned every piece thoroughly, cleaned the toilet, sink and bath and then the cupboards before scrubbing the floor and walls. Tomorrow I'm putting the cockroach in the kitchen.
We went to a marriage guidance counsellor once and after my wife had spent ten minutes reading out her list of grievances the counsellor got up out of his seat, walked round his desk and kissed my wife fully on the lips. It was probably the most passionate kiss she's ever had. He then looked at me and said,
"Do you think you could do this three times a week?"
I said to him,
"Well, I can drop her off on Mondays and Wednesdays but Fridays I'm down the pub."
It reminded me of my first sex lesson at school. The teacher started off by saying,
"When you get aroused your meat will get hard."
My mates and I all knew what he was talking about when he said 'meat'. We all started sniggering and the whisper went around the classroom, "Your meat will get hard! Your meat will get hard!"
"That's not a the half of it!" said our teacher. "You've then got to put it inside her."
Another snigger and whisper started and spread around the classroom. We all found it hilariously unlikely. All, that is, except for Johnny Murphy at the back who had burst into tears. He called out,
"But please sir, I don't like cider. Can I use Tizer?"
The last time I saw Johnny he had a family of nine kids. I think he worked it out.
This isolation lark has thrown up a number of surprises at home. I was alone with the wife and we were in the middle of an argument when she said to me,
"You're right".
It completely threw me and I was quiet for the rest of the day.
The longer the lockdown has gone on the harder it's got to keep myself busy but singing and dancing have been my lifesavers. It's been hard getting over my addiction to the Hokey Cokey but I've turned myself around and that's what it's all about. The world was unprepared forthe arrival of Covid-19 and it's resulted in many people dying and man going out of business. Death may not be predictable but the consequences of not seeing the coming pandemic has had a profound effect on many 'experts' in their field -
My wife and I have certainly learned a lot about each other recently and, similarly The Labour Party have learned from the Tory approach to the coronavirus outbreak and are already printing leaflets saying,
"Tory voters, at the next election, stay home, protect the NHS, save lives."
Talking of politics, I have a question for the government. You've said that we're now allowed to play sports with members of the same household. My wife's useless at football and I don't want her on my team. How do I tell her?

I'm not saying she's bad at everything. After all, it only took two weeks of isolating with me for her to start knitting me a scarf. Bless her cotton socks -
She's always thinking of me and my health. I was downstairs only the other day when she called down to ask,
"Do you get shooting pains across your chest as if someone's got one of those voodoo dolls and they're stabbing it?"

I thought it was a strange question but called back,
"No...."
To which she shouted back a few seconds later,
"How about now?"

She has been acting a little strangely and been very down since the loss of our dog, and the coronavirus situation hasn't helped matters. To cheer her up, I went out and bought her a new dog. Lovely isn't she? Reminded me of her mum so I named her Phyllis. She wasn't pleased, for some reason -


Unfortunately, the shock of our last dog's death has resulted in my wife developing an allergy towards them. Sadly, this means I'm going to have to find a new home for her and I was hoping one of you would be interested. Her name is Sue, she's 66, loves long walks, is an innovative cook and is very good at packing suitcases.
It's the gardening that's been keeping her busy these past two months. She created enough garden waste to fill our recycling bin but on the day the refuse men came to collect it they seem not to have fanvied the idea left it behind. Now, we pay £2.98 (£75 a year in advance) per fortnighly collection. The council keep telling us how cheap that is whilst ignoring the reality that most households in the borough of Merton only have real need of it between 6-8 times a year. Anyway, I phoned the council up to complain and was told they had photographic evidence to show the binmen couldn't gain access to the garden waste bin. I checked, and they were right. Someone had actually dumped a very small shopping basket on wheels in front of it in our access alleyway. So, instead of taking a couple of seconds to wheel it out of the way the collectors spent their time taking a photo of it instead. I've moved the trolley but the council still haven't removed the waste and that's despite me pointing out that I've paid upfront for it to be taken away. Irrespective of the situation when they first came to collect it, they've had plenty of time since to remove it and will no doubt leave it until this Friday's collection round. By my reckoning, that's £2.98 they owe me but i haven't seen any sign of it yet. I'm not going to let it drop on principle.

To end on a lighter note, I don't usually go in for advertising on this website, unless it concerns Sloane boys, but I saw these advertised on the Internet and suspect there might be a few of you the wording applies to (me included) and who'd love to own one (me included) -
* * *

JOKES OF THE DAY

A man sees a sign outside a Kerry farmhouse. It says,
"Talking dog for sale."
Interested, he rings the doorbell. The owner sends him to the back of the house where the dog is in the garden. He finds a lovely black labrador retriever sitting there.
"Do you really talk?" he asks the dog.
"Yes", the dog replies.
After recovering from the shock of hearing a dog speak, he says to it,
"Tell me about your life, then."
"Well, I realised I could talk when I was pretty young. I wanted to help the government, so I joined the Garda. In no time at all they had me jetting from country to country, sitting in rooms with spies and drug barons because, of course, no one would suspect I was eavesdropping. I was their most valuable agent for ten years or more but it was hard work and I was becoming tired so I decided I should settle down to something less strenuous. I found a job at Dublin airport doing undercover security work. I uncovered some incredible deals and won quite a few medals for my work and bravery. Finally, I got married, had a few puppies and then retired completely."
Absolutely amazed, the man goes back to the farmer and asks him how much he wants for the dog.
"Just give me 10 Euros", he's told.
"But he's a talking dog for God's sake! Why so cheap?"
"Because he's a lying sod. He's never been out of the garden."
*



* * *

THOUGHTS FOR THE DAY

It's been said before, in many different ways, but the sentiment remains the same -

*



* * *

* * * * *

The Home We Called Sloane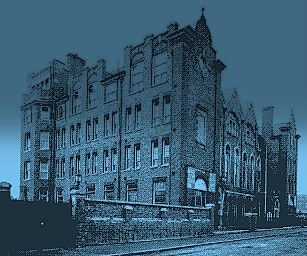 The Sloane building seen from Hortensia Road in 1908

The Sloane building was 100 years old in 2008, although it didn't actually start life as a boys' school until after the First World War, during which it served as a hospital. It still stands and many memories are, no doubt, ingrained in its walls along with the odd name and ribald comment. Who knows what the future holds, despite its Grade II listing on May 7th, 2002. Grade II listed buildings can be altered, extended, or even demolished, but only with Local Authority consent, so it may be that the building is considered historically or architecturally interesting enough for it's fabric to remain untouched. Some consideration may have been given to it having been the first purpose-built secondary school in London, and it is certainly one of only 3% of all ages of listed buildings that was built in the 20th century. Schools generally are seen as a good investment by developers because they're easy to convert. They are likely to be structurally sound because the authorities will have inspected them regularly to ensure they comply with Health and Safety requirements.

Sadly, Sloane Grammar School for Boys only lasted 51 years, from 1919-1970. John Binfield, in one of his poems writes -
... the school, with
All its past, was sucked into a huge
Turbulent sea of glass in Pimlico
And sank without trace. "full fathom five..
Sea nymphs hourly ring his knell.
Hark, now I hear them. Ding-dong bell".
Should the building survive in the form we all remember, there is still a chance that some of us will be around in 2019 to celebrate what would have been its centenary as a boys' school, had it remained in existence.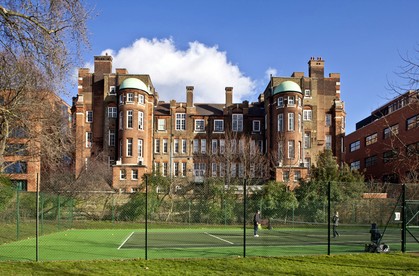 Sloane seen from the rear in 2014
* * *
Whatever our own personal reasons for it doing so, the school will still haunt most of us even if it disappears altogether. With that tenuous link, here's a poem that I came across in a copy of The Cheynean -

The Ghost of Sloane


When London's asleep and the School very quiet,
No sound of footsteps, no sound of a riot,
No sound of even the shuffle of feet,
No sound of the creak of a pupil's seat,
Out of the darkness the ghost of Sloane
Awakes from rest with a sigh and a groan.
Then up he arises to haunt the School
Climbing the stairs in the guise of a ghoul.
He shuffles and clanks down each corridor
Into the classrooms where stand desks galore.
He examines each desk and checks the boys' work,
Allots ghostly marks in the dark and the murk.

If you ever lose books from out of your desk,
And the teacher upbraids you and calls you a pest,
Just tell him my story, however tall,
Of the white shrouded phantom that haunts the School Hall.

J. Hollingshead (3C)

As for us, the boys who used to attend our Chelsea school, we probably considered ourselves 'Chelsea men' but I doubt that many of fitted the description in this poem, written when he was in the 5th year by one time Sloane Schoolboy, A R Doubledee. I get the impression he didn't particularly approve of the 'Beatniks' of the late 50s and early 60s that he found himself sharing Chelsea with or, as he called them the 'Weirdies' -

The Weirdies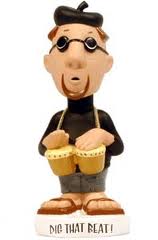 The Chelsea man is excessively queer,
He only drinks coffee and doesn't like beer.
He's always "chatting" the girls, and yet
This seems to make him "one of the set".

His unkempt chin and uncut hair
Go with his feet which are usually bare.
If he wears shoes, they've never got soles,
And he's usually found in Bohemian holes.

His outsize sweater is generally black
Contrasting well with his shorty mac.
He wears his clothing merely to show
That he can keep up with the boys of Soho.

To find a girl he doesn't look far,
But into the nearest coffee bar,
Where he's sure to meet a Bohemian "yob".
They're all from Chelsea - what a mob!

The girls with hair right down their backs
Wear irregular clothes that look like sacks.
They walk about wearing father's sweater:
I really don't see why he should let 'er.

Their gaudy clothes of reds and greens
Match up with the style of their men-friends' jeans.
Now that's how it goes with the latest style:
Girls on their faces make-up pile,
The men wear anything they can find -
I shouldn't stare, I should just act blind!

A.R. Doubledee (5b)
* * *

ANNOUNCEMENTS APPEAR BELOW
ONCE YOU'VE LOGGED IN