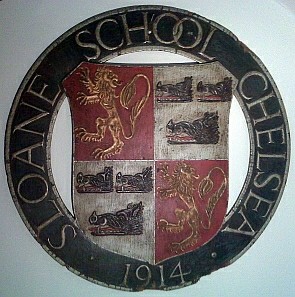 Members:

After you've logged in don't forget to check for any messages by clicking on the

White

Envelope

at the top right of the page and keep up to date by clicking on the

Bell

.

The

Head and Shoulders

icon houses a number of

Member Functions

that used to appear in the left hand column. See

Announcements

at the foot of the page for the names of those who currently have an issue with their Email address.





Hello and Welcome to

Mark Foulsham's

Sloane website
If I built it I knew you would come

A School that invited loyalty
(Quote by Don Wheal)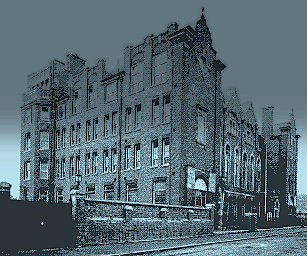 Gone But Not Forgotten
'Men are we, and must grieve when even the shade
Of that which once was great is pass'd away.'

William Wordsworth
On the Extinction of the Venetian Republic

You may think you're done with the past but the past isn't done with you!


"The merits of a school are judged as much by the men it produces as by their achievements as boys" -
(Old Cheynean D.J. Cowie, March 1929)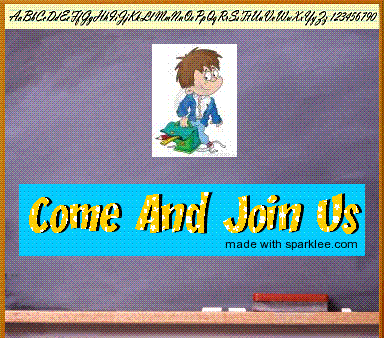 Register and link up with old school friends again and become part of Sloane Reunited.
If you were a pupil or member of staff at Sloane you qualify to register for the website and create your own personal password to view all of its pages. First choose Missing Classmates at the top of this page to see if we've been expecting you. If you see your name click on it and follow instructions. If your name's not there click on either Contact Us, at the top of the page or the Click Here To Register! button below, read what you see then complete the box at the bottom of that page to ask me to add your name to the list.
It's Free, it's Easy, it's Secure
and
You're Never Alone As A Sloane
If you'd prefer more info before commiting yourself, click on the Envelope below and send me a direct Email.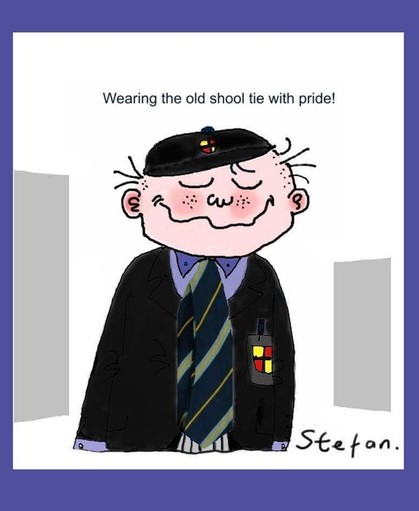 Self-portrait by Stefan Bremner-Morris

Please remember to Log Out when you leave the site by using the Log Out button to be found under the Head and Shoulders icon at the top of the page. It's as easy as falling off a log -


See all the latest Home Page news and updates further down and check the Calendar on the Calendar of Events page to see what's been happening and what's been planned for a future date.

If you're already a member please remember to keep your Email address up to date using Edit Contact Info to be found by clicking on the Head and Shoulders icon at the top of the page.

Please don't forget to use the Notify Me page to make selections that will help you keep in touch as well as help you enjoy all the website has to offer.


Come on in!
Don't be late!
This is one detention
You'll be pleased to take.


A WARM WELCOME

to fellow Cheyneans and passers-by, from the Official Sloane Grammar School 1919-1970 Old Cheyneans and Friends web site. We'll keep the home fires burning until you join us.
Mark Foulsham, at Sloane 1963-70, created this site in August 2008 to record for posterity all that I can, and for all those who attended Sloane or simply have a Sloane connection, to share and enjoy. Feel free just to browse or, if you feel you qualify to join us, make full use of the site by becoming a Registered Classmate.
We may not understand why but memories of our days at Sloane remain with us while others do not. Whether they're good or they're bad, I'd like to give all old boys the opportunity to keep those memories alive.
Click on the Click Here to Register button above to start the registration process. It's Free!

I'll also be happy to send a personal invitation to anyone else with a Sloane School Chelsea connection who you think might like to join us. Just enter their Email address in the MISSING CLASSMATES box to your right and click Send Invite.


Aspirations and Objectives

Sloane never had a motto and although our school badge is based on the lion rampant and boar's head of the Cadogan family crest their motto, Qui Invidet Minor Est or He That Envies Is Inferior, is not really appropriate so I'll adopt the one to be found on the Coat of Arms of the Royal Borough of Kensington and Chelsea as it suits us nicely -

Quam Bonum In Unum Habitare

(What A Good Thing It Is To Dwell Together In Unity)
It is hoped, in some small way, to be able to have similar objectives to those stated for the first issue of The Cheynean in December 1926 -

"To record faithfully the major activities of the School, to promote and foster a corporate spirit in the School, to excite a greater keenness both in the games and in other phases of its social life, and to serve as a link between present members of the School and the Old Cheyneans". -

and also to bring together, once again, old friends and classmates, and those of us who have outlived the school and share a common interest in its history and its future.
Sadly, I've no memory of having ever sung or even heard a school song but apparently one was written by music Master Mr Seymour Dicker in 1928, and was first sung in July of that year by pupil J E Bush. What became of it after that first performance is a mystery but it contained the lines -
"Salve, the School and its scholars so keen,
Long may they keep its memory green."
If you've any memories of Sloane you'd like to share, use the Contact Us page to send them in and, whilst you're there, register for the site as well.

Once you've registered, you can activate the Instant Messaging feature that allows you to hold a 'real-time' online conversation with anyone else who has logged on to the website. You can also send a message to someone else on the site via the Message Centre page but, if you're expecting a swift reply, it might be worthwhile using their Profile on the Classmate Profiles page, to see what part of the world they're living in these days, and to have an idea of the time where they are. Use the Clocks below, to check.

After you've registered, why not take a look at all the Classmate Profiles ? Even if you don't know the person involved, the information they've put on their Profile can be interesting, illuminating and fun, and often brings back memories of something you thought you'd forgotten about.
If, at any time, you're unsure about anything click on this Using The Site link for an explanation or contact me direct via the Contact Us page.

* * * * *
Why Not Take a Look at Where your Classmates are Living?

Find out the Postcode of a Classmate from their Profile (if they've agreed to let everyone know it) then Click on the link below, enter the details where it says 'Address', then Click on 'Go'. Not every country is covered yet and those that are have limited coverage, but it's worth a try.
Here's the link. Have fun - http://www.vpike.com/

* * * * * * * * *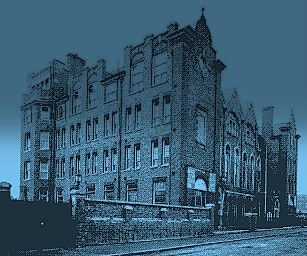 The Sloane building seen from Hortensia Road in 1908 and
much as it looks today

The Sloane building was 100 years old in 2008, although it didn't actually start life as a boys' school until after the First World War, during which it served as a hospital. It still stands and many memories are, no doubt, ingrained in its walls along with the odd name and ribald comment. Who knows what the future holds, despite its Grade II listing on May 7th, 2002. Grade II listed buildings can be altered, extended, or even demolished, but only with Local Authority consent, so it may be that the building is considered historically or architecturally interesting enough for it's fabric to remain untouched. Some consideration may have been given to it having been the first purpose-built secondary school in London, and it is certainly one of only 3% of all ages of listed buildings that was built in the 20th century. Schools generally are seen as a good investment by developers because they're easy to convert. They are likely to be structurally sound because the authorities will have inspected them regularly to ensure they comply with Health and Safety requirements.

Sadly, Sloane Grammar School for Boys only lasted 51 years, from 1919-1970. Should the building survive in the form we all remember, there is still a chance that some of us will be around in 2019 to make use of the building to celebrate what would have been its centenary as a boys' school, had the school remained in existence.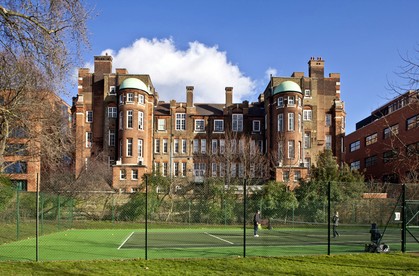 Sloane seen from the rear in 2014
CHANGES TO THE SLOANE SITE AND BUILDING
The new Kensington & Chelsea College, known since 2014 as their Chelsea Centre, sits where the playground used to be between the old Sloane building and the old Carlyle building. Work on the new college building, with designs by the architects who transformed the Royal Opera House and the National Portrait Gallery, was completed in 2012.
The flats, constructed in Sloane's old North playground on the Fulham Road are known as Milliner House, Chelsea Apartments, and were ready for occupation in 2011 at advertised prices between £785,000 and £2,350,000. Or if you could afford it, the single penthouse at the top would have set you back £5.85 million when first offered for sale but a market downturn in 2012 saw it reduced to an almost tempting £4.25 million - and it was being sold as a shell!
Phase 2 of the project was originally for conversion of the original Edwardian building into loft style apartments by D19 Property but the new owners, No. 1 Estates Ltd, who have a connection to D19 Property were, on 22 October, 2012, given planning permission to retain the building as an educational establishment by Kensington and Chelsea Planning and Borough Development Department.
However, in September of 2013 a slightly revised plan for re-development of the building for residential use was applied for by Hortensia Property Development LLP, and supported by a K M Heritage heritage appraisal was presented to Kensington and Chelsea Council for listed building consent and planning consent for the refurbishment and extension of the Sloane building, taking into account national and local policies relating to the historic built environment. Their statement is available on this link -
K M HERITAGE STATEMENT ON BEHALF OF HORTENSIA PROPERTY DEVELOPMENT
What's also interesting is that the old Chelsea College of Art and Design in Manresa Road, to which Sloane can trace its origins in its guise as the South-Western Polytechnic, was, in 2012, about to make way for a scheme involving 15 apartments and two town houses. There's no stopping 'progress'.
The shell of the 6th
floor penthouse
The entrance to the
apartments on
Hortensia Road
The apartments seen from
Fulham Road
The view of Fulham Road
and St Mark's College from
one of the balconies
* * *
Whatever our own personal reasons for it doing so, the school will still haunt most of us even if it disappears altogether. With that tenuous link, here's a poem that I came across in an old copy of The Cheynean -

The Ghost of Sloane

When London's asleep and the School very quiet,
No sound of footsteps, no sound of a riot,
No sound of even the shuffle of feet,
No sound of the creak of a pupil's seat,
Out of the darkness the ghost of Sloane
Awakes from rest with a sigh and a groan.
Then up he arises to haunt the School
Climbing the stairs in the guise of a ghoul.
He shuffles and clanks down each corridor
Into the classrooms where stand desks galore.
He examines each desk and checks the boys' work,
Allots ghostly marks in the dark and the murk.

If you ever lose books from out of your desk,
And the teacher upbraids you and calls you a pest,
Just tell him my story, however tall,
Of the white shrouded phantom that haunts the School Hall.

J. Hollingshead (3C)

As for us, the boys who used to attend our Chelsea school, we probably considered ourselves 'Chelsea men' but I doubt that many of fitted the description in this poem, written when he was in the 5th year by one time Sloane Schoolboy, A R Doubledee. I get the impression he didn't particularly approve of the 'Beatniks' of the late 50s and early 60s that he found himself sharing Chelsea with or, as he called them the 'Weirdies' -

The Weirdies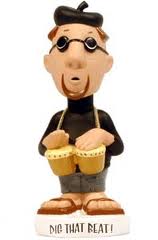 The Chelsea man is excessively queer,
He only drinks coffee and doesn't like beer.
He's always "chatting" the girls, and yet
This seems to make him "one of the set".

His unkempt chin and uncut hair
Go with his feet which are usually bare.
If he wears shoes, they've never got soles,
And he's usually found in Bohemian holes.

His outsize sweater is generally black
Contrasting well with his shorty mac.
He wears his clothing merely to show
That he can keep up with the boys of Soho.

To find a girl he doesn't look far,
But into the nearest coffee bar,
Where he's sure to meet a Bohemian "yob".
They're all from Chelsea - what a mob!

The girls with hair right down their backs
Wear irregular clothes that look like sacks.
They walk about wearing father's sweater:
I really don't see why he should let 'er.

Their gaudy clothes of reds and greens
Match up with the style of their men-friends' jeans.
Now that's how it goes with the latest style:
Girls on their faces make-up pile,
The men wear anything they can find -
I shouldn't stare, I should just act blind!

A.R. Doubledee (5b)

* * *

FRONT PAGE NEWS

CHILDREN NOT AS DUMB AS WE LIKE TO THINK
Students in an advanced Biology class were taking their mid-term exam. The last question was, 'Name seven advantages of Mother's Milk.' The question was worth 70 points or none at all. One student was hard put to think of seven advantages. The first six he found easy enough but it took him a while to come up with a seventh. Undeterred, he wrote:
1) It is the perfect formula for the child.
2) It provides immunity against several diseases.
3) It is always the right temperature.
5) It bonds the child to mother and vice versa.
6) It is always available as needed.
7) It comes in two attractive containers and it's high enough off the ground where the cat can't get it.
CYCLONE WINSTON STILL HITTING FIJI!!

Bob Titton and his daughter Rachel were extremely grateful for the mention underneath so I thought I'd leave it in for a while longer. Every little helps -
Classmate Bob Titton's daughter Rachel Titton had already been doing voluntary work in Fiji for the past 9 months when Cyclone Winston devastated the islands last week. Thankfully, Rachel was unharmed but Winston took its toll. There are known to be 42 who lost their lives and, in all, tens of thousands have been affected. Most are living in evacuation centres and the category five storm, the worst ever recorded in the southern hemisphere, has cut off electricity supplies that could take weeks to restore, as well as leaving many without water and destroying 134 schools.
Unicef has said that that there is a shortage of emergency supplies and further funding is needed to sustain and scale up the response. Rachel has asked that I publicise an Internet link that will enable donations to be made for Silana and district, the village where she has been living and working, and I am, of course, pleased to be able to do so.
If you are able to, please take a look at -

www.justgiving.com/fiji-cyclone-winston-relief-fund/
and donate to the Global Vision International Charitable Trust.
All donations will, as you'd expect, be put to good use and gratefully received.
Many thanks,
Mark
* * * * *
BREAKING NEWS!
Nothing of much importance this week. That could be a good thing or it could be a bad thing. I'll keep you posted should anything occur. In the meantime, why not go out and create some news of your own and while you're thinking about it give some thought to all that's going on in the world of politics at the moment. Especially the goings on at home with the Budget and Conservative Party in-fighting as a result of it, and in the USA where Donald Trump, unbelievably, is in the running for President.

Here are the thoughts of some others on the same subject. Little ever changes -

If God wanted us to vote, he would have given us candidates. - Jay Leno

The problem with political jokes is they get elected. - Henry Cate, VII

We hang the petty thieves and appoint the great ones to public office. - Aesop
When I was a boy I was told that anybody could become President; I'm beginning to believe it.
- Clarence Darrow

Politicians are people who, when they see light at the end of the tunnel, go out and buy some more tunnel. - John Quinton

Why pay money to have your family tree traced; go into politics and your opponents will do it for you.

- Author unknown

Politics is the gentle art of getting votes from the poor and campaign funds from the rich, by promising to protect each from the other. - Oscar Ameringer

I offer opponents a bargain: if they will stop telling lies about us, I will stop telling the truth about them. - Adlai Stevenson, 1952

A politician is a fellow who will lay down your life for his country. - Tex Guinan

I have come to the conclusion that politics is too serious a matter to be left to the politicians.

- Charles de Gaulle

Instead of giving a politician the keys to the city, it might be better to change the locks. - Doug Larson

There ought to be one day -- just one -- when there is open season on Congressmen. - Will Rogers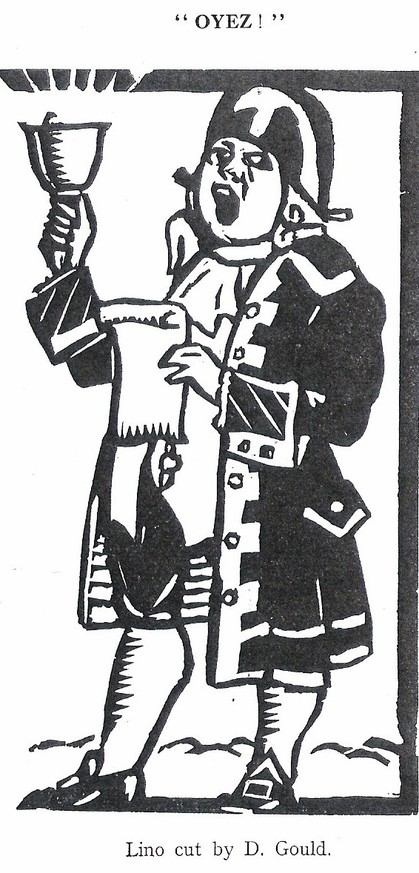 * * * * *
HOME FRONT NEWS

Despite my improved health of late I'm still having to visit the hospital for regular monthly check ups until they find there's nothing left to chck up on, I suppose. My visit of a couple of weeks ago confirmed a couple of things. Firstly, a blood test revealed that my lung problems weren't the result of a hereditary gene. This was good news for my kids and for my sisters' kids and my brother's son who were all convinced they were going to end up with the same problems as all four of us have experienced. So, any development along the same lines for them won't be our fault. Secondly, my latest visit to the hospital also revealed that even in adversity we're still a nation able to laugh at itself.
Having been given another prescription by my Airways Clinic doctor, I handed it in at the hospital pharmacy and was told the waiting time was about 1 hour 10 minutes. Fair enough, I thought. They're obviously busy and understaffed. I took my ticket with my number on, found a seat and got chatting to others in the same situation. An hgour and 30 minutes later our casual talk turned to roars of laughter as the display that showed the number of the next ready prescription decided it had had enough for the day and started going backwards. Ten minutes later and it had been fixed. At this pint an elderly gentleman shuffled in and made his way to the counter. Sadly, for him, his journey was a slow one that took fully five minutes for him to move the six feet from door to counter. The sight of this caused at least three of us to burst into fits of uncontrollable giggles. There but for the grace of God we thought but it didn't stop us laughing at this poor soul's misfortune. He was aided and abetted by us all with cries of "Don't hang about mate. You'll miss the last train home!" and "Where have you been? They called your name yesterday." Thankfully, he was obliviousl to our unkind banter but left his prescription and made the same painfully slow return journey to the door. I admit that I was still giggling on the bus going home. You had to be there really. What compounded my hilarity was a return visit to the hospital a couple of days later, this time for a test for deep vein thrombosis. Just as I entered the hospital who should I spy but the same gentleman, dressed in the same clothes, entering the toilet. I was concerned that this perhaps was where his bed was and that tales of NHS maltreatment were indeed true. Unfortunately, I didn't have the time to confirm my fears and made my way up to x-ray. It's amazing what pleasure we can derive from the little things as we get older, and I'm not talking about my friend the shuffling man. My delight was provided by the young nurse who gently rubbed gel up and down my legs before going the same route with her hand-held ultrasound scanner. Bliss was but mine for only a few minutes but she did confirm that no evidence of the DVT was to be found. In a way that was good news but the pain in my calves still exists and my ankles are still swollen so further investigation is necessary.
I had one final laugh as I was leaving the hospital when I saw a sign that made me wet myself. It said,
TOILETS CLOSED
In a good mood I took the wife out for a drink when I returned home and between sips I said
"I love you."
She said, " Is that you or the beer talking?"

I replied, "It's me, talking to the beer."
I've found that women are not generally on the same wavelength as men when it comes to humour. A case in point is that I forgot to tell her that I was going to the hospital so texted to tell her once I'd arrived there. I said,
"Darling, I got hit by a car outside outside the pub. Paula brought me to the Hospital. Doctors are presently doing tests and taking X-rays. Severe blow to my head but not likely to have any lasting effects. Wound required 19 stitches. I have three broken ribs, a broken arm and compound fracture in the left leg. Amputation of the right foot is a distinct possibility.
Love you.."
She texted me back -
"Who's Paula?"
Perhaps that was humour. I didn't check but when I got home I had a word with her and she had a few paragraphs with me. Truth is we get on well. So well that someone asked me what the secret was to our 35 year marriage. I told them it was simple. We take time to go to a restaurant twice a week. A little candlelight, dinner, soft music and dancing. She goes Tuesdays and I go Fridays. Yet what he asked me did give me food for thought. I thought about what I did before we got married and then it hit me. Whatever I wanted to do. You've got to take the rough with the smooth in marriage, unlike some people. I know of a bloke who put a advert in the local paper saying,
"Wife wanted."
He got over two hundred replies but all of the said the same thing -
"You can have mine."
I was pleased for a young mate of mine this week when he told me his wife had given birth, but he didn't look as pleased as I did. What he said next made it clearer,
"I thought my vasectomy would stop my wife getting pregnant. Apparently it just changes the colour of the baby."
Finally, I've noticed that a lot of my favourite people have been dying in recent years. My favourite actor, Richard Attenborough, my favourite actress, Lauren Bacall. my favourite comedian, Robin Williams, my favourite singer, Joe Cocker and now my favourite TV personality, Sir Terry Wogan. I prayed for them all, of course, and also added a little something for God's ears. I told him -
"You've taken many of my favourite people recently and was wondering whether I'd done something to offend you. If I have, I just thought I'd let you know that my favourite politicians are Jeremy Corbyn and Tony Blair. Amen"

Hopefully, I'll get my health sorted when I next visit the hospital next month. Things could be worse, though. At least I haven't suffered like my neighbour. He was rushed to hospital earlier in the week and sent me a text asking me to tell his wife. It said -
"Just to let you all know, I've been admitted to hospital. I've just gone and poisoned myself. I ate what I thought was an onion but it was a Daffodil Bulb. They said I'll be out sometime in the Spring."
That's all folks!
* * * * *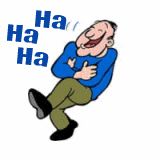 Jokes of the Week (or until I can find more)
A dwarf with a lisp goes into a stud farm.

"I'd like to buy a horth" he says to the owner of the farm.
"What sort
of horse?" said the owner.
"A female horth" the dwarf replies.

So the owner shows him a mare.

"Nithe horth." says the dwarf, "Can I thee her eyeth?"

So the owner picks up the dwarf to show him the horses eyes.

"Nithe eyeth.", says the dwarf,

"Can I thee her teeth?"

Again the owner picks up the dwarf to show him the horses teeth.

"Nithe teeth.... can I see her eerth?" the dwarf says.

By now the owner is getting a little fed up but again, picks up thedwarf to show him the horses ears.

"Nithe eerth". he says, "Now...can I see her twot?"

With this the owner picks the dwarf up by the scruff of his neck and shoves his head deep in just under the horses tail. He holds him there for a couple of seconds before pulling him out and putting him down. The dwarf shakes his head and says:
"Perhaps I should weefwaze that... Can I see her wun awound?"

* * *
A man walks into a bank and asks for a £5000 loan for a week and is told they need a deposit of security for this loan to happen.

The man leaves them the keys and documents for a £750k Ferrari parked outside the bank and the loan manager grabs the president of the bank and they are both happy and the bank agrees to the loan. One of the bank staff then drives the Ferrari to the bank's underground car park for safe keeping.

A week later the man returns and hands back the £5000 plus the interest, which comes to £15. The loan manager tells him that they credit checked him and found that he is a multi millionaire so why borrow just £5000?

He told them simply where else in London would he have got parking for £15 for a week?
* * * * *
Two old boys, one 72 and one 77, were sitting on a park bench one morning.
The 77-year-old had just finished his morning jog and wasn't even short of breath.
The 72-year-old was amazed at the guy's stamina and asked him what he did to have so much energy.

The 77-year-old said,
"Well, I eat rye bread every day. It keeps your energy level high and you'll have great stamina with the ladies."
So, on the way home the 72-year-old stopped at the bakery. As he was looking around, the saleslady asked if he needed any help.
He said, "Do you have any rye bread?"
"Yes, there's a whole shelf of it. Would you like some?"
He said, "Yes, please . I want 5 loaves."

She said, "My goodness, 5 loaves! By the time you get to the 3rd loaf, it'll be hard."
He replied, "I can't believe everybody knows about this stuff but me."

* * *


Thoughts For The Day (or until the next ones)

Our path through life is littered with crossroads. While we may choose to change direction, our destination remains the same. - Mark Foulsham
* * *

Whatever your views on the mobile phone, there's no doubting they've changed our lives and will continue to do so, for better or for worse -
* * * * *
* * * * *
Personal Ads
The personal ads you'll see here over time are genuine and taken from the London Review of Books personal ads section. It was started in 1998, intending to bring together people of similar literary and cultural tastes and has resulted in a funny and clever collection. I'll publish a different one each week and hope you enjoy them as much as I do and, if you ever spot any yourself,worthy of inclusion here, please let me have them and, so as not to give everyone the impression that you spend all your time looking at the personal ads, I'll withold your name on request! -

"Dont' speak, you'll only destroy my already low opinion of you. And put your pants back on. And your wig. Terminally disappointed woman (38, Barnstaple) WLTM a man. Form a queue then I'll negotiate the criteria." Box no. 2106.

AND DON'T FORGET TO CHECK THE 'WHAT'S HAPPENING' CALENDAR ON THE 'CALENDAR OF EVENTS' PAGE, OR TO SCROLL DOWN ALL PAGES AS THERE'S MORE TO SEE THAN FIRST MEETS THE EYE!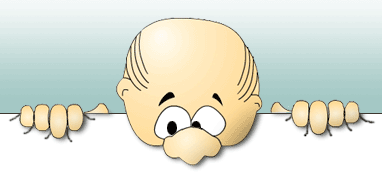 *

Sloane Information at the LMA

London Metropolitan Archives hold some information relating to Sloane. Some of the items are accessible if you visit the LMA at 40, Northampton Road, Clerkenwell, London, EC1R 0HB (phoning to make an appointment on 020 7332 3820 is advisable) but you will need to apply for a 'History Card' via their website if you intend printing copies of any of the items.
Go to the website at www.lma.gov.uk for full details. Clicking on the following link,


will take you to a page on their site where you can enter 'Sloane School' in the Search Terms box and click on 'Run Search'. This will bring up all available items.
These include -
Admission and Discharge Registers 1904-48, 1958-61 and 1964-66, a 1938 Plan of the school, drawings relating to Building Act case files 1935-57, and 23 photos of various school activities 1924-69, though some of these are listed as 'missing'.
Other items they hold are 'closed' under the 65 year rule that protects the confidentiality of living individuals. In other words, they can't be accessed for 65 years from the school's closure so will be available to the public in 2035.
However, these 'closed' items can be consulted by the LMA on behalf of individuals under the provisions of the Data Protection Act, so contact them direct if you're interested.
The 'closed' items are these -

Log Book 1967-70 (Ref: LCC/EO/DIV01/SLO/LB/001)
Punishment Book 1962-70 (Ref: LCC/EO/DIV01/SLO/MISC/001)
Staff Registers -
1895-1963; 1965-70 (Ref: LCC/EO/DIV01/SLO/MISC/002-004)